Trump SCOTUS Shortlist Candidate Immediately Rejects Potential Nomination: 'No Interest'
On Wednesday, Republican President Donald Trump released a shortlist of 20 potential U.S. Supreme Court nominees he could choose from if re-elected in November. Soon after Trump unveiled his list, one of its listed nominees—Republican Missouri Senator Josh Hawley—publicly rejected Trump's offer.
"I appreciate the President's confidence in listing me as a potential Supreme Court nominee," Hawley wrote in a tweet, "But as I told the President, Missourians elected me to fight for them in the Senate, and I have no interest in the high court. I look forward to confirming constitutional conservatives".
Hawley was just one of a few senators named on Trump's list including Republican Senators Ted Cruz of Texas and Tom Cotton of Arkansas. Also included were Noel Francisco and Paul Clement, both former Solicitors General; Stephen Engel, a former assistant attorney general; Kate Todd, a lawyer currently working in the White House counsel's office; and Christopher Landau, the current ambassador to Mexico.
Also on the list were the following judges from various federal, district and appeals courts: Bridget Bade, Stuart Kyle Duncan, James Ho, Gregory Katses, Barbara Lagoa, Carlos Muniz, Martha Packold, Peter Phipps, Sarah Pitlyk, Allison Jones Rushing and Lawrence Van Dyke.
In a statement, White House Press Secretary Kayleigh McEnany said that Trump's new short-list picks are all "originalists, who will abide by the Constitution, and textualists, who will implement the plain meaning of statutes."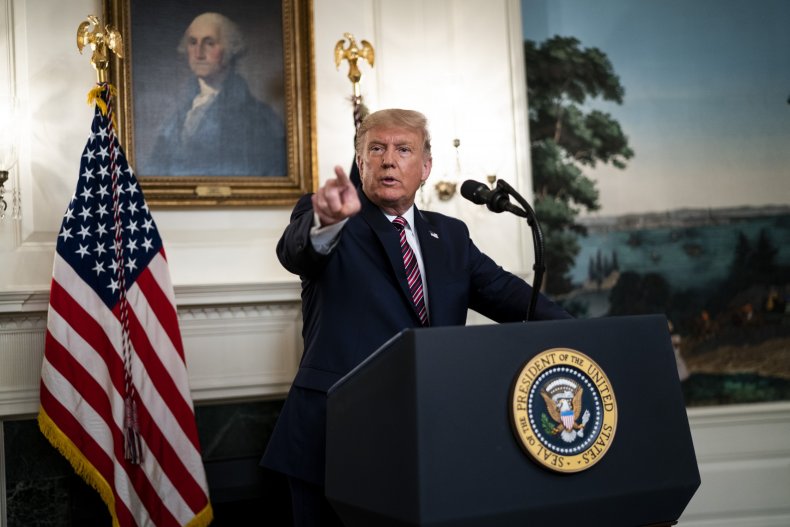 In a Wednesday press briefing, Trump said he would add the newly unveiled names to his previous list of 20 judges released during the 2016 presidential elections and updated with five additional names in 2017.
He also called on his political opponent, Democratic presidential nominee and former Vice President Joe Biden, to release a similar list for voters to consider.
In June, Biden said, "We are putting together a list of a group of African American women who are qualified and have the experience to be in the court. I am not going to release that until we go further down the line of vetting them as well."
Numerous political commentators noted that Trump initially released his list of 20 potential justices during the 2016 presidential campaign as a way to excite Republican voters and prove his conservative judicial leaning.
Trump has appointed two U.S. Supreme Court Justices during his current presidency—Brett Kavanaugh and Neil Gorsuch. He could appoint as many as four more if elected to a second term. And though Supreme Court Justices are appointed to lifetime terms, four current justices are 70 years of age, or older, including: Samuel Alito (70), Clarence Thomas (72), Stephen Breyer (82) and Ruth Bader Ginsburg (87).