Trump Jeopardized Lives of Secret Service Agents in Drive-by Stunt, Medical Experts Say
Medical experts have criticized President Donald Trump after he left the Walter Reed National Military Medical Center to greet supporters from the back of a black Chevrolet Suburban on Sunday.
An attending physician at the hospital called Trump's move "insanity" as other health professionals said the commander-in-chief had put the health of Secret Service agents at risk by having them in a confined space with him just two days after it was revealed he had tested positive for COVID-19.
Footage of the drive-by stunt showed the president waving at supporters from the back seat of the vehicle in his brief departure from the hospital where he was being treated. It was reported that the president's trip lasted for around 15 minutes.
Two other passengers in the front of the car were pictured wearing face masks as they drove Trump past supporters waving flags and cheering.
Reacting to the incident, the Walter Reed attending physician Dr. James P. Phillips tweeted that the move was "insanity" on the part of the president.
"Every single person in the vehicle during that completely unnecessary Presidential 'drive-by' just now has to be quarantined for 14 days. They might get sick," he tweeted. "They may die. For political theater. Commanded by Trump to put their lives at risk for theater. This is insanity."
The doctor later added: "The irresponsibility is astounding. My thoughts are with the Secret Service forced to play."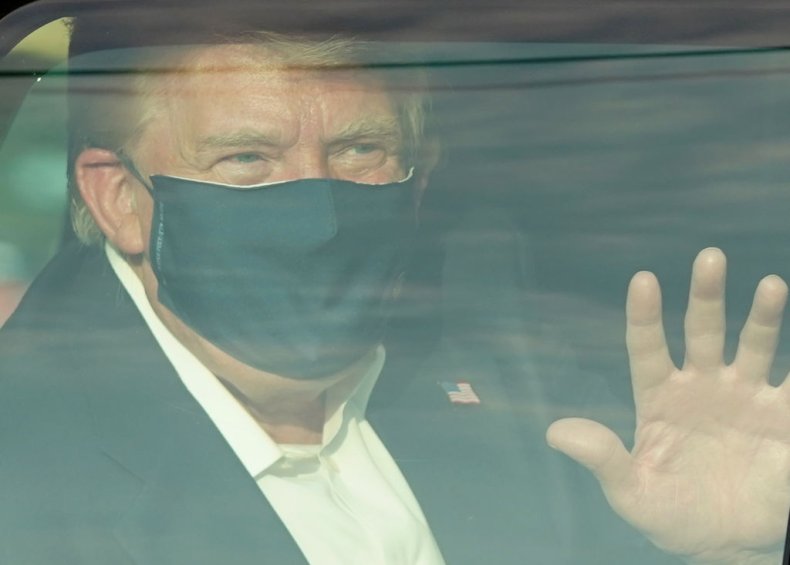 Posting a clip of Trump's drive-by visit, Yale Institute for Global Health Director Saad Omer said: "This is an individual with an active infection in close proximity with two other individuals, in a vehicle with closed windows, performing an optional task (masks help, but they are not an impenetrable force field)."
The Brown Center for Digital Health director Megan Ranney MD also weighed in on the drive-by stunt, tweeting that Trump was "still infectious" and required to isolate under Centers for Disease Control and Prevention guidelines.
Newsweek has contacted the White House for comment and will update this article with any response.
Trump's brief trip outside Walter Reed medical came shortly after he posted a video praising doctors at the hospital for their "absolutely amazing" work.
"I also think we're going to pay a little surprise to the some of the great patriots we have out on the street," he said. "And they've been out there for a long time, and they've got Trump flags and they love our country. So... I'm about to make a little surprise visit."
The president added that he had "learned a lot" about COVID-19 by "really going to school" in the wake of his positive test on Friday morning.
Trump's medical team announced on Sunday morning that he could be discharged from the Walter Reed National Military Medical Center as early as Monday, with White House physician Dr. Sean Conley saying the president's liver, cardiac and kidney functions all appeared to be healthy.