Trump's Top Diplomat: Tennessee Senator Bob Corker?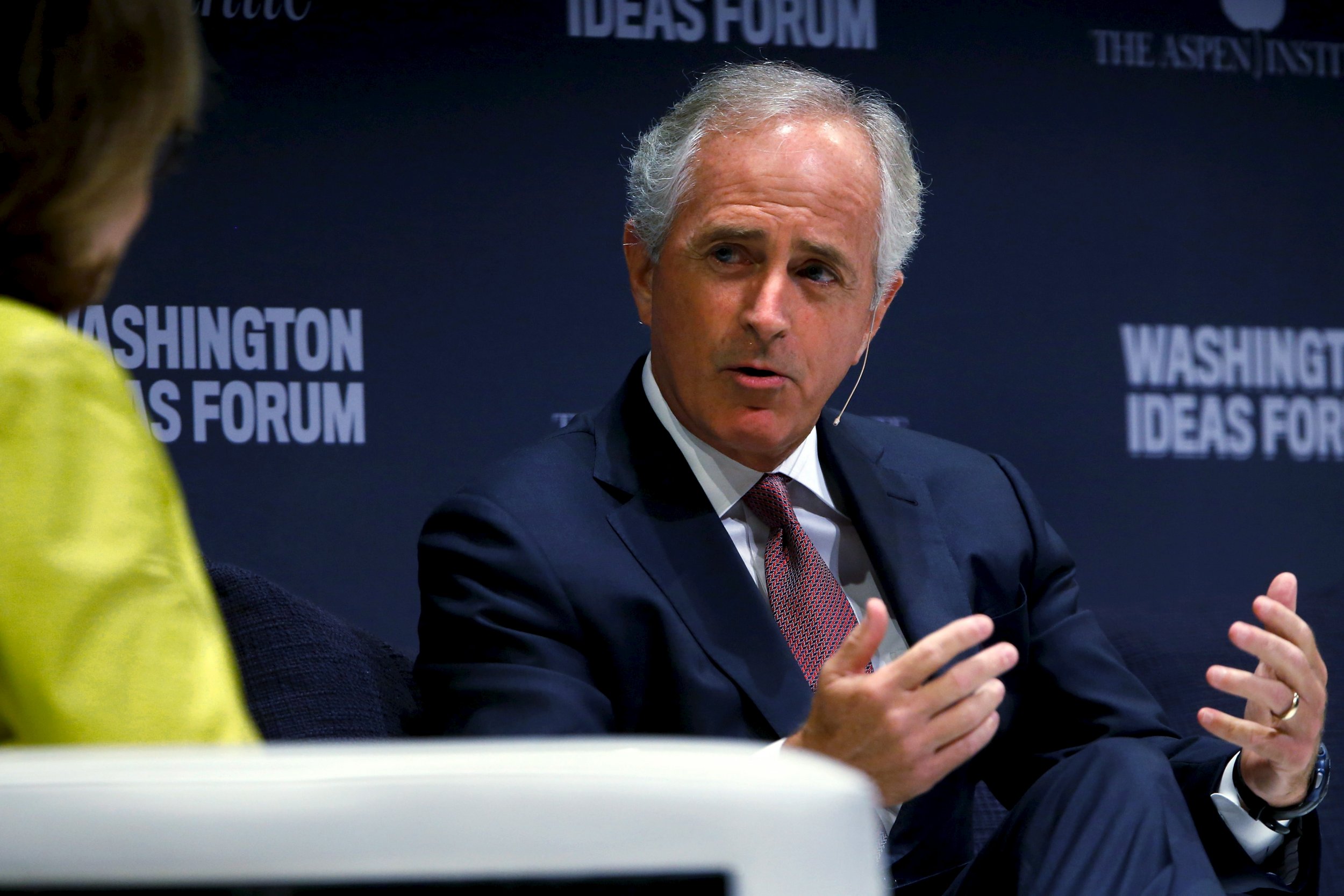 Tennessee Senator Bob Corker is hardly Trump-ian in his demeanor. Genteel where Donald Trump is abrasive, engaging with the press where the presumptive Republican presidential nominee is abusive, Corker would seem to be the candidate's opposite, at least on the outside. But that could make the Senate Foreign Relations Committee chairman an ideal envoy for the brash New York billionaire as he looks to smooth over ruffled feathers overseas. And Corker's recent public comments on Trump, along with what aides are saying behind the scenes, suggest he would consider being secretary of state in a Trump administration.
"We've had some conversations about some foreign policy issues," Corker told reporters Tuesday afternoon in Washington, D.C., when asked about his interactions with the Trump campaign. And he did not rule out a role in the Trump administration or endorsing him for president. "I always planned to endorse the nominee.... I think any of us in public service, if there's some way we can positively affect policy or things we believe to be good for Americans, then that's what we want to [do]."
For most of the winter and spring, Corker, a 63-year-old second-term senator, avoided commenting on the 2016 race. He demurred when Newsweek asked him in April about fellow Senator Ted Cruz's presidential run, saying he was staying out of the GOP primary. So he surprised politicos in Washington when he issued a statement publicly praising Trump's April 27 foreign policy speech, remarks that were roundly mocked by international affairs experts. Corker followed that up with an interview to USA Today last week confirming he'd offered to advise Trump's campaign on foreign policy and had held several phone calls with the New York billionaire's team. On Tuesday, Politico reported that buzz is building about Corker as a Trump VP pick. Corker on Tuesday said he had "no reason to believe I'm being considered" for vice president. And in many ways, the State Department makes a lot more sense.
"He's very interested in diplomacy. He's very interested in the State Department. He's very interested in foreign policy and security," says one former senior Senate aide. So the senator, the aide says, would "more strongly consider that kind of post."
The aide denies, however, that Corker has been actively trying to position himself for a move to Foggy Bottom—something that's been rumored on Capitol Hill. "Over the past several months, I have heard lots of people associated with 'Corker World' potentially expressing his desire to be secretary of state," says a senior aide for another Republican senator who also works on national security issues.
The former Corker aide, however, says, "I don't think he's made up his mind" about a future administration role. "I think what he's doing is being very open-minded about this."
What the former aide confirms is that, as others have suggested, Corker has a great deal of respect for Trump, stemming from their shared history in the real estate industry. Corker started his career in construction, launching his own company with personal savings. In the late 1990s, he acquired two other Chattanooga real estate firms. Like Trump, Corker used his business success as a launching pad into politics. He ran for Senate in 1994, losing in the Republican primary, before being appointed as Tennessee's commissioner of finance and administration and then being elected mayor of Chattanooga. He was elected to the Senate in 2006 and quickly climbed the ranks of the Foreign Relations Committee, despite having virtually no prior experience in international affairs.
"There's no question in my mind that he sees himself at least in part in Trump," says the former senior aide. Like Trump, Corker considers himself as an outsider, skeptical of the establishment and the foreign policy status quo. "He went through his own process that was very similar to Trump's when he came to Washington," the aide adds. "It's the same kind of process of coming in and seeing a lot of stuff that doesn't make any sense at all."
And like Trump, Corker prides himself on his deal-making abilities, showing an eagerness ever since he came to Washington to being a power broker, in on the big policy negotiations—ranging from Syria to Wall Street reform. As ranking member on the Foreign Relations Committee when Democrats controlled the Senate, Corker worked closely with now–Secretary of State John Kerry and remains an intermediary between Foggy Bottom and the Senate. That's earned him distrust from some of his more conservative Republican senators, but it didn't keep his peers from voting him into his current chairmanship. On Tuesday, Lindsey Graham, one of Trump's most vocal GOP critics in the Senate, told Newsweek Corker would "be an excellent adviser to Trump."
Corker, however, has also shown himself to be much more of an internationalist than Trump, prioritizing engagement over military muscle and threats. Asked Tuesday how he could reconcile his views with some of Trump's more outlandish suggestions—like bombing the relatives of accused terrorists or reinstating torture—the senator replied, "I think a lot of times when people enter an arena and questions are asked for the first time, you know, I think you evolve and you learn. Obviously, the Geneva Conventions [the international law governing the treatment of civilians and prisoners of war] are an important part of international policy."
"I noticed on [NBC's] Meet the Press this Sunday morning that it seemed as if the tone had evolved some and was more detailed on some policy prescriptions," Corker said of Trump. "It's an evolution that's taking place."
Corker's former aide says the senator's positive take on Trump's foreign policy proposals is part of an effort to be constructive and encourage the GOP nominee to "go in the right direction" on foreign policy. And he cautions, "It's entirely possible he ends up saying, 'I don't want to be part of this.'"