Trump Stands Firm on Russia, Immigration Restrictions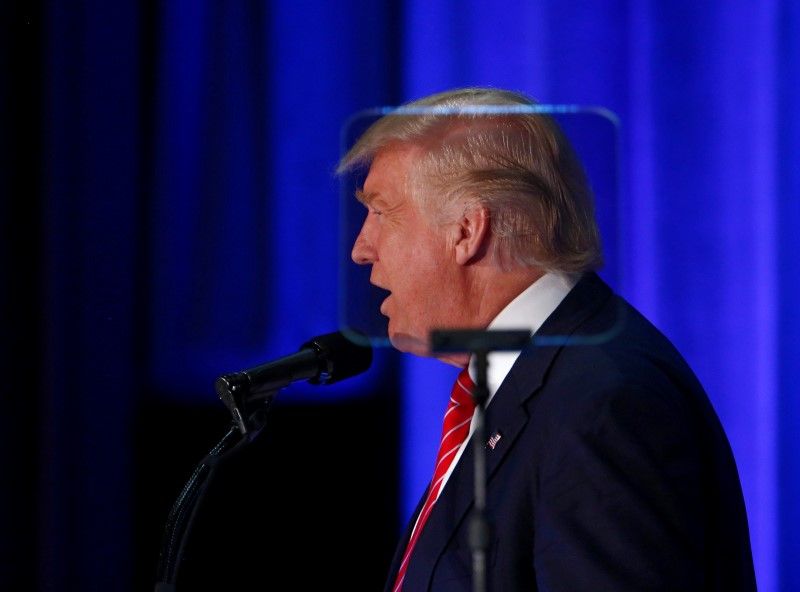 Donald Trump isn't backing down—on his overtures to Russia or his proposal to ban whole classes of immigrants from entering the country. That was readily apparent during the Republican presidential nominee's remarks on terrorism in Youngstown, Ohio, Monday afternoon, when Trump promised to "put the mistakes of the past behind us and chart a new course" on national security.
The real estate tycoon didn't offer much in the way of new initiatives, though he continued to refine his position on immigration. Trump has stopped calling for a blanket ban on Muslims, specifically, from entering the United States, emphasizing, instead, that he would suspend immigration from parts of the world "that have a history of exporting terrorism." He has yet to explain how he would determine which countries fall into that category. On Monday, he added another layer of scrutiny he would apply to would-be immigrants: "an ideological screening test."
"I call it extreme vetting, I call it extreme, extreme vetting," said Trump.
Among other things, these new screening procedures would be designed to weed out terrorist sympathizers as well as those who hold intolerant or extremist views or otherwise do not share American values. Trump specifically cited those who believe in Sharia, or Islamic, law. Muslims thus may no longer be the explicit target, but they appear to be the implicit one.
Trump also maintained that the United States should improve relations with Russia, despite a hailstorm of questions about his and his advisers' business ties to Russian President Vladimir Putin and others. Those relationships have drawn particular scrutiny since the hacking of Democratic Party servers and exposure of party records, allegedly by Russian state actors. On Monday, The New York Times published a story on ledgers documenting $12.7 million in alleged cash payments to Trump campaign manager Paul Manafort, for his work with former Ukrainian Prime Minister—and Putin ally—Viktor Yanukovych. Manafort's lawyer told the Times the Trump campaign manager never received those payments, but Ukraine's new government, which toppled Yanukovcyh, is investigating and suspects could have been part of an illegal, off-the-books scheme. Democrats, meanwhile, have ramped up their calls for Trump and his advisers to disclose any financial relationships they have with Moscow or pro-Putin forces.
Trump ignored that firestorm Monday, simply reiterating that the United States needs to "find common ground with Russia" in the fight against the terrorist group known as ISIS, which is rooted in Syria and Iraq. "Wouldn't that be a good thing?" Trump said. "They, too, have as much at stake in Syria." It's worth noting that U.S. Secretary of State John Kerry has been actively engaging Russian leaders on Syria, including holding a three-hour meeting with Putin at the Kremlin in July. Rhetoric aside, it may be one area of foreign policy where Trump and the Obama administration actually have some common ground.
One point that Trump did not repeat was his assertion that Obama and the Democratic presidential nominee Hillary Clinton, were the "founders" of ISIS, a comment that drew wide criticism last week. Trump rephrased this line of attack in Ohio, arguing that the president and his former secretary of state gave ISIS "new life" by withdrawing forces from Iraq in 2011, and then allowed the terrorist group to spread with what he called their weak response to the violence in Iraq and Syria. "We should have never made such a sudden withdrawal on a timetable advertised to our enemies," Trump argued. "Who would do this but an incompetent president?"