Trump Seeks to Exclude Undocumented Immigrants from Political Representation in Last Major SC Battle
The conservative-leaning Supreme Court seemed uncertain of the Trump administration's last-ditch attempt to block undocumented immigrants from political representation on Monday.
In July, President Donald Trump issued a memo outlining a policy of excluding undocumented immigrants from the U.S. census count. The policy could reshape the country's political landscape for the next decade because the census is used to determine the number of representatives each state has in the U.S. House of Representatives.
The Constitution requires that House seats be apportioned based on the "whole number of persons" in each state, without any caveats about immigration or citizenship status. The Trump administration has claimed that the word "persons" may not apply to undocumented immigrants, prompting skepticism during oral arguments in the Supreme Court on Monday.
"It says 'persons,' this started in 1820, you know, and they've always counted people who were here and not naturalized, and this has never happened before that you excluded illegal aliens, and it has a lot of negative effects on the states," Justice Steven Breyer told acting Solicitor General Jeff Wall, who was representing the Trump administration.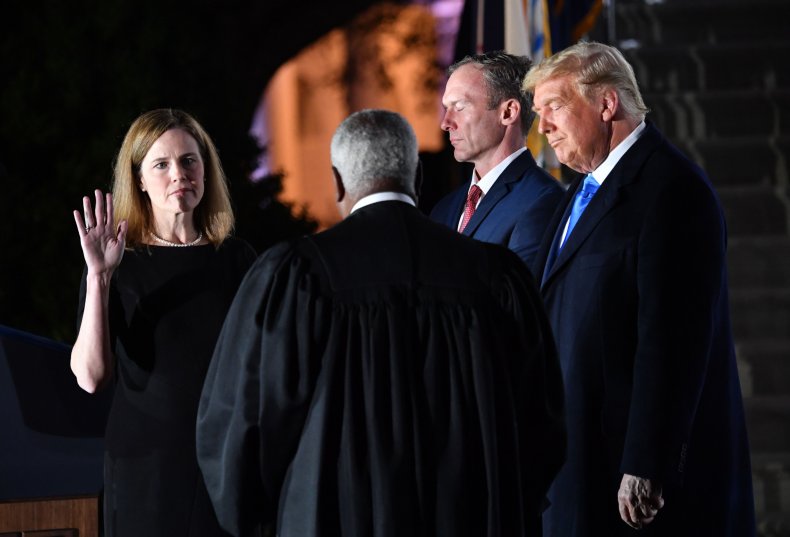 "I mean, what do you—what do you want to say?" he added. "They're persons, aren't they?"
The Supreme Court blocked attempt to include a question about citizenship status on the census last year. Justice Amy Coney Barrett, Trump's latest addition to the court, questioned the reasoning behind the administration's latest effort to change the census.
"A lot of the historical evidence and longstanding practice really cuts against your position," Barrett said. "There's evidence that in the founding era, an inhabitant was a dweller who lives or resides in a place."
"If an undocumented person has been in the country for, say, 20 years, you know, even if illegally," she added. "Why would... such a person not have a settled residence here?"
The administration asked the court to intervene in the matter urgently after a number of challenges against the policy were successful in lower courts. The Census Bureau is expected to send a final report to the president by December 31, with Trump then transmitting the numbers to Congress in early January.
Wall said that the bureau was "not currently on pace" to get the report to the president by the end of the year, raising the possibility that a delay could lead to President-elect Joe Biden taking on the task instead after Trump leaves office on January 20.
Because of the possibility of a delay, as well as uncertainty about the final numbers and Trump's intentions, several justices suggested they may choose to hold off on making an immediate ruling in the case. If the court ultimately decides to allow the policy to remain in place and the Trump administration does move forward, additional legal challenges are likely.
Newsweek reached out to the White House for comment.