Trump Seeking Records of Obama 'Tapping' Related to Russia Probes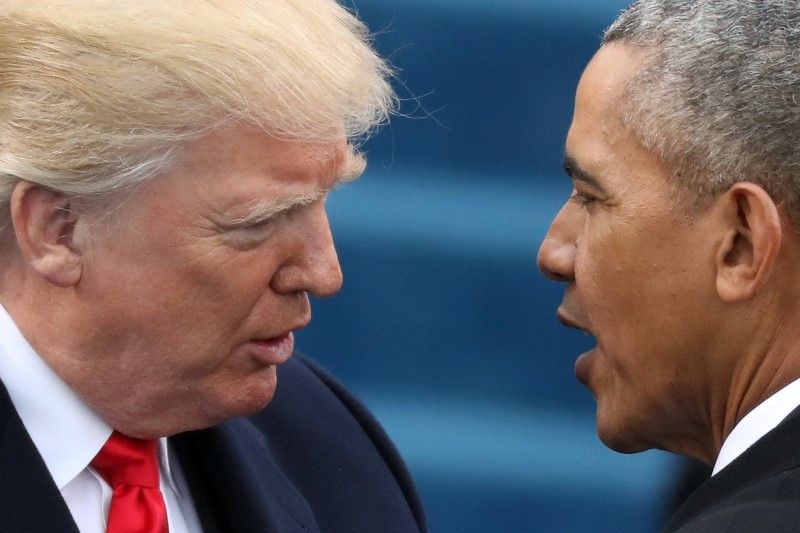 UPDATED | The Trump White House wants to see secret records related to the alleged bugging of his New York business headquarters and residence by former President Barack Obama, it was reported Saturday.
In a series of tweets as the sun was rising Saturday, Trump expressed outrage that the former president was "wire tapping" Trump Tower in New York "just before" his election victory last November. "A NEW LOW," he exclaimed.
But Trump offered no evidence that Obama had personally ordered a wiretap of him—which would be illegal—and a spokesman for the former president strongly denied the unsubstantiated charge.
A 1978 law passed in the wake of the Watergate-era spying scandals prohibits a president from ordering wiretaps, which can only be obtained by the Justice Department via a highly classified application to a court that meets in secret.
Shortly after Trump's Twitter outbursts, the New York Times reported that White House Counsel Donald F. McGahn II was trying to find out what records the government possessed related to the alleged electronic surveillance of Trump and his associates. Citing an unnamed "senior White House official," the paper said McGahn was "working to secure access to what McGahn believed to be an order issued by the Foreign Intelligence Surveillance Court authorizing some form of surveillance related to Mr. Trump and his associates." White House press secretary Sean Spicer said McGahn "is reviewing what options, if any, are available to us."
According to multiple reports in recent months, U.S. counterintelligence officials have been investigating alleged Russian attempts to damage Democratic Party candidate Hillary Clinton during the presidential campaign, as well as secret contacts between Trump's aides and Kremlin officials before and after his election victory. These investigations are believed to have also uncovered numerous unreported contacts between Trump's associates and Russian officials and businessmen.
Under withering political pressure on Thursday because of his own unreported contacts with the Russian ambassador to the United States, Attorney General Jeff Sessions recused himself from these investigations. In February, the president's national security adviser, Michael Flynn, was forced to resign over secret contacts with the Russian ambassador to the United States.
Contrary to some reports, President Trump is entitled to see any records related to the surveillance of him and his associates as "consumer-in-chief" of U.S. intelligence, a Justice Department lawyer familiar with national security procedures says. That would include FBI and Justice Department (DOJ) applications for surveillance warrants to the Foreign Intelligence Surveillance Court, or FISC.
"I don't see how DOJ and FBI can refuse... and the president has the authority to declassify whatever he wants...," the official told Newsweek on condition of anonymity because he is not authorized to speak with the media.
The White House does not need to get the court's records, the official added, because "both DOJ and FBI would hold copies of all signed orders, and DOJ at least will have the applications, too."
But according to Jane Chong, deputy managing editor of the authoritative Lawfare blog, "the attorney general is not categorically obliged to provide Trump any and all foreign intelligence-related information that he requests." Chong drew attention to the 2009 Eric Holder memo which establishes limits on communications between the White House and Justice Department. It says that, "the Justice Department will advise the White House concerning pending or contemplated criminal or civil investigations or cases when—but only when—it is important for the performance of the President's duties and appropriate from a law enforcement perspective."
If Trump doesn't need the supposed bugging orders or related material to perform his duties, Chong argued, Acting Atttorney General Dana Boente "should refuse to do it."
The recently retired director of national intelligence, James Clapper, said Sunday that the president would find no evidence that Trump Tower was bugged.
"There was no such wiretap activity mounted against the president-elect at the time as a candidate or against his campaign," Clapper said on Meet the Press. He added that he would "absolutely" have been informed if the FBI had sought or received a warrant to wiretap Trump or his campaign. "I can deny it," Clapper said.
Trump may end up wishing that he hadn't asked for the records, if they show he has indeed been the subject or target of a legally authorized counterintelligence investigation into Russian subversion and his retinue. But depending on how much he can get, records would give him clues on what government investigators were looking for and when.
Either way, the Obama spokesman was adamant that the former president had not—could not—personally order that Trump Tower be bugged.
"A cardinal rule of the Obama administration was that no White House official ever interfered with any independent investigation led by the Department of Justice," Obama spokesman Kevin Lewis said in a statement Saturday. "As part of that practice, neither President Obama—nor any White House official—ever ordered surveillance on any U.S. citizen.
"Any suggestion otherwise is simply false," Lewis said.
This story has been updated with quotes from White House spokesman Sean Spicer and former Director of National Intelligence James Clapper, plus legal analysis from Jane Chong, deputy managing editor of the Lawfare blog.​