Trump Sees COVID-19 Vaccine As His Legacy, White House Adviser Says
Key members of the Trump administration and its Operation Warp Speed project say they are confident efforts to develop coronavirus vaccines will remain full-speed-ahead as the White House prepares to transition to the Biden administration, despite President Donald Trump's frustrations over the election outcome.
In a recent interview with Newsweek, a senior Trump administration adviser said there has been no cutback in motivation on the project and the adviser doesn't foresee a slowing-down.
"None at all," said the official, who has worked closely on the effort but wasn't authorized to speak publicly on its progress.
Trump continues to lodge futile challenges against the election results in key battleground states and has refused to concede despite repeated losses in court. He spent weeks blocking former Vice President Joe Biden from formally starting transition efforts and having access to the President's Daily Brief.
But it ultimately could be Trump's immense concern about his legacy that will ensure Operation Warp Speed hasn't faced similar hurdles.
"He sees this as his legacy," the official told Newsweek. "He will absolutely push this until the last day."
Biden has recently begun transition efforts, is building a White House team and now is receiving the Presidential Daily Brief—all with the Trump administration's approval, despite Trump's continued tweets and legal efforts signaling that he has not accepted a loss to Biden.
Trump announced plans for Operation Warp Speed in May, vowing to dedicate the "full resources of the United States government" to fast-tracking a vaccine to battle the virus that has killed nearly 270,000 people in the U.S. this year and infected more than 13.5 million. Cases continue to surge across the country.
The launch of the amped-up COVID-19 response came after months of Trump largely downplaying the virus, repeatedly assuring the country that it wasn't a serious threat.
Trump tapped Moncef Slaoui, a venture capitalist and former pharmaceutical executive, to lead the effort likened to the Manhattan Project after a vetting process that the White House official described to Newsweek as coming to "unanimous" consensus around Slaoui.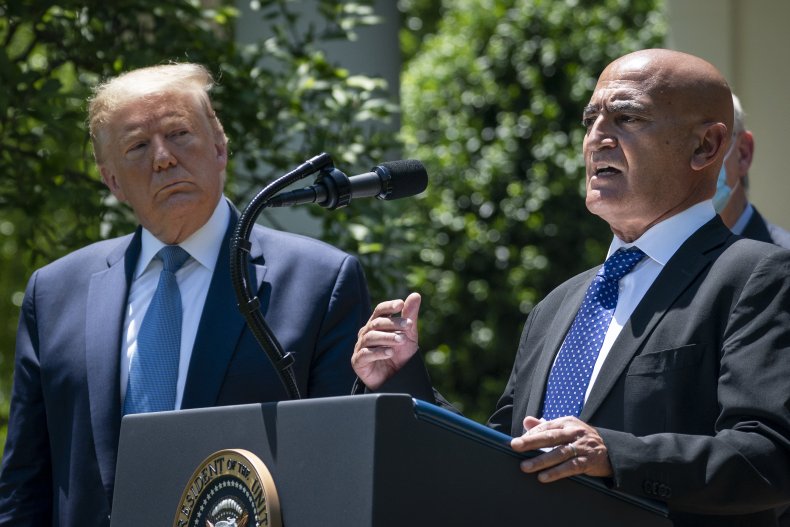 During a live-streamed interview with the Washington Post on Tuesday, Slaoui also expressed his view that the effort has seen no sign of slowing since Election Day. He said he told the Trump administration early on that he would resign immediately if he felt any politically motivated pressure.
Newsweek's multiple requests to interview Slaoui have been unsuccessful.
Slaoui said during the Washington Post interview that he hasn't yet spoken to Biden but has faith in the momentum behind the project, which now has two vaccines seeking emergency FDA approval and others in the pipeline.
"If I'm contacted, I'll of course be happy to share all of the information I know, but I have not been contacted," Slaoui said.
Biden's transition spokeswomen didn't respond to Newsweek's request for comment.
During a regular update call with governors Monday, Vice President Mike Pence, who is leading the White House Coronavirus Task Force, discussed distribution efforts, which largely are being left to the states but with federal assistance.
The White House official confirmed to Newsweek that the Trump administration is plotting a summit—likely part in person, part virtual—in the coming weeks to better coordinate efforts.
"All of states will have vaccine distribution plans," the official said. "There is detailed planning."