Donald Trump Will Sell Weapons to Saudi Arabia Whether Congress Likes It or Not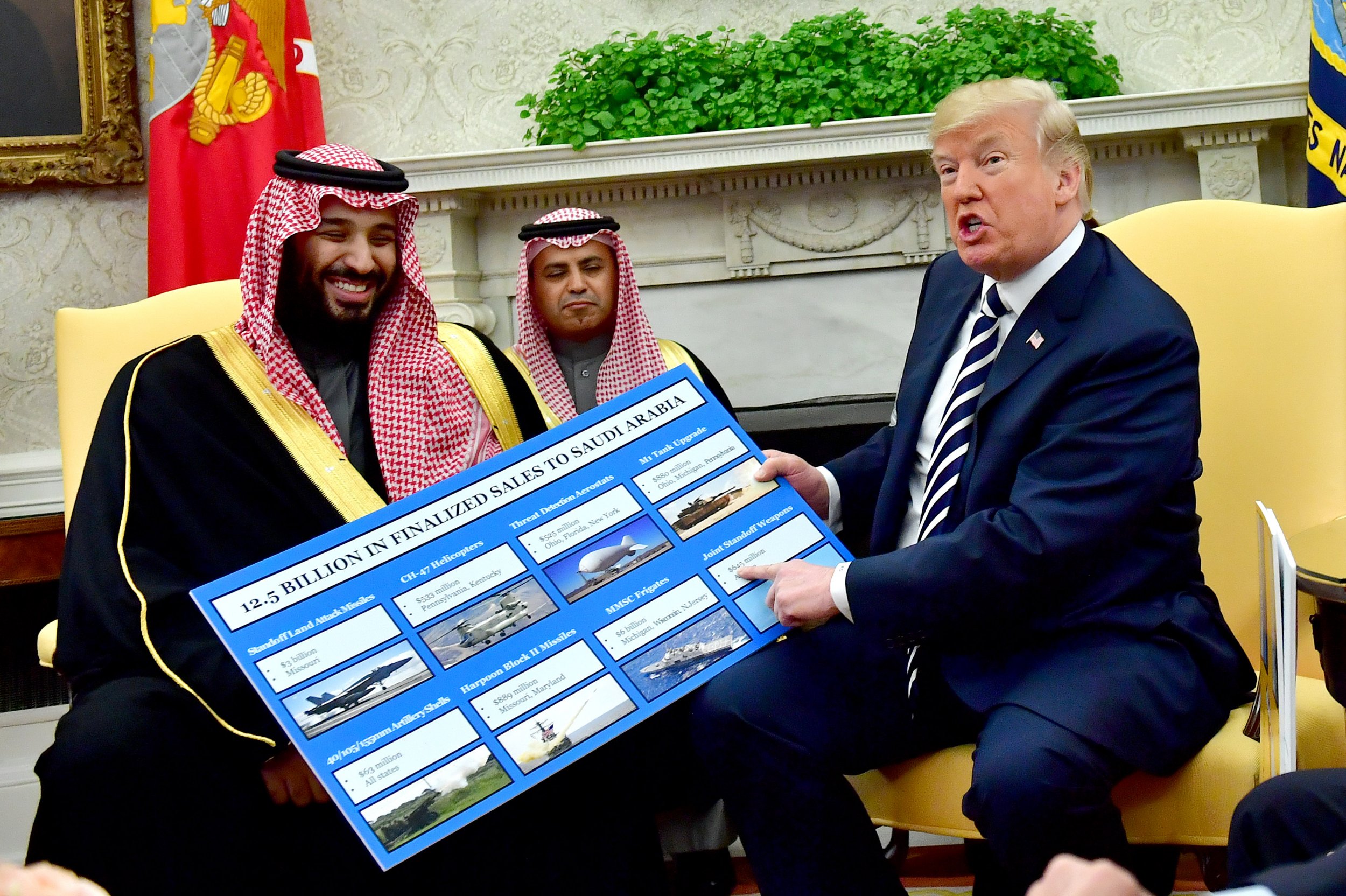 President Donald Trump was set to activate an emergency loophole that would allow him to bypass Congress in selling weapons to Saudi Arabia and the United Arab Emirates.
Lawmakers, some of whom had previously hinted that the move was coming, officially found out Friday when Secretary of State Mike Pompeo informed them Trump would invoke a clause in the 1976 Arms Export Control Act, which gives oversight of the president's weapons sales authority unless an "emergency exists which requires such sale in the national security interests of the United States."
Support for Saudi Arabia and the United Arab Emirates has proven controversial among members of Congress.
The two Arab monarchies have been accused of war crimes in their conflict against Yemen's Zaidi Shiite Muslim rebel group Ansar Allah, or the Houthis, which they—along with the U.S.—accused of receiving direct support from Iran. The latest sale came at a time of heightened tensions between Washington and Tehran, which the Trump administration has accused of plotting to attack U.S. interests in the region, a charge it denied.
Senator Bob Menendez, a Democrat from New Jersey who sat on the Senate Foreign Relations Committee and sponsored the 2019 Saudi Arabia Accountability and Yemen Act that attempted to block U.S. weapons sales to Saudi Arabia, was among those to criticize the White House's decision. In a statement, he said he was "disappointed, but not surprised, that the Trump administration has failed once again to prioritize our long-term national security interests or stand up for human rights, and instead is granting favors to authoritarian countries like Saudi Arabia."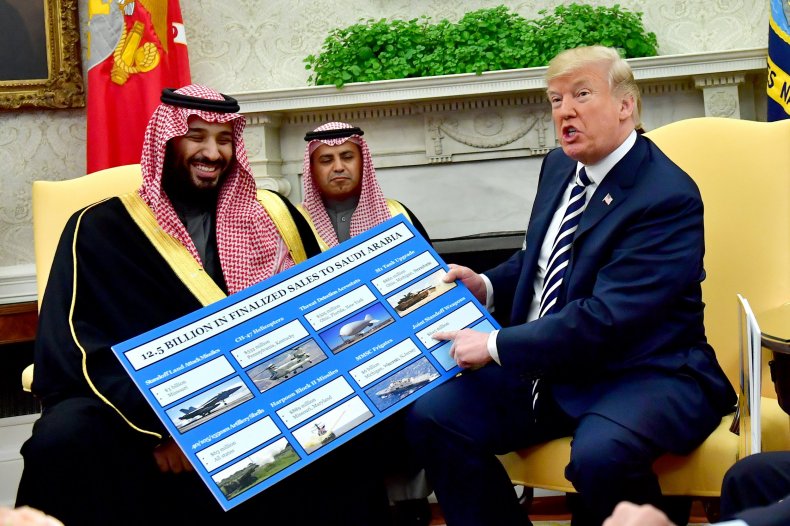 In his statement, Menendez referenced the two countries' troubled record on human rights in Yemen, as well as Saudi Crown Prince Mohammed bin Salman's alleged involvement in the October 2018 slaying of journalist Jamal Khashoggi in the kingdom's consulate in Istanbul. That incident and the ensuing fallout paved the way for bipartisan action against the Saudi-led war in Yemen, which entered its fifth year in March, in the form of a historic vote to invoke the 1973 War Powers Act in an attempt to block U.S. military involvement in the campaign waged by Saudi Arabia, the top customer of U.S. arms abroad, and the UAE.
"In trying to explain this move, the Administration failed to even identify which legal mechanism it thinks it is using, described years of malign Iranian behavior but failed to identify what actually constitutes an emergency today, and critically, failed to explain how these systems, many of which will take years to come online, would immediately benefit either the United States or our allies and thus merit such hasty action," Menendez continued, calling on both parties to come together in opposition to the move as "the lives of millions of people depend on it."
Newsweek reported on Thursday that the Trump administration may be preparing to utilize the emergency loophole of the Arms Export Control Act following a conversation with Senator Chris Murphy. The Connecticut Democrat, also a member of Senate Foreign Relations Committee, warned at the time that Trump's decision could "set a precedent in which Congress will never ever vote for another arms sale in the most dangerous part of the world."
In a statement sent to Newsweek on Friday, Murphy said that "President Trump is only using this loophole because he knows Congress would disapprove of this sale," warning that "there is no new 'emergency' reason to sell bombs to the Saudis to drop in Yemen, and doing so only perpetuates the humanitarian crisis there."
"This sets an incredibly dangerous precedent that future presidents can use to sell weapons without a check from Congress," Murphy continued. "We have the constitutional duty to declare war and the responsibility to oversee arm sales that contravene our national security interests. If we don't stand up to this abuse of authority, we will permanently box ourselves out of deciding who we should sell weapons to. I'm currently working on legislation to restrict arm sales so we can get back in this business of helping set critical foreign policy."
Many of these lawmakers have also raised doubts about the significance of the intelligence the Trump administration has presented to justify new military moves such as sending the USS Abraham Lincoln carrier strike group and a bomber task force to the Middle East as well as what Trump announced Friday would be the deployment of 1,500 additional troops. As Newsweek reported last week, the intelligence included satellite imagery purporting to show Iran equipping small boats with missiles in the strategic Strait of Hormuz and the posture of Tehran-backed militias in Iraq, though one U.S. military official also disputed the Trump administration's interpretations.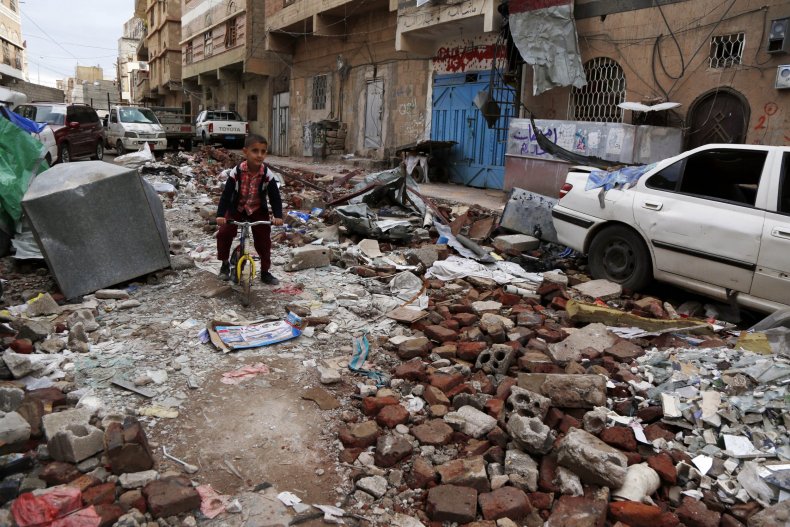 Recent incidents have linked Saudi Arabia and the UAE to what the U.S. perceived to be a heightened threat posed by Iran. Earlier this month, yet-unclaimed acts of "sabotage" damaged four tankers—two Saudi, one Emirati and one Norwegian—in the Gulf of Oman, less than 100 miles from the Strait of Hormuz, through which a third of the world's maritime oil traffic passes. Iran expressed concern for the incident and denied any responsibility, but the Houthis—which Tehran also denied backing—claimed responsibility for recent drone attacks on a Saudi oil site and an arms depot.
Both Trump and Iranian figures, such as supreme leader Ayatollah Ali Khamenei, have said they did not want war, but the two sides have also rejected diplomacy for the time being and have continued to exchange threats. Trump has demanded that Iranian officials call him first, but Tehran has dismissed this request as the U.S. continued to defy its obligations to a 2015 nuclear deal designed to grant Iran sanctions relief in exchange for curbing its nuclear activities.
Iran has always denied seeking nuclear weapons and the International Atomic Energy Agency has repeatedly confirmed the country's compliance with the agreement, but Trump and other critics felt it did no go far enough to restrict the Islamic Republic's alleged support for militant groups and pursuit of ballistic missile technology. Other signatories—China, the EU, France, Germany, Russia and the United Kingdom—continued to support the accord, but Europe has struggled to implement it in the face of U.S. sanctions, leading Iran to begin reconsidering its own commitments.