Jesus Wouldn't Approve of Trump Selling Christmas MAGA Hats For Double The Price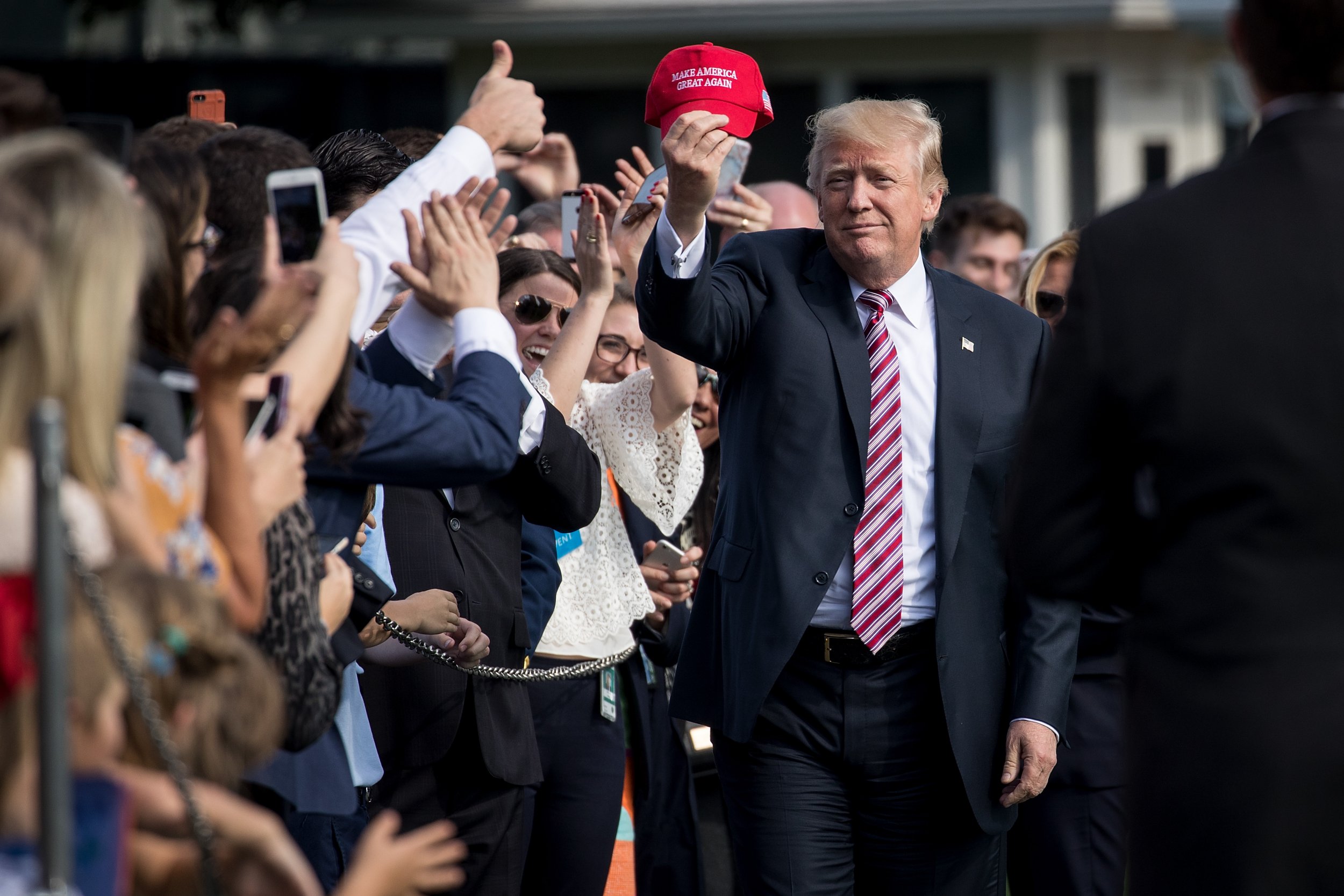 What would Jesus do about President Donald Trump's overpriced Christmas hats?
The president's online store might be launching its own War On Christmas after offering a holiday edition of the infamous red "Make America Great Again" hats — complete with "Merry Christmas" and some holiday light designs — for $45, nearly double the price of the regular caps.
Some Trump fans might rush to get these as stocking stuffers. But one very important figure — the son of God himself — probably wouldn't approve.
Trump has habitually cited the Christian Bible as a guide for his leadership, although he seems to have glossed over its anti-consumerist ethos.
In 1 Timothy, The Bible says, "For the love of money is a root of all kinds of evil. Some people, eager for money, have wandered from the faith and pierced themselves with many griefs."
Throughout The Bible, there are clear warnings about greed.
"Keep your lives free from the love of money and be content with what you have, because God has said, 'Never will I leave you; never will I forsake you,'" Hebrews 13 reads.
The Bible even takes a stand against hats, regardless of whether they're selling for $45. 1 Corinthians says you shouldn't cover your head while praying.
"Now I praise you, brethren, that you remember me in all things and keep the traditions just as I delivered them to you. But I want you to know that the head of every man is Christ, the head of woman is man, and the head of Christ is God. Every man praying or prophesying, having his head covered, dishonors his head," it says.
Trump has boasted about his wealth and sexual liasons to ungodly extent compared to other men who have entered the Oval Office. But he has nonetheless married himself to Christian and Evangelical supporters, hoisting his Bible up during speeches and declaring Christianity is under fire from political correctness.
He vowed in at least one speech to bring back the Christ in Christmas.
"When they don't want to say Merry Christmas in department stores anymore, I won't shop at places that don't say Merry Christmas," he told supporters at Dordt College, a Christian liberal arts school, in January 2016.
"I'll tell you one thing: I get elected president, we're going to be saying Merry Christmas again. Just remember that. And by the way, Christianity will have power."
Trump bragged about his faith as recently as last month.
"I pledged that in a Trump administration, our nation's religious heritage would be cherished, protected and defended like you have never seen before," he told a crowd of Christian conservatives at the Values Voter Summit. "Above all else in America, we don't worship government. We worship God."
The Christmas "MAGA" hats are the most expensive headwear in the Trump campaign store, and cost as much as a Trump Christmas ornament. Just a few weeks ago, the store offered orange hats with a Jack-O-Latern image for Halloween, also at $45.
Last year, Trump's hat-shaped campaign ornaments became a big point of controversy because they sold online for $149, since they were finished in 24-karat gold.