Trump Sells Weapons to Qatar and Saudi Arabia As Gulf Dispute Drags On
The Persian Gulf country Qatar, locked in a protracted diplomatic standoff with its neighbor Saudi Arabia, succeeded Tuesday in gaining support and weapons from its foe's staunchest ally: President Donald Trump.
During a meeting in the oval office, Trump welcomed Qatar's Emir, Sheikh Tamim bin Hamad Al Thani, and said that the two men "see eye to eye" on the ongoing conflict in Syria. The President then went on to tout the large amount of military equipment Qatar's Emir plans to purchase from the U.S.
"We have a gentleman, on my right, who buys a lot of equipment from us. A lot of purchases in the United States, and a lot of military airplanes, missiles — lots of different things. But they've been great friends in so many ways. We're working very well together, and I think it's working out extremely well," Trump said during the meeting. Al Thani responded by claiming that the war on terror is being launched from the U.S. airbase stationed in Qatar.
"Our relationship between Qatar and the United States has been more than 45 years. It's a very strong, solid relationship. Our economic partnership is more than $125 billion, and our aim and goal is to double it in the next coming years," Al Thani stressed.
"Our military cooperation is very solid, very strong. As everybody know, that the heart of fighting terrorism is from Al Udeid Base. And, thank God, it's been a very successful campaign against the terrorist groups around our region," he continued.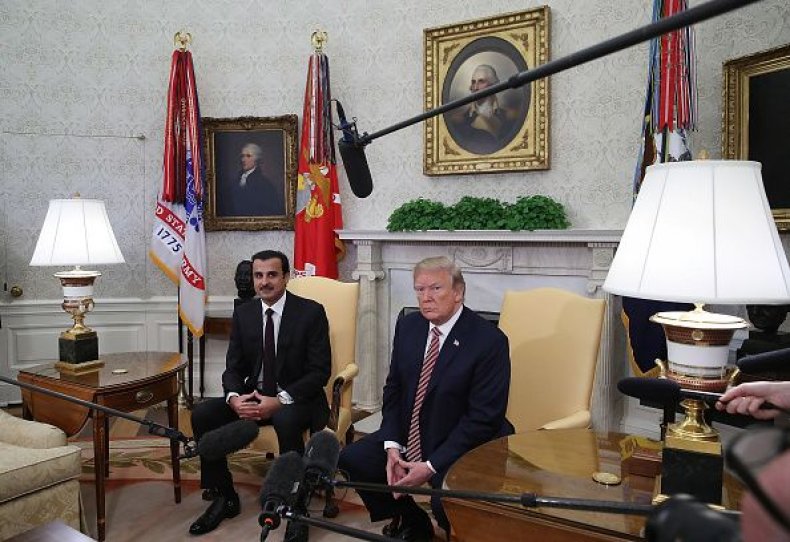 The meeting strongly resembled Trump's oval office meeting with Saudi Arabia's Crown Prince in March. During that meeting, Trump also boasted about the strong relationship between the two countries and about Saudi Arabia's large purchases of U.S. military equipment.
"Saudi Arabia is a very wealthy nation and they are going to give the United States some of that wealth hopefully, in the form of jobs, in the form of the purchase of the finest military equipment in the world," Trump said at the time, adding that Saudi Arabia has pledged to spend $400 billion for U.S. military equipment and other items.
But despite the fact that the meetings appeared identical, Trump had originally taken Saudi Arabia's side in the ongoing diplomatic fallout between Riyadh and Doha, accusing the Qataris of supporting terrorists. Experts say that Tuesday's shift is the result of an ongoing advocacy effort on the part of Qatar, which has employed an army of lobbyists to convince the administration that Qatar is a reliable ally for Washington.
What's more, Qatar is a country of strategic importance for the U.S. military, and military officials have convinced the President that it's necessary to sustain a good relationship with Doha in order to maintain the upper hand against regional enemy Iran.
For now, it appears that Washington will continue to lobby for the Gulf States to resolve their differences, and Doha will maintain its efforts to convince Washington that it doesn't support terrorism.
"I want to make something very clear, Mr. President: We do not and we will not tolerate with people who fund terrorism," the Emir said during the meeting. "We've been cooperating with the United States of America to stop funding terrorism around the region. We do not tolerate with people who support and fund terrorism."