Trump Sent Four Statements on Jan. 6, Never Once Mentioning Capitol Riot
Former Republican President Donald Trump issued four statements on the one-year anniversary of the January 6 capitol riot at the U.S. Capitol, but none of them mentioned the actual attack.
The statements, reposted on Trump's personal website, mostly criticize Democratic President Joe Biden and repeat the former president's baseless claims that he only lost the 2020 presidential election because it was "rigged." Numerous court cases, audits and Trump administration officials have failed to find any evidence to support Trump's claim.
Trump's statements ignoring the capitol attack follow other Republicans who have downplayed Trump's responsibility for inciting the event and instead focused on Biden's perceived failures.
"Due to inept leadership that gave us open borders, COVID incompetence, loss of energy independence, a military in chaos, rampant inflation, corrupt elections, and lack of world standing, our Nation, perhaps for the first time, has lost its confidence!" Trump's first statement said.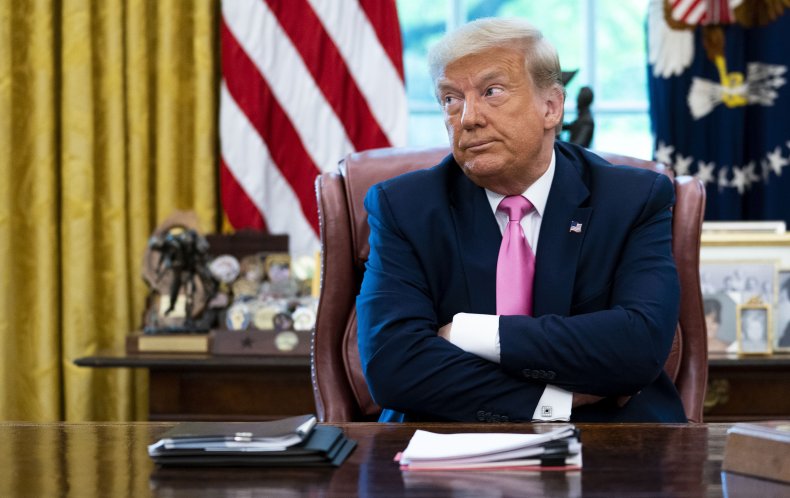 Trump's second statement accused Biden of "destroying our Nation with insane policies" such as "unconstitutional mandates."
"This political theater is all just a distraction for the fact Biden has completely and totally failed," Trump continued.
"The Democrats want to own this day of January 6th so they can stoke fears and divide America," he continued. "I say, let them have it because America sees through their lies."
Trump's second statement called the Select Committee to Investigate the January 6 attack on the U.S. Capitol "partisan political hacks, whose judgment has long ago been made."
"Why is it that the [committee is]...not discussing the rigged Presidential Election of 2020? It's because they don't have the answers or justifications for what happened. They got away with something, and it is leading to our Country's destruction. They want all conversation concerning the Election 'Canceled,'" Trump wrote.
"Biden is working hard to try and deflect the incompetent job he is doing, and has done," Trump said in his third statement. "Everything he touches turns to failure. That's what you get when you have a rigged Election."
Trump's fourth statement called Biden's January 6 speech "very hurtful to many people." Biden's speech never mentioned Trump by name. The current president did refer to Trump as a "sore loser" and once as the "former president."
"[Democrats are] the ones who tried to stop the peaceful transfer with a rigged election," Trump wrote. "They spread a 'web of lies' about me and Russia for 4 years to try to overturn the 2016 election, and now they lie about how they interfered in the 2020 Election, too. Big Tech was used illegally."
Trump's statement didn't explain how Big Tech was "used illegally." Before the election.
In the run-up to the 2020 election, Trump repeatedly accused Twitter of exhibiting an "unfair" and "illegal" anti-conservative bias and "stifling of free speech." He said this, in part, because Twitter had increasingly flagged his false claims about election fraud as "disputed" and because its list of trending topics often included terms that were personally unfavorable to him.
In early January 2021, Facebook banned Trump after he used the platform as one way to help incite the capitol riot. Twitter permanently banned him for similar reasons on January 8, 2021.
Trump's fourth statement claimed that Democrats sold ballots in swing states for $10 apiece, but he offered no support for his claim.
"America is a laughingstock of the world, and it's all because of the real insurrection, which took place on November 3rd," Trump wrote at the end of his fourth statement. "[B]ut this is an election year and MAGA Republicans should get elected and work with me to fix this horror that Joe Biden and the Democrats have brought us."
Trump had originally planned an event to mark the riot's one-year anniversary.
However, conservative politicians and media figures discouraged Trump from holding the event. Trump abruptly canceled the event, reportedly on the advice of Senator Lindsey Graham and Fox News host Laura Ingraham, a close ally who took the unusual step of criticizing the former president's plan on air this week.
On January 6, 2021, Trump's supporters began a riot at the U.S. Capitol in order to overturn the 2020 election's results. Many arrested riot suspects have said that they believed Trump's baseless claim Biden "stole" the election from him through an unprecedented nationwide conspiracy of voter fraud.
Trump's former attorney general, his former head of U.S. cybersecurity infrastructure, over 60 court cases filed by Republicans, as well as numerous statewide audits have not uncovered any evidence that the 2020 election was stolen.
Five people died in connection with the riots and roughly 140 USCP officers were injured. The police injuries include a broken spine, a lost eye, lost fingers, brain damage and multiple cases of PTSD. Four Capitol Police officers have died by suicide since the riot.
While ransacking the Capitol, the rioters shattered windows while trying to access congressional chambers, smeared feces in the hallway and stole computer equipment, potentially constituting a national security breach.
As of January 5, 2022, legal authorities have arrested and charged more than 725 defendants in nearly all 50 states and the District of Columbia for their roles in the January 6 attack, according to U.S. Attorney General Merrick Garland.