Trump Sent to 'Reform School' As Teen for Bullying, Niece's Book Says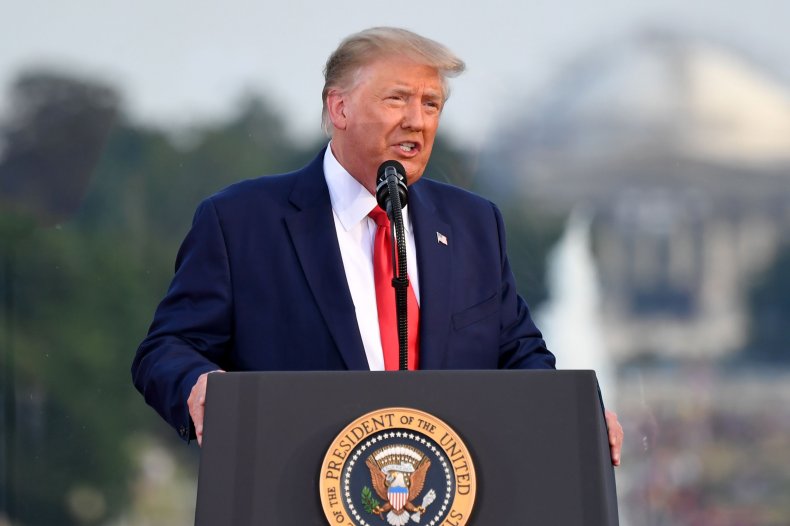 Long before he became a president notorious for mocking people, it was Donald Trump's penchant for "name-calling and teasing kids too young to fight back" that helped land him at the New York Military Academy, according to a niece's tell-all book due out next week.
Trump often has spoken fondly of his time at NYMA and the structure that it provided him, and has even compared it to actual military service. It's been reported that Trump was sent to the boarding school for misbehavior or "mischief" as Trump described in his own book The Art of the Deal.
But Mary Trump, the daughter of Trump's late brother, shed new light on why the president ended up at the regimented high school as a teen in her book, Too Much and Never Enough: How My Family Created The World's Most Dangerous Man. She also recorded his family's response to his time there.
"Finally, by 1959, Donald's misbehavior—fighting, bullying, arguing with teachers—had gone too far," Mary Trump writes.
The Trump patriarch, Fred Trump, was on the board of trustees for the Kew-Forest prep school that Donald Trump was attending.
"Fred didn't mind Donald's acting out, but it had become intrusive and time-consuming for him," Mary Trump wrote. "When one of his fellow board members at Kew-Forest recommended sending Donald to New York Military Academy to rein him in, Fred went along with it."
"Fred had more important things to do than deal with Donald," she added.
The White House has disputed the book's contents, and other members of Trump's family have sought to block its release.
"It's ridiculous, absurd allegations that have absolutely no bearing in truth," White House Press Secretary Kayleigh McEnany told reporters Tuesday. "I have yet to see the book, but it is a book of falsehoods."
Mary Trump acknowledged in the book that she had released it in response to his policies with which she disagreed. She does not support his re-election, but she wrote that she stands by the book's contents.
In the book, Mary Trump wrote that Trump's mother, Mary Anne Trump, "didn't fight for her son to stay home ... a failure Donald couldn't help but notice."
"Over Donald's objections, he was enrolled at NYMA," she writes. "The other kids in the family referred to NYMA as a 'reform school'—it wasn't prestigious like St. Paul's, which (older brother) Freddy had attended."
"Nobody sent their sons to NYMA for a better education, and Donald understood it rightly as a punishment," Mary Trump wrote.
The academy, located about 60 miles outside of New York City, was founded in 1889 by a Civil War veteran.
In his book Art of the Deal, Trump wrote that he "learned a lot about discipline and about channeling my aggression into achievement" while attending NYMA.
During his presidential campaign and as president, Trump often has compared his time there to military service.
"I did very well under the military system," Trump told The Washington Post in 2016 before he won the election. "I became one of the top guys at the whole school."
Though he received multiple draft deferments during Vietnam and avoided service, Trump has sought to align himself closely with the military, most recently on display during a show of historic aircraft during a July 4 celebration at the White House attended by veterans.
In her book, Mary Trump wrote about the changes it meant for her uncle and how it likely forged a closer bond between Donald Trump and his father, Fred, and ultimately shaped Donald Trump's worldview.
"(Donald) went from a world in which he could do as he pleased to one in which he faced punishment for not making his bed and got slammed against the wall by upperclassmen for no particular reason," she wrote.
Mary Trump added that Fred Trump "recognized his son's isolation and visited almost every weekend between the time Donald started as an eighth-grader and the time he graduated in 1964."
"Donald's mother went occasionally, but for the most part was relieved to have him gone," she wrote.
Mary Trump, a clinical psychologist, used much of the book to link the past to Trump's present actions as president. Though she hasn't treated her uncle professionally, she wrote that she believed NYMA reinforced a view for him: "Anything that helped you maintain power was by definition right, even if it wasn't always fair."