Donald Trump Called Jeff Sessions a 'Dumb Southerner,' Showing Apparent Disdain For People Who Voted For Him in 2016
President Donald Trump reportedly poked fun at Attorney General Jeff Sessions's southern accent and described Sessions as a "dumb Southerner," according to a new book by famed reporter and author Bob Woodward.
In Fear, Woodward writes that Trump had constantly complained about Sessions's recusal from the Russia probe and openly mocked Sessions to former White House aide Rob Porter. Trump also called Sessions a "traitor," according to excerpts published by The Washington Post on Tuesday.
"This guy is mentally retarded. He's this dumb Southerner. … He couldn't even be a one-person country lawyer down in Alabama," the president was quoted as saying by Woodward. Trump also mocked Sessions's accent, according to the book. Woodward obtained the quote and information for his book by granting anonymity to sources.
The Justice Department declined Newsweek's request for comment.
Trump's characterization and stereotyping of Sessions' background might not sit well with a southern electorate that helped him reach the White House in 2016.
Trump swept the South to earn most of his 306 electoral votes, with only Virginia opting for Hillary Clinton.
The president also took Sessions's home state of Alabama with 62.1 percent of the total vote.
Trump would also claim major victories in Mississippi, Tennessee, Arkansas, Louisiana and Kentucky.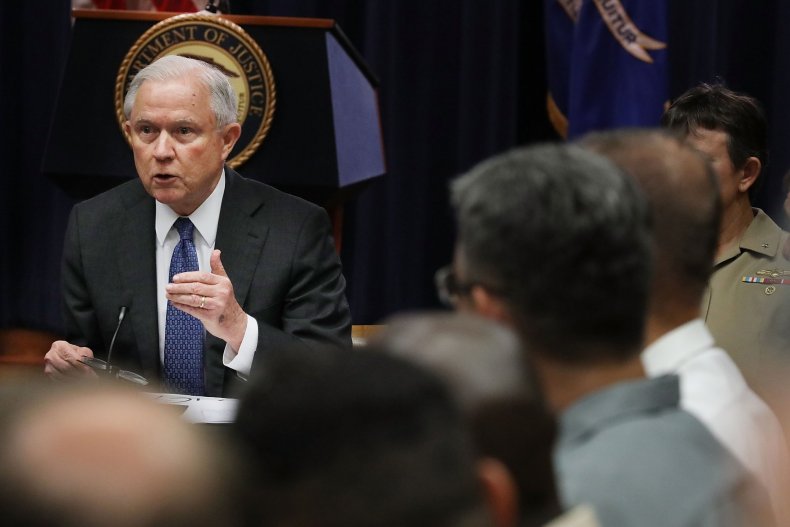 The quote about Sessions also came out as Trump and Republicans revved up for what could be a difficult midterm election in November. Polls indicate Democrats have a decided advantage among voters and could very well take back the House, though Republicans could even improve their one-seat majority in the Senate.
Trump has taken to bashing Sessions publicly on a regular basis. Most recently, he accused Sessions of keeping up investigations into GOP Representatives Chris Collins and Duncan Hunter despite each being "easy seats" for Republicans to win in the fall.
Sessions has often not engaged the president's public attacks, but last month the former Alabama senator shot back after Trump said Sessions had never taken control of the Justice Department.
"I took control of the Department of Justice the day I was sworn in," Sessions later responded in a statement. "While I am attorney general, the actions of the Department of Justice will not be improperly influenced by political considerations."
Speculation has swirled around Sessions's job status ever since he recused himself last year. Senator Lindsey Graham, a defender and friend to Sessions, said last month that Trump and Sessions's relationship was "beyond repair" and Trump also recently said Sessions was likely safe until the midterms.