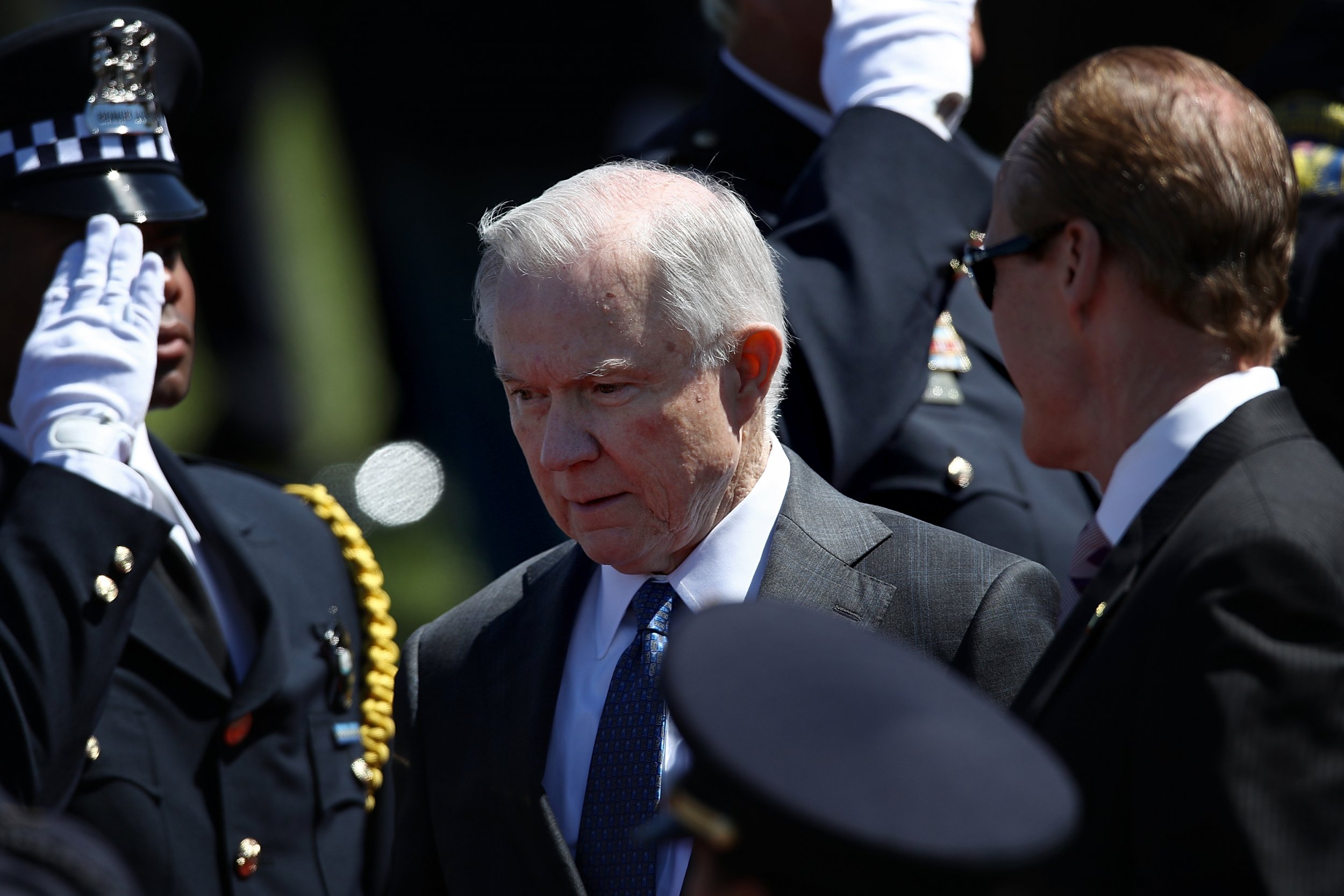 Updated | Following one of his patented tweetstorms, President Donald Trump has reportedly "soured" on Attorney General Jeff Sessions and "blames" him for much of his White House's early woes, The New York Times reported Monday night, citing people close to the president.
Other sources indicated that Sessions's job is likely to be safe for now, as Trump is evidently aware that dismissing him would be "risky" following the firing of FBI director James Comey last month.
The president is primarily concerned over how the Justice Department headed by Sessions—a former senator who was one of the few top Republicans to support Trump during last year's contentious campaign—has handled the executive orders meant to curb immigration and travel from several Muslim-majority countries.
Also of concern is Sessions's decision to recuse himself from the investigation into Russia's alleged interference in the 2016 election, a choice that Trump has "fumed" over and specifically blamed for the eventual appointment of a special counsel to head up the probe, former FBI director Robert Mueller. Trump evidently did not know Sessions was going to recuse himself.
The report indicated that in "occasional spurts" Trump "has not stopped burning" over Session's decision to recuse himself, a move that came after reports indicated the Alabama Republican had not disclosed meetings he held with Russia's ambassador to the U.S., Sergey Kislyak, last year while he was helping Trump in his bid for the White House.
During Tuesday afternoon's briefing, White House press secretary Sean Spicer was asked about Trump's confidence in Sessions.
"I have not had a discussion with (Trump) about that," Spicer said three times.
He was then pushed for answer and added: "If I have not had a discussion with him, I tend not to comment on it."
Sessions's alleged involvement in the Trump-Russia entanglement may have deepened last week. Congressional and FBI investigators were seeking additional information to determine if Sessions and Kislyak had another previously unreported private meeting in April 2016, CNN said last week. However, the report also stressed that investigators admitted it was possible the meeting may have been incidental.
On Monday, Trump took to Twitter to criticize the Justice Department's handling of the travel ban orders, both of which have been shot down by U.S. federal courts.
The Times pointed out that presidents before Trump have also taken umbrage with both the Justice Department and their attorney generals, like Janet Reno launching investigations into Bill Clinton during his administration.
In Trump's case, though, his widespread and well-covered criticism of Sessions may have reached a new level for the head of the executive branch.
"They wholly undercut the idea that there is some rational process behind the president's decisions," Clinton's former acting solicitor general, Walter E. Dellinger, told the Times. "I believe it is unprecedented for a president to publicly chastise his own Justice Department."
This story has been updated to include White House press secretary Sean Spicer's responses when asked about the president's confidence in Sessions Tuesday afternoon.