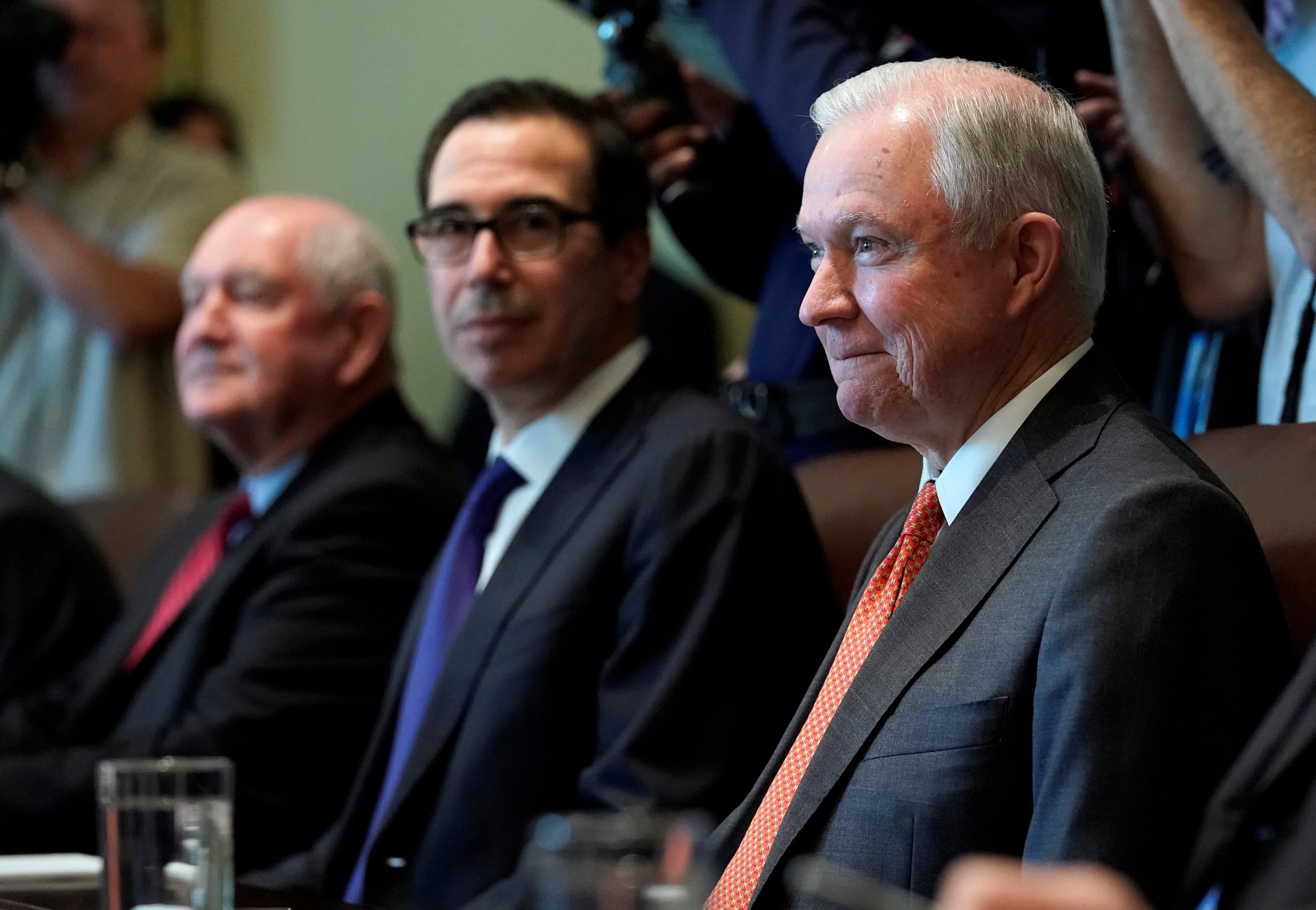 Amid the three ever-evolving Russia investigations, President Donald Trump has reportedly received advice from aides that firing Attorney General Jeff Sessions would not only rev up furor and skepticism around the probes but also enrage Republican lawmakers and GOP members.
And yet, a plurality of Republican voters, 40 percent, stated they would deem Trump's potential firing of Sessions as "appropriate," compared with 29 percent choosing "inappropriate" and 31 percent unsure, according to a Morning Consult/Politico poll released Wednesday. Those who considered themselves conservatives were very closely split, with 34 percent stating a Sessions dismissal would be appropriate and 33 percent calling it inappropriate.
Still, GOP members stood in stark contrast with the rest of the country. Forty-seven percent of voters overall fell in the inappropriate category, compared with 26 percent for appropriate. Democrats overwhelmingly answered inappropriate, at 66 percent.
Sessions, the former Alabama senator who was the first topline lawmaker to back Trump's campaign, has faced serious consternation and public ridicule from the president because of his March decision to recuse himself from the Russia election meddling investigations. Trump went so far as to say he wouldn't have appointed Sessions to the Department of Justice's top position if he knew he would voluntarily sideline himself.
Despite the public lashings, Sessions has said he plans to remain in the job for as long as it's "appropriate," and even Democrats have come to his aide. Democratic Senator Dianne Feinstein of California told MSNBC Tuesday that even the possibility of Trump moving Sessions over to the Department of Homeland Security would be questionable. ABC News reported Saturday that some top aides had encouraged Trump to move Sessions to the spot vacated by new White House Chief of Staff John Kelly, but others disagreed.
"It could well be the beginning of the end of this short presidency," Feinstein said. "I don't want that to be the case. This is the red zone. No president should enter it without knowing fully what the repercussions are."
While the new poll reflects support from Republican voters on what many have warned could be a very risky move by the president, other recent results suggest Trump could be slipping among GOP members.
A Reuters/Ipsos poll released last week found that Trump had lost 6 points of Republican approval from July 15 to July 24. A Rasmussen poll, which has faced criticism before for leaning to the conservative side of the political spectrum, had Trump's job approval rating at 39 percent.
Back on June 16, Trump tweeted out Rasmussen's results in an effort to show that others, like Gallup or the Washington Post/ABC News joint polls, were inaccurate. That Rasmussen poll showed a 50 percent approval rating.
Gallup last listed Trump's approval rating at 38 percent over the weekend, a slight improvement from 37 percent the week before.