Trump Might Not Be Able to Defund Sanctuary Cities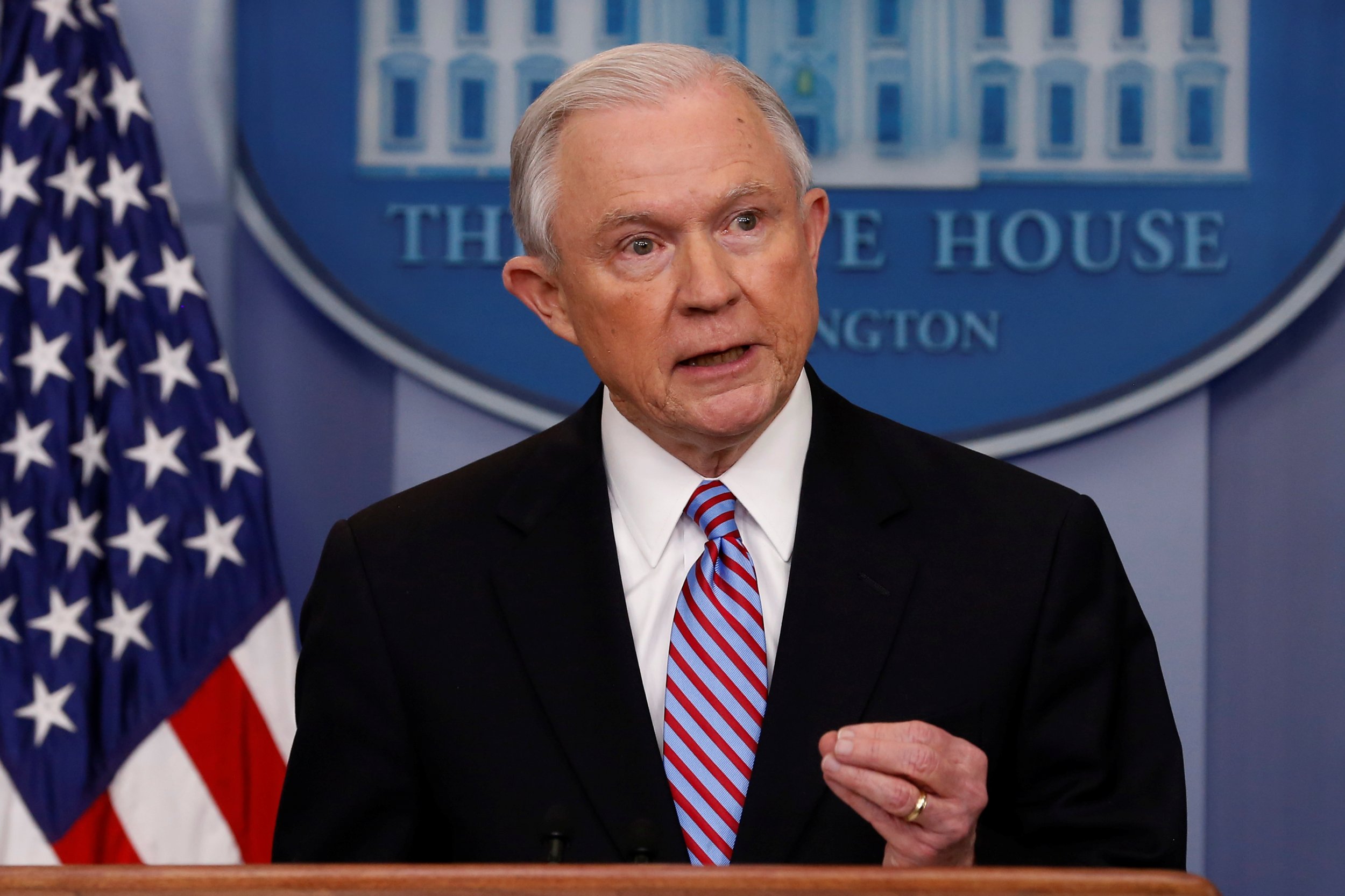 Donald Trump's war on sanctuary cities has finally begun. At the head of the advancing troops is his attorney general, Jeff Sessions, who vowed on Monday to cut Department of Justice grants to sanctuary jurisdictions.
Speaking to reporters in the White House briefing room, Sessions said that the Department of Justice was going to get tough on sanctuary cities, which don't comply with federal immigration laws. In his slow, Alabama drawl, Sessions told the White House press corps: "Failure to remedy violations could result in withholding grants, termination of grants and disbarment or ineligibility for future grants."
The battlelines were drawn five days into Trump's freewheeling presidency. On January 25, he signed an executive order that pledged to block federal funding to sanctuary cities. The document somewhat alarmingly says sanctuary jurisdictions "willfully violate Federal law in an attempt to shield aliens from removal from the United States." They also, according to the order, cause "immeasurable harm to the American people and to the very fabric of our Republic." After that, his administration was largely silent on the issue—that is, until Sessions's statement.
Should Trump's executive order succeed in cutting funding to sanctuary cities, the government could see savings of $26.74 billion a year, according to the organization Transparency America. Assuming they don't abandon their tolerant stances on immigrants, five states, 106 cities and more than 630 counties could possibly lose funding.
Department of Justice grants—what Sessions is able to cut—make up a fraction of the $26.74 billion. (The rest of the money comes from other federal departments, which may choose to similarly restrict funds.) Last year, the department gave $1 billion in funding to various states, and $136 million to certain cities and counties. According to Reuters, the money is usually spent on police forces and assisting victims of crime. Four sanctuary cities—New Orleans, Philadelphia, Chicago and New York—collectively received $15 million in justice grants In 2016, the agency said.
One problem Sessions faces in cutting off funding to sanctuary cities is that there is no single, agreed meaning of what a sanctuary city actually is.
In 2008, soon after Barack Obama's inauguration, Congress approved the Secure Communities Program. The bill allowed immigration officials to ask local jails to detain undocumented migrants after their release date, to give federal agents time to collect them for deportation.
In response, sanctuary areas sprung up across the country, growing from a few dozen in 2012 to around 550 in 2016, according to The New Yorker. Some refused to hand over undocumented people who hadn't committed serious felonies, while others stopped their police forces from asking people's immigration status.
The reasons for this vary. The most common one is that sanctuary cities want to protect undocumented migrants from deportation. Some city leaders worry that if they comply with federal law, undocumented people will refuse to cooperate with police, fearing that their immigration status will be requested. Others, such as the mayor of Philadelphia, Jim Kenney, say turning someone over without a court order violates the Fourth Amendment.
According to Trump and his allies, sanctuary cities jeopardize U.S. security and violate federal law. During a speech at the 2016 Republican National Convention, Trump referenced the death of Kathryn Steinle, who was allegedly shot by an undocumented migrant with multiple felonies. Trump argued the killing in the sanctuary city of San Francisco was an argument against such communities' existence.
But, while signing an executive order might be easy, implementing it is not. Under the 10th Amendment, the federal government cannot make states or local governments enforce national laws. It can push them to do so by withholding funding, but not if a court deems it "coercive."
In 2012, the Supreme Court ruled that Obama's attempts to expand Medicaid (by cutting Medicaid funding to states unless they offered it to a wider group of people) was coercive. It's due to this decision that some people think Trump's plans to defund sanctuary cities won't stand.
These cities are not celebrating just yet. Last year, the Department of Justice said states and localities would be in violation of federal law if they implemented policies that restrict information-sharing with immigration officials. The department pointed to a law in Orleans Parish, Louisiana, for example, that says the sheriff's office should refuse all detention requests unless the individual's charge is for a serious crime.
So far, though, the majority of sanctuary cities have refused to be cowed. San Francisco was the first city to sue Trump over his executive order, on January 31, and after the state of Texas cut funding to Austin following the city's refusal to obey the Trump order, the city began crowdfunding for the $1.5 million it lost.
The message seems clear: Sanctuary cities are determined to hold out against Trump, regardless of the cost.