Trump's Tweets About Sessions Alienating Even Supporters Like Breitbart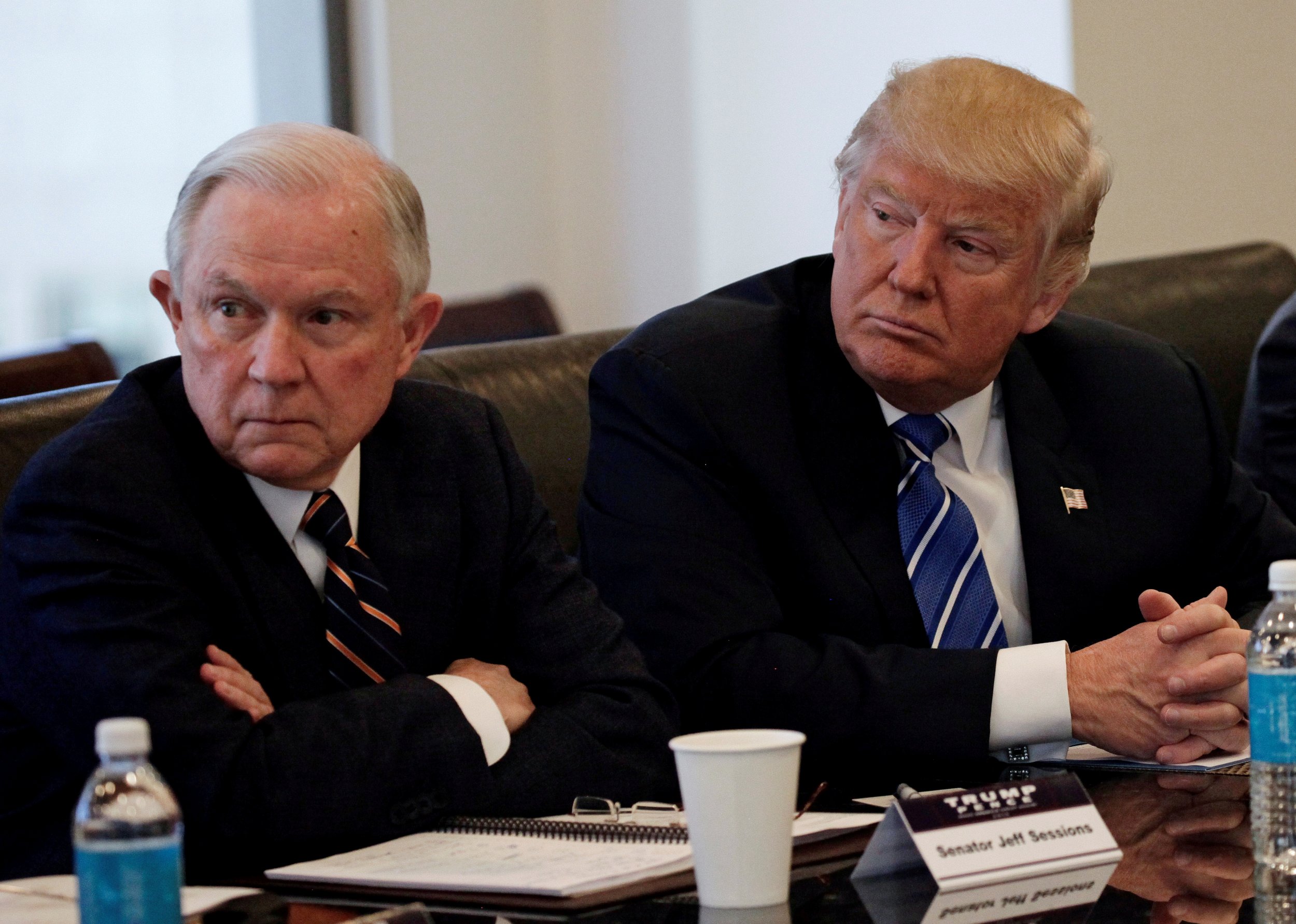 Updated | As President Donald Trump tweets amid investigations that could develop into a constitutional crisis the likes of which Americans have not experienced since the days of Richard Nixon, he appears to be exfoliating friends in the conservative media, in Congress and in his base.
A tweet blizzard targeting Jeff Sessions started Monday, with the president calling his attorney general "beleaguered." (No word yet on whether the iPhone or an aide spell-checked that word for him.) On Tuesday, the president flailed at Sessions again, accusing him in a pre–7 a.m. tweetstorm of, among other things, taking a "VERY weak position on Hillary Clinton crimes."
Related: Constitutional crisis predicted by lawmaker who likens Trump to Orwell's '1984'
If the tweets were a way to test the waters, the president now knows that firing the AG in an effort to rid the Justice Department of its Trump-Russia investigators would lead to a showdown with his supporters.
Former U.S. Representative Joe Walsh, a conservative firebrand who has his own syndicated talk radio show, tells Newsweek that Sessions is a "red line" Trump would be unwise to cross by firing him. "I am on the radio, and what I am hearing from my listeners is that they are either confused or pissed off," Walsh says. "Most don't like the way he is handling Sessions, because Sessions is a good conservative."
Breitbart—a media outlet that is the former home of top Trump adviser Steve Bannon and is funded by the conservative, pro-Trump billionaire Mercer family—also lashed out at Trump, under a headline stating that Trump's attacks on Sessions highlight the president's own "weak position."
"President Trump's decision Tuesday to attack Attorney General Jeff Sessions over Sessions' position on Hillary Clinton's various scandals only serves to highlight Trump's own hypocrisy on the issue—and is likely to fuel concerns from his base, who see Sessions as the best hope to fulfill Trump's immigration policies," Breitbart wrote.
Other reliably pro-Trump media voices also criticized the president. "I hate to see him being treated this way," Rush Limbaugh said of Sessions on his nationally syndicated radio program on Monday. "He's a really fine man, and he is a fighter in his own way." He added that it is "a little bit discomforting" and "unseemly" for Trump to "go after such a loyal supporter that way."
Last week, Fox News's Tucker Carlson said "attacking Jeff Sessions was...a useless, self-destructive act. The first rule of politics, as in war, as in life, don't shoot the friendlies."
The only corner of support was over at Alex Jones's Infowars website, which last week ran a brief accusing Sessions of a plan to "expand unconstitutional, unlawful theft," referring to his effort to increase law enforcement's Civil Asset Forfeiture tools. Civil Asset Forfeiture allows "law enforcement" to "steal property without ever charging anyone with a crime, let alone finding them guilty, in order to fund their bureaucracy," the Infowars site charged.
Conservative pundits can fulminate for or against Trump all they want, but they won't dent the White House. The real looming crisis is on Capitol Hill, which has the power to continue investigating and to even impeach Trump—with or without special counsel Robert Mueller. House Speaker Paul Ryan on Tuesday said it is Trump's "prerogative" to deal with Sessions as he sees fit, but over the weekend, the speaker denied Trump's allegation that because Mueller employs lawyers who have donated to Democrats, he is on a partisan "witch hunt."
"Remember, Bob Mueller is a Republican who was appointed by a Republican who served in a Republican administration and stayed on until his term ended," Ryan said during a Wisconsin radio interview Sunday. "But I don't think many people are saying Bob Mueller is a person who is a biased partisan. He's really sort of anything but. The point is, we have an investigation in the House, an investigation in the Senate, and a special counsel, which sort of depoliticizes this stuff, and gets it out of the political theater," he continued. "That is, I think, better, to get this off to the side. I think the facts will vindicate themselves. And then, let's just go do our jobs."
Privately, congressional Republicans are known to be in varying stages, including upset, incredulous and aghast at the presidential tweets and at the looming Trump face-off with federal investigators known to be looking into his family businesses. A little bit of that alarm spilled over in an exchange media outlets relayed Tuesday afternoon at the end of a Senate subcommittee hearing when someone did not switch off a microphone. Senator Susan Collins, a Republican from Maine, reportedly was overheard speaking to Senator Jack Reed of Rhode Island, the ranking Democrat. "I swear, [the Office of Management and Budget] just went through and whenever there was 'grant,' they just X it out," Collins said, referring to a White House office. "With no measurement, no thinking about it, no metrics, no nothing. It's just incredibly irresponsible."
"Yes," Reed replied. "I think—I think he's crazy," apparently referring to the president. "I mean, I don't say that lightly and as a kind of a goofy guy."
"I'm worried," Collins replied.
Walsh, the former congressman, tells Newsweek Collins is hardly the only "worried" Republican on the Hill, although as a group they are still a long way from acting on that worry. If Trump fires Sessions, Walsh predicts that "a few will poke their heads up" and object.
He adds, "You will see a tsunami if he makes a move on Mueller. That is absolutely a red line. You would see members of Congress say he's gone too far. That would be a crisis."
Walsh concedes that such a crisis appears inevitable.
"His behavior right now is the behavior of someone who is obsessed with not having certain information come out," Walsh says. "None of this makes political sense. What he did with [former FBI Director James] Comey didn't make political sense, and what he's doing with Sessions makes no political sense. Either he gets rid of Mueller, which would be a crisis, or eventually Mueller finds something, and if that's before the 2018 election you would be at the same place as if he got rid of Mueller, because if he finds something rally damning on Trump, the Republicans will be forced to act. It's unfortunate. It's really bad for the Republican Party."