Will Trump Fire Jeff Sessions or Rex Tillerson Next? How the 'Apprentice' Presidency Is Unfolding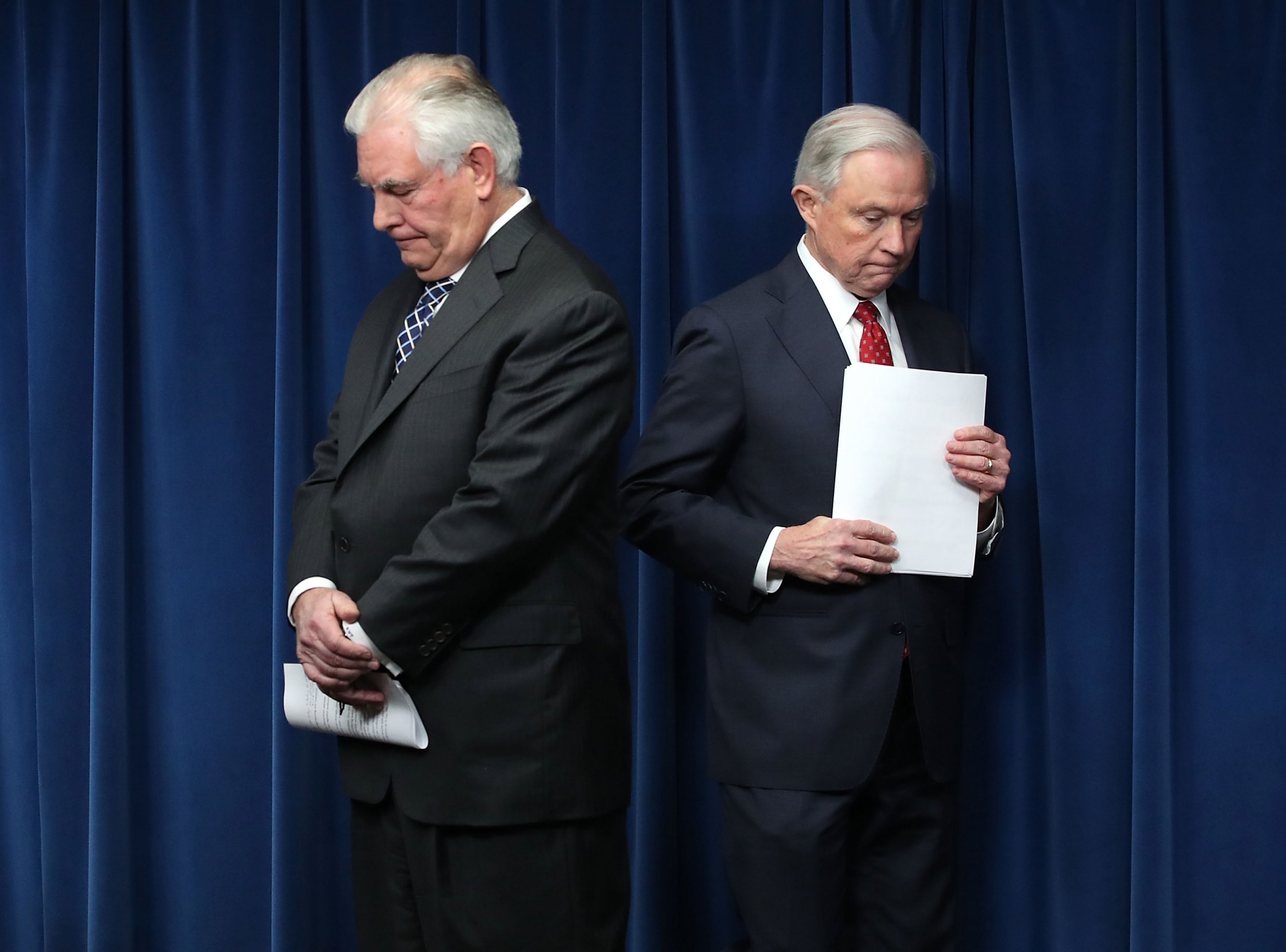 In the past 24 hours, Donald Trump has left hanging the fates of two of his most senior Cabinet members as he continues to give some the impression he is conducting his presidency in the manner of the reality show personality that propelled him to national recognition.
Not for the first time, Trump seemingly called out both his attorney general, Jeff Sessions, and his secretary of state, Rex Tillerson.
Related: Jeff Sessions Says Russia Investigator Robert Mueller Has Not Interviewed Him; Discusses Comey, Immigration
In a series of tweets Friday morning, Trump urged the Justice Department, which is headed by Sessions, to investigate Hillary Clinton and the Democratic Party over a string of allegations related to the 2016 election.
"Everybody is asking why the Justice Department (and FBI) isn't looking into all of the dishonesty going on with Crooked Hillary & the Dems," he began. "At some point the Justice Department, and the FBI, must do what is right and proper. The American public deserves it!"
He concluded: "Lets go FBI & Justice Dept."
Speaking to reporters at the White House prior to departing for a five-country trip in Asia Friday, Trump stepped up his criticism.
"I'm really not involved with the Justice Department, I'd like to let it run itself," he said. "But honestly they should be looking at the Democrats, they should be looking at Podesta and all of that dishonesty, they should be looking at a lot of things. And a lot of people are disappointed in the Justice Department, including me."
There have been many other signs of a major fracture in the relationship between the president and his attorney general, dating back to Sessions's recusal from the Russia investigation just over a month into Trump's presidency. Had he known Sessions would do that, Trump later said, he would never have appointed him.
As for Tillerson, Trump gave a familiar response when asked about whether his secretary of state, with whom he has not always enjoyed the most harmonious of relationships, would remain in his position for the entirety of the president's four-year term. "We'll see," he told Fox News in an interview that aired Thursday. "I don't know who's going to be."
In his first nine months as president, Trump has frequently seemed to toy with his Cabinet members in much the same manner he did with contestants when he was host of the reality TV show The Apprentice for 14 seasons. More often than not, he has used the line "We'll see" to keep his audience hanging.
Trump said just that about Steve Bannon in August, three days before his chief strategist was ousted from the White House. Sessions's future has similarly been the subject of those words in the past.
As for who will be next to bite the dust in Trump's mass-turnover Cabinet, the White House had not responded to a Newsweek request for comment by the time of publication.