Trump and Sessions: What is a Recess Appointment?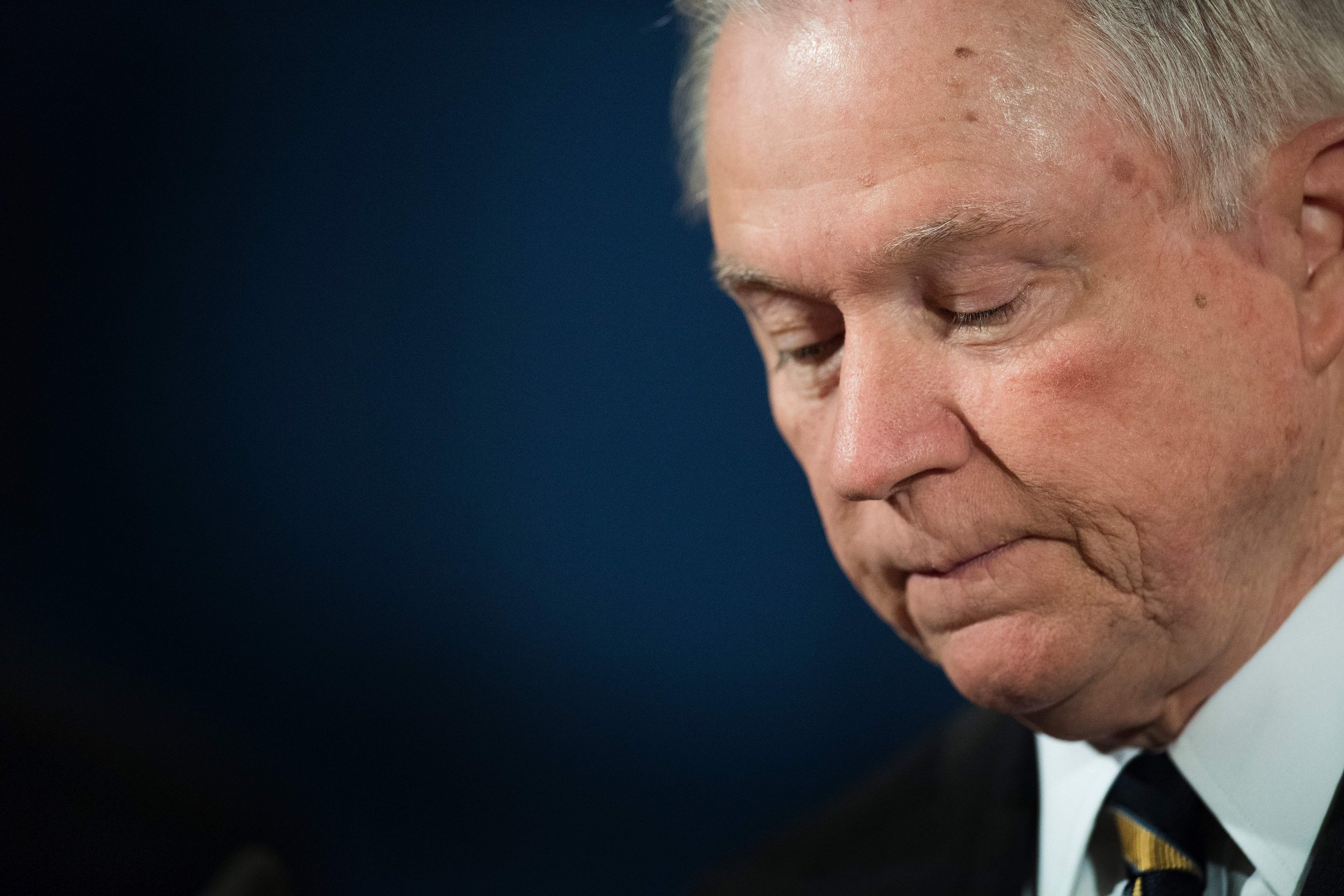 If President Donald Trump fires Attorney General Jeff Sessions or he resigns, Trump could do an end-run around the Senate confirmation process by making a recess appointment.
Article II of the Constitution grants the president power to fill vacancies while the Senate is in recess. The Heritage Foundation, a conservative think tank, describes the maneuver as a way "to prevent government paralysis." Modern presidents have increasingly used the power "to avoid the Senate's role in the confirmation process," the Heritage Foundation says, but the catch is that such appointments expire at the end of the next Senate session.
The Washington Post and CNN reported that Trump is considering installing a new attorney general when the Senate breaks for recess in August, but White House Press Secretary Sarah Huckabee Sanders said during the daily press briefing on Thursday that the rumor is "more fake news."
Related: Trump says about Sessions what he said about Comey
Recess appointments are controversial because of their lack of Senate oversight. President Bill Clinton made 139 such appointments, President George W. Bush made 171 and President Barack Obama, as of February 1, 2015, made 32, according to a Congressional Research Service report. President Dwight D. Eisenhower appointed three Supreme Court justices that way, according to the Heritage Foundation. In 2014, the Supreme Court blocked Obama from making three recess appointments, all to the National Labor Relations Board. The Obama administration had argued that such power was necessary to circumvent partisan opposition. But in the majority decision, Justice Stephen Breyer wrote that the clause "is not designed to overcome serious institutional friction." The ruling clarified that a "recess" must last 10 days or longer and can be during a Senate session or between sessions.
Trump has criticized Sessions on multiple occasions over the past eight days. In a July 19 interview with The New York Times, Trump said he would not have appointed Sessions if he knew Sessions would recuse himself from investigations involving Trump's presidential campaign. In the days that followed, Trump referred to Sessions as "our beleaguered A.G." and tweeted that Sessions "has taken a VERY weak position on Hillary Clinton crimes." Asked during an unrelated press conference on Tuesday whether he intends to fire Sessions, Trump said, "We will see what happens. Time will tell, time will tell." The comment echoed remarks Trump once gave when asked if he would fire former FBI Director James Comey, about a month before doing so.
The Senate begins its recess August 11. If Sessions is fired or resigns before then, and Trump makes a recess appointment, the new attorney general would serve until January 3, 2019.
A recess appointee could take control of the efforts by Robert Mueller, the Department of Justice special counsel overseeing the FBI's investigation into Russian meddling in the 2016 presidential election and possible coordination with the Trump campaign. Because of Sessions's recusal, Deputy Attorney General Rod Rosenstein is currently responsible for the special counsel, so Trump would have to go through Rosenstein in order to fire Mueller. Multiple people close to Rosenstein tell Newsweek he would likely resign before agreeing to fire Mueller without sufficient cause, especially given Rosenstein's frustration after the White House initially blamed him for the firing of Comey.
Lawmakers could try to prevent the opportunity for a recess appointment by holding pro forma sessions (brief meetings lasting only a few minutes) to keep the Senate from adjourning, CNN reported. "[Americans] should wonder if the president is trying to pry open the office of attorney general to appoint someone during the August recess who will fire special counsel Mueller and shut down the [Russia] investigation," Senate Minority Leader Chuck Schumer said on Wednesday in a floor speech. "If such a situation arises, Democrats would use every tool in our toolbox to stymie such a recess appointment."
On the other side of the aisle, Senator Ben Sasse, a Republican, said Thursday on the Senate floor, addressing Trump, "If you're thinking of making a recess appointment to push out the attorney general, forget about it."
Without the recess maneuver, Trump could face Senate opposition to his appointing a new attorney general. Senator Lindsey Graham, a Republican, said Thursday that there would be "holy hell to pay" if Trump fires Sessions, according to the Associated Press. Chuck Grassley, chairman of the Senate Judiciary Committee, which is responsible for reporting presidential nominations to the full Senate, tweeted on Wednesday, "Everybody in D.C. Shld b warned that the agenda for the judiciary Comm is set for the rest of 2017. Judges first subcabinet 2nd / AG no way."