Trump Overturns a Mental Health Regulation on Gun Purchases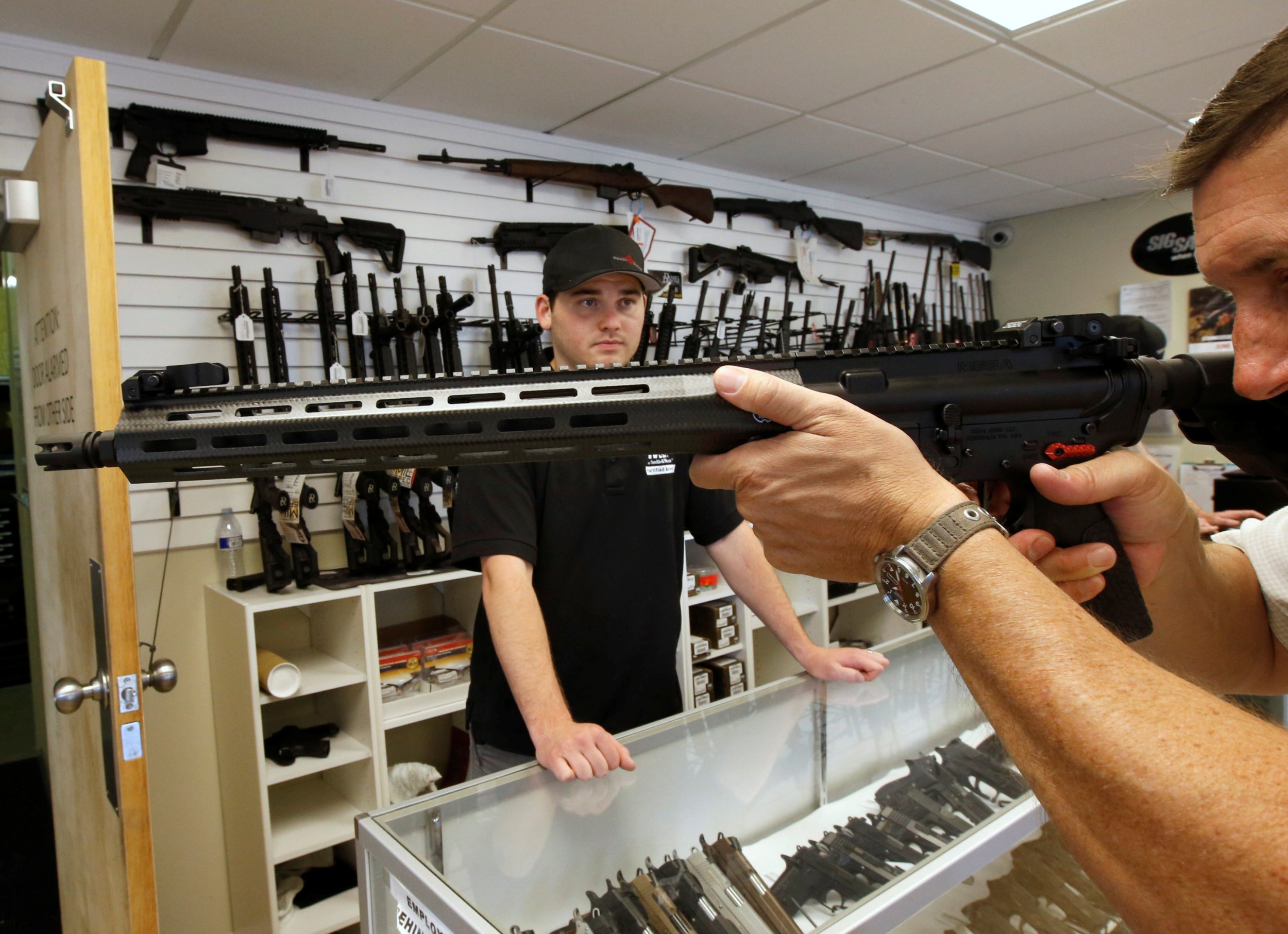 Updated | Within his first two months as president, Donald Trump repealed without public display an Obama administration gun regulation that prevented certain individuals with mental health conditions from buying firearms. Prior to Trump's overturning the rule on February 28, four Democratic senators and an independent who are up for re-election in 2018 had sided with their Republican colleagues by voting to revoke it.
Related: Under Trump, what will happen on guns?
The Social Security Administration finalized the standing rule in December under President Barack Obama. With the regulation, the SSA was required to identify and report to the National Instant Criminal Background Check System (NICS) individuals who are unable to work because of severe mental impairment and can't manage their own Social Security financial benefits, and therefore were ineligible to buy guns. The thought was that those certain Social Security recipients could pose a danger to themselves or others.
The repeal is a significant step for gun advocates. The GOP-controlled Senate in mid-February voted in favor of revoking the resolution, 57-43. Democratic Senators Joe Donnelly (Indiana), Heidi Heitkamp (North Dakota), Joe Manchin (West Virginia) and Jon Tester (Montana), along with independent Senator Angus King (Maine), voted with the Republicans. The National Rifle Association applauded the Senate's decision, calling the existing regulation "Obama's unconstitutional gun grab."
"It is correct to state that there is no inherent connection between being mentally ill and being dangerous," Senator Chris Murphy (D-Conn.) said on the chamber floor at the time of the vote. "But the risk here is not just that an individual is going to buy a gun and use it themselves. The risk is that someone who can't literally deposit their own paycheck probably can't, or likely can't, responsibly own and protect a gun."
Earlier in February, the House moved forward with the measure by a 235-180 vote. Trump's repeal also reverses the SSA rule on reporting possibly dangerous individuals to NICS.
In the wake of the Virginia Tech massacre, Republican President George W. Bush signed the NICS Improvement Amendments Act of 2007 to ensure that individuals who are deemed unqualified to possess guns due to mental health or other reasons could be easily identified through NICS. A Virginia court had ruled the Virginia Tech killer a danger to himself, but the state hadn't submitted his case to NICS before he was able to buy firearms and fatally shoot 32 people in April 2007.
Even with the law, the data submitted often was incomplete. In the wake of the December 2012 massacre at Sandy Hook Elementary School—where a mentally ill man killed 20 first-graders and six educators—the Obama administration renewed efforts to strengthen the 2007 law, among other initiatives to tighten gun laws. (But Obama failed to pass major gun legislation during his eight years in office, something he has said is one of his greatest regrets.) Officials first proposed the SSA rule in summer 2015 and finalized it in December 2016, Obama's last full month in office.
When related to mass shootings, mental illness has long been cause for debate. On the campaign trail, Trump often shifted the conversation about gun control to mental health, which he said is an issue politicians have ignored for too long.
Republican senators supported overturning the rule, arguing that it violated law-abiding citizens' Second Amendment right to bear arms and stigmatized Americans with disabilities. "The regulation is flawed beyond any kind of repair. It results in reporting people to the gun ban list that should not be on that list at all. It deprives those people [of] their constitutional rights and, in a very important way, violating their constitutional rights without even due process," said Senator Chuck Grassley (R-Iowa), the Judiciary Committee chairman.
But those who felt they were unfairly affected by the regulation could appeal the restriction. Meanwhile, on the other side, Democrats argued that opposing background checks is outside mainstream thought, and they view the repeal as weakening the federal system. "This debate is about background checks. It's about mental health. It is not about taking away constitutional rights," said Senator Ron Wyden (D-Ore.).
Murphy said revoking the standing rule would make it more difficult for the federal government to put Americans who are seriously mentally ill, or who pose a risk to public safety, on the list of those who are prohibited from buying guns. "We know that people with serious mental illness in this country can go buy a very powerful weapon and do great damage with it," said Murphy, who represents the state where the Sandy Hook Elementary massacre occurred.
Federal law requires licensed firearms dealers to perform background checks on prospective purchasers and to maintain records of the sales. But unlicensed private sellers—on the internet and at gun shows, for example—are not required to observe the same policies. Most groups and advocates who favor stronger gun laws are pushing to strengthen the federal background checks system. Due to years of inaction in Congress, they have taken their fight to states, where they most recently scored victories on expanding background checks to private gun sales and transfers in California, Nevada and Washington state. Organizations like the Brady Campaign to Prevent Gun Violence and Everytown for Gun Safety argue that the repeal would make it easier for Americans with serious illnesses to buy guns.
The issue is a tricky one, considering that divides remain on the question of whether it's more important to protect the right to own a gun or to control gun ownership. Pew Research Center polling in August showed that 75 percent of registered voters who favored Trump want stricter background checks.
This article has been updated to reflect Trump's reversal of the Obama rule.