Are There Pictures of Trump Having an Affair With Stormy Daniels? Porn Star Wants Right to Release Anything She Has
Stormy Daniels, the porn star who allegedly had an affair with President Donald Trump more than a decade ago, reportedly offered to give back the $130,000 she was paid by Trump's longtime attorney in order to break the deal for her silence. Daniels wants the right to publicly release any photos, text messages and videos of Trump that she may have.
Daniels's attorney, Michael Avenatti, made the offer to Trump's lawyer Michael Cohen on Monday morning,The New York Times reported. Avenatti said that Daniels, whose real name is Stephanie Clifford, could wire-transfer the money to any account by Friday.
Avenatti gave Cohen and Lawrence Rosen, another attorney working on the dispute over the nondisclosure agreement, a deadline of noon Tuesday to respond to his offer. Cohen admitted to making the October 2016 payment to Daniels but said the money came out of his own pocket. He also claimed that neither Trump nor anyone affiliated with his former campaign or business had any knowledge of the transferred funds.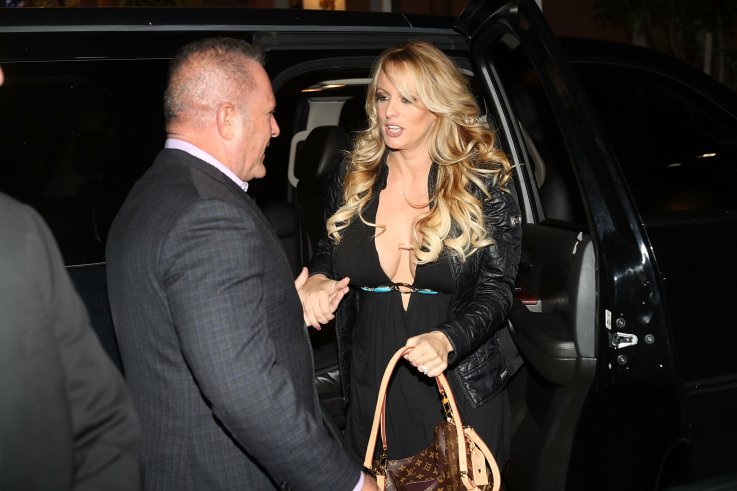 "As we have always said, this is about a search for the truth and the ability of Ms. Clifford to tell the American people what really happened so they can make their own determination,'' Avenatti said in a statement to the Times. "Our offer proves this out."
Should the money be returned, Avenatti asserted, the silence agreement would be null and void and would give Clifford the freedom to speak about Trump and release any communications or evidence of her contact with him.
The letter stated Clifford could "(a) speak openly and freely about her prior relationship with the President and the attempts to silence her and (b) use and publish any text messages, photos and/or videos relating to the President that she may have in her possession, all without fear of retribution and legal liability for damages."
Cohen's payment to Clifford, first reported by The Wall Street Journal in January, came days before the 2016 general election. He has since come under fire from government watchdogs that claim the payment was essentially an in-kind contribution to Trump's campaign, in violation of federal campaign finance laws, to help him defeat Hillary Clinton.
Are There Pictures of Trump Having an Affair With Stormy Daniels? Porn Star Wants Right to Release Anything She Has | U.S.