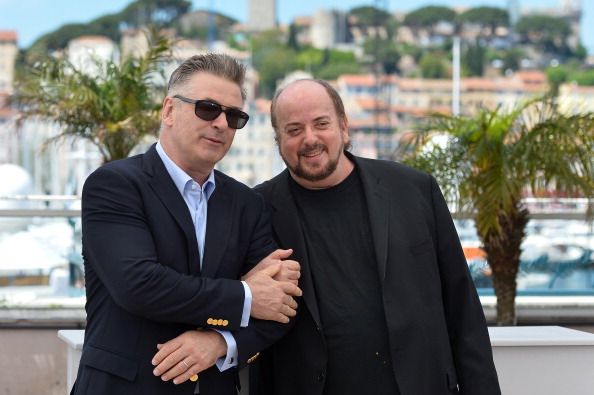 Alec Baldwin has broken his public silence about his friend and colleague James Toback, the film director who has now been accused of sexual harassment or assault by more than 300 women. Baldwin worked with Toback on the 2013 HBO documentary Seduced and Abandoned and on The Private Life of a Modern Woman, which had its premiere last month.
It has been nearly two weeks since the Los Angeles Times published its initial story that included corroborated allegations against Toback from 38 women, which itself came about two weeks after The New York Times released its first investigation of movie mogul Harvey Weinstein. Up until recently, Baldwin had been silent about Toback, other than to tweet, via the ABFoundation: "I cheered when Gawker lost its case to Hulk. So, of course The Decider wants to tar me w the Toback brush."
Now, in a phone interview with Glenn Whipp, the Los Angeles Times reporter who first reported the Toback allegations, Baldwin insisted he never spoke to Toback about his sex life and knew nothing about his alleged harassment or assault.
"In all the time I've known Jimmy, I never had one conversation about his sex life," Baldwin told Whipp on Sunday. "In my time with Jimmy, it was absolutely, positively business," he said. "I never knew of anything where Jimmy assaulted or bullied or pressured. I've never heard anything other than that Jimmy was somebody who hit on a lot of women in a very vague way," he added. "Meaning that he had an appetite for going up to women and saying salacious and provocative things to them and introducing himself with his credentials and so forth and laying that on people to seduce them. I never knew any details of what he did that was assault in nature or rape in nature or criminally actionable. Never, never, never." He said the word "never" 13 times throughout the interview.
Baldwin addressed his decision to remain silent: "I've got a lot people coming after me because I don't come out there and attack Jimmy or make a comment about him," he said, explaining that he was going to do so in his own way and in his own time, rather than "in a knee-jerk way to save myself" out of fear that silence would jeopardize his job prospects.
"I don't have any information firsthand about what I'm hearing. These are everybody else's secondhand assertions about what he did," Baldwin said. "That's the reason I'm calling because I can't assume that all these people are lying. And I feel terrible," he added. "I don't know that Jimmy has done anything criminal. It sounds like many people are saying that he has. That he has assaulted them. If that's true, that's news to me."
In the interview, which is printed in a Q&A format that illuminates what seems like a continuing struggle to process the revelations, Baldwin also described Toback as one of the smartest and cleverest people he's known and a superb conversationalist, if "you separate Jimmy's strangeness about his sexuality." He said Toback "was a very, very dear friend" and that their trip to Cannes together, where they filmed Seduced and Abandoned, "was one of the greatest times of my life." He said the news of the allegations is "heartbreaking." Baldwin explained that there was a point where he and Toback spoke multiple times a week, and though those conversations have lessened since the births of Baldwin's children, he has spoken to the director a couple times since the news came out earlier this month. "He's obviously crushed by all of this," Baldwin said.
The actor wasn't content to limit the conversation to Toback. "I would be heartbroken if you didn't print this angle of this in its entirety," he told Whipp. "Many many people are rightfully focusing on this, but there is some veneer to it of complexity because they can't get the guy they really want to get."
"[President Donald] Trump is a sexual predator," Baldwin went on, pointing to the man he portrayed to great acclaim on Saturday Night Live (the role won him an Emmy). "On the record, there's all kinds of evidence that Trump has behaved this way, and he's the president of the United States and that being just one of the things that is horrifying people about Trump, his opinions, his behavior, his methodology and there's nothing you can do about that. You cannot touch him."