Donald Trump Shared Twitter Account Tied to Anti-Muslim Tweets That Once Called Michelle Obama a 'Tranny'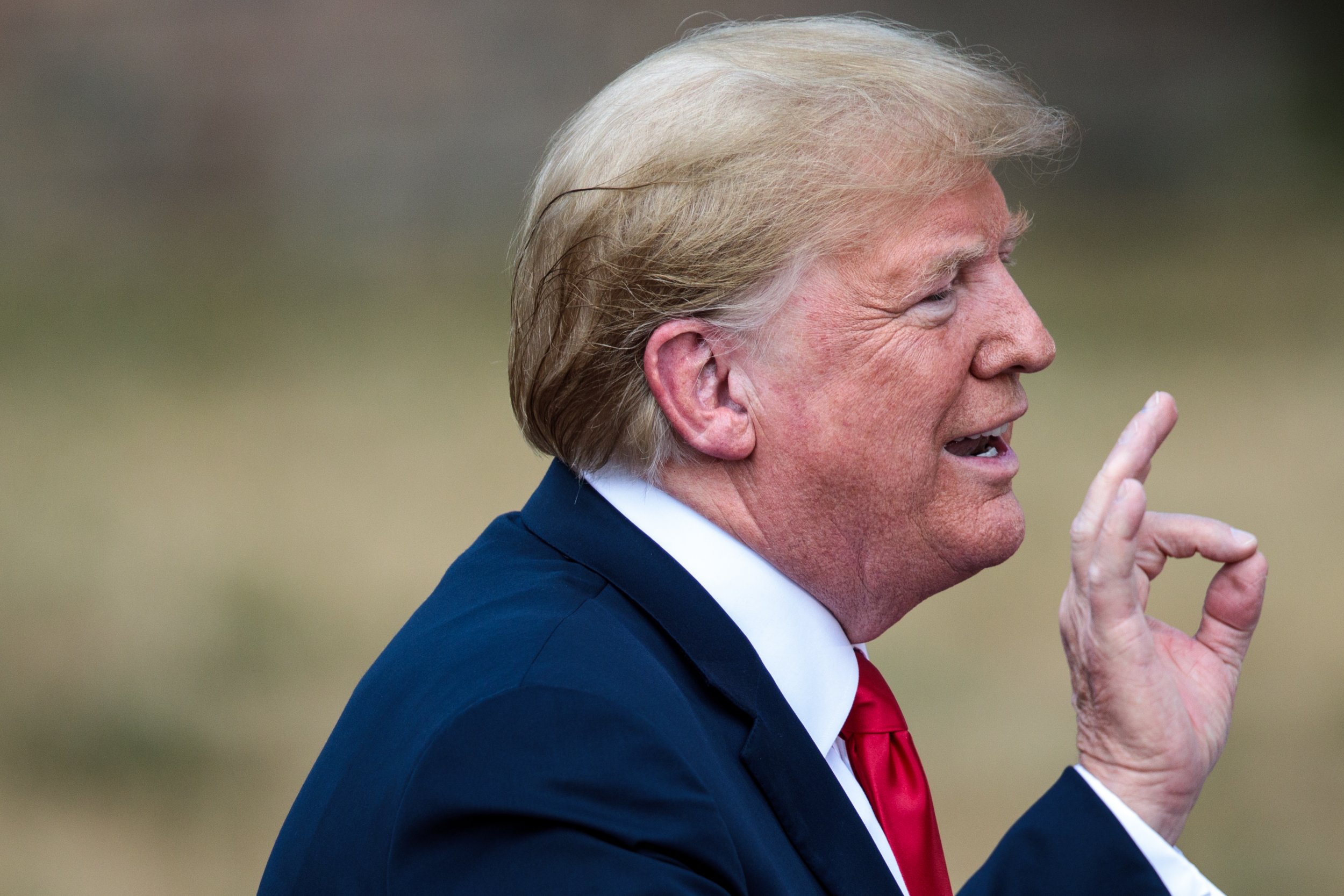 Although President Donald Trump was in the United Kingdom meeting with Prime Minister Theresa May on Friday, it did not stop him from sharing a Twitter account tied to anti-Muslim tweets that once called former first lady Michelle Obama a "tranny."
The president shared a post from the Twitter handle "MagaGoldHat" that read: "Ron De Santis event July 18th in Orlando with Donald Trump, Jr." The post featured a link to a campaign event for Republican congressman Ron De Santis, who is also running for governor of Florida, that the president's eldest son, Donald Trump Jr. is scheduled to attend.
It turns out the account that Trump shared has a controversial past.
The account has called former President Barack Obama "a Muslim with a tranny wife [Michelle] Obama," and said former Secretary of State Hillary Clinton, Obama and other Democrats should be sent to "[Guantanamo Bay] and waterboard em till they confess treason."
"Tranny" is a derogatory term used to refer to a transgender person.
The White House could not immediately be reached by Newsweek for comment on Friday about Trump sharing the Twitter account tied to those tweets.
But this is not the first time the president's Twitter fingers have shared an anti-Muslim account.
In November, Trump retweeted three anti-Muslim videos posted by Jayda Fransen, a leader of the British far-right extremist group Britain First.
The descriptions of the unverified videos were: "VIDEO: Islamist mob pushes teenage boy off roof and beats him to death!" and "VIDEO: Muslim Destroys a Statue of Virgin Mary!" and "VIDEO: Muslim migrant beats up Dutch boy on crutches!"
Fransen's account was later suspended by Twitter in December and, as of Friday, appears to remain suspended
On top of his social media footprint, Trump has expressed numerous anti-Muslim and anti-immigrant comments out loud.
In December 2015, as part of his travel ban,Trump said he was "calling for a total and complete shutdown of Muslims entering the United States." In March 2016, the president told CNN: "I think Islam hates us. We can't allow people coming into this country who have this hatred of the United States." Following attacks by the Islamic State group (ISIS) in a Brussels airport and metro station that killed dozens in August 2017, Trump called for government surveillance of U.S. mosques and told Fox Business: "We're having problems with the Muslims, and we're having problems with the Muslims coming into the country."
Perhaps the most famous comment is from January, when the president reportedly referred to immigrants from Haiti and African nations as coming from "shithole countries," according to The Washington Post.
"Why are we having all these people from shithole countries come here?" Trump said, later suggesting the U.S. should bring in more immigrants from countries like Norway. "Why do we need more Haitians? Take them out."