Donald Trump shared a doctored video of Joe Biden in which the Democratic presidential hopeful appeared to play NWA's "F*** Tha Police" from his cell phone while on stage at a campaign event.
The edited clip, which was retweeted by the president with the caption, "What is this all about?" was an apparent attempt to mock Biden amid accusations by Trump and his team that the former Vice President supports defunding the police.
In fact, Biden reached for his phone during the event to mark the start of Hispanic Heritage Month to play the 2017 hit "Despacito." He had earlier been introduced on stage by Luis Fonsi, who wrote the song.
"I tell you what, if I had the talent of any one of these people, I'd be elected president by acclamation," Biden said after playing the short clip.
Trump's trolling of Biden over the issue of funding for law enforcement has been a running theme of the president's campaign since the issue of police brutality came to the fore in the wake of the death of George Floyd in Minneapolis.
In one June tweet, Trump wrote: "This year has seen the lowest crime numbers in our Country's recorded history, and now the Radical Left Democrats want to Defund and Abandon our Police. Sorry, I want LAW & ORDER!"
That line of attack continued with an advertisement from the America First Action SuperPAC, which promotes Trump's "America First" policy, appearing on Facebook in August still claiming Biden wanted to defund the police.
However, Biden has been explicit on the issue, telling ABC News he was not in favour of cutting funds for local law enforcement.
"I don't want to defund police departments," he said in an interview on 21 August. "I think they need more help, they need more assistance, but that, look, there are unethical senators, there are unethical presidents, there are unethical doctors, unethical lawyers, unethical prosecutors, there are unethical cops. They should be rooted out."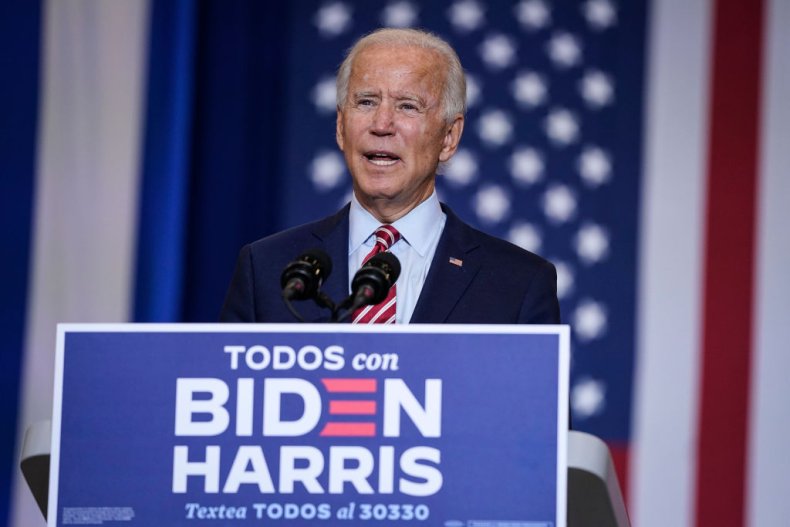 Tuesday's campaign events in Florida marked Biden's first trip to the state as Democratic presidential nominee.
"More than any other time, the Hispanic community, Latino community holds in the palm of their hand the destiny of this country," he said during the event in Kissimmee. "You can decide the direction of this country."
Florida will be a key battleground in the lead up to November's election, and the Biden campaign is keen to boost support among Latinos by focusing on immigration reform, among other issues.
But a poll by NBC News-Marist last week showed the Florida race was too tight to call, with Trump and Biden both getting the support of 48 percent of likely voters. Among likely Latino voters, Trump was ahead by 50 percent to 46 percent. The poll was conducted from August 31 to September 6 of 766 likely voters, with a margin of error of plus-minus 4.5 percentage points.
In the 2016 exit poll, Hillary Clinton beat Trump among Florida Latinos by 62 percent to 35 percent. However, Trump won the state by about 1 percentage point.
Newsweek has contacted Biden's campaign for comment.