Donald Trump Shares Same 'Impeach This' Map Daughter-in-Law Lara Was Roasted Over
President Donald Trump shared the same misleading "impeach this" map of America that his daughter-in-law and campaign adviser Lara Trump was slammed for posting over the weekend.
The map shows almost the entire country covered in red, which is meant to represent support for Trump. Over the image, Lara Trump superimposed text that read: "Try to impeach this." She was widely criticized for sharing the image on Twitter on Saturday.
But that didn't stop Trump from sharing the same image on his own Twitter account on Tuesday morning.
Twitter users quickly jumped on Lara Trump's post of the map, noting that it was misleading in several ways. First, it failed to recognize that Trump actually lost the popular vote in the 2016 election to Hillary Clinton by nearly 3 million votes.
Historian Kevin Kruse, a professor at Princeton University, also pointed out that popularity does not correlate to impeachment. In the 1972 election, Richard Nixon won by capturing 60 percent of the popular vote and 520 electoral college votes.
But Congress still moved to impeach Nixon after the Watergate scandal. After the House Judiciary Committee approved three articles of impeachment against him—including obstruction of justice, contempt of Congress and abuse of power—Nixon resigned from office.
"Trump took 46.1% of the popular vote and won the electoral college 304-227 -- 46th out of 58 elections. Nixon took 60.1% of the popular vote in 1972 and dominated the electoral college 520-17. He resigned before the House could finish impeaching him," Kruse wrote.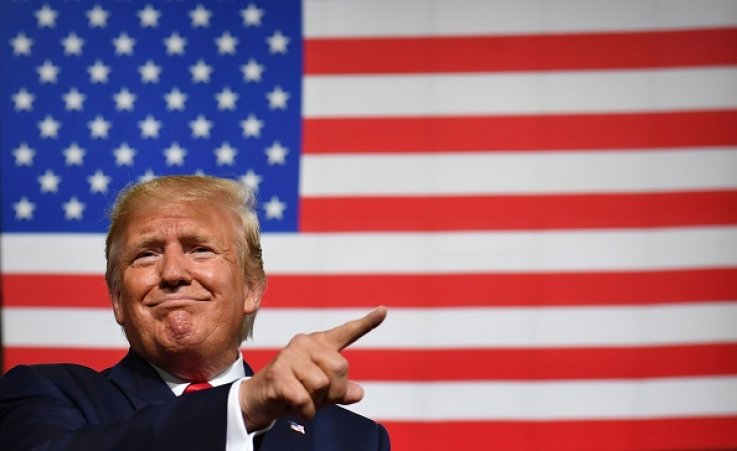 The House of Representatives launched an impeachment inquiry against Trump last week amid reports that Trump tried to pressure a Ukrainian President Volodymyr Zelensky to investigate former Vice President Joe Biden and his son Hunter. The communication was first detailed in a whistleblower complaint filed with the inspector general for the intelligence community.
Since the House officially launched the inquiry on September 24th, polling shows that American support for removing the president has increased.
Quinnipiac University pollsters found that support for impeachment grew by 10 points in one week. A survey shared by the university on Monday showed that respondents were evenly split, 47 to 47 percent, on whether or not they'd support removing Trump from office.
When Quinnipiac conducted the same poll a week earlier, they found that only 37 percent supported impeachment while 57 percent opposed. That poll, however, was conducted before Democrats launched the inquiry.
Trump has continued to slam the impeachment inquiry as a Democratic "witch hunt" and "presidential harassment." In one tweet, Trump referred to the ordeal as the "single greatest scam in the history of American politics."
Correction (10/1/19, 12:30 p.m.): A previous version of this story incorrectly stated that Richard Nixon was re-elected president in 1970. The article has been updated to correctly state that he was re-elected in 1972.
Donald Trump Shares Same 'Impeach This' Map Daughter-in-Law Lara Was Roasted Over | U.S.