Trump Shares Snap of Embrace With Juncker, Saying Europe and U.S. 'Love Each Other'
Has President Donald Trump found a new best friend? The Republican shared a picture of himself and European Commission President Jean-Claude Juncker in an embrace following their meeting, commenting that the EU and U.S. "love each other."
The pair met in Washington, D.C., on Wednesday for talks, at which they agreed to work on lowering tariffs following fears of a trade war. Trump took pains to share how well the pair had got on.
"Obviously the European Union, as represented by ‪@JunckerEU and the United States, as represented by yours truly, love each other!" Trump wrote on Twitter Wednesday. He also said that the pair had reached an understanding on trade, following some bombast on both sides before the meeting.
"Great meeting on Trade today with ‪@JunckerEU and representatives of the European Union. We have come to a very strong understanding and are all believers in no tariffs, no barriers and no subsidies. Work on documents has already started and the process is moving along quickly," Trump said in a series of tweets.
"European Union Nations will be open to the United States and at the same time benefiting by everything we are doing for them. There was great warmth and feeling in the room - a breakthrough has been quickly made that nobody thought possible!" he added.
The two have agreed not to introduce new tariffs for the time being and also committed to discussing trade issues in future, the BBC reported. Cautious praise was offered following the meeting.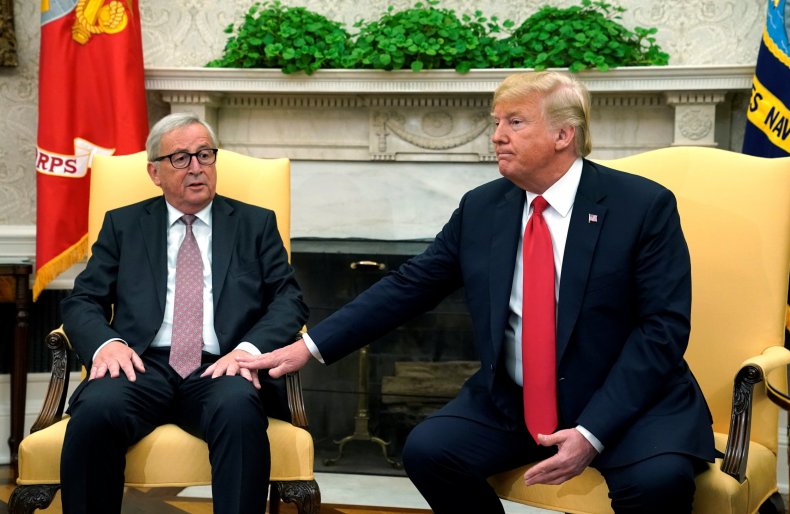 Trump's comments come after his threat of tariffs on European cars and confrontational comments about bringing the EU to the table.
Just one day ahead of his meeting with Juncker, Trump told veterans in Kansas, Missouri, "[The EU] sound nice, but they're rough."
"They're all coming in to see me tomorrow. They're all coming to the White House. I said you have to change. They said they didn't want to change. I said, 'OK, good, we're going to tariff your cars.' They send millions of cars. Mercedes, all of them. BMW. So many cars," Trump said.
"I said, 'We're going to have to tariff your cars.' They said, 'When can we show up? When can we be there? Would tomorrow be OK?' Oh folks. Stick with us, stick with us," he added.