Trump Shares Tweet of Supporters Chanting 'CNN Sucks' at Maga Rally in Florida
President Donald Trump's dislike of CNN was highlighted on Tuesday evening when he shared a tweet from his son Eric Trump that bragged about a crowd chanting, "CNN sucks."
Eric Trump shared footage of the crowd of Trump supporters at a Make American Great Again (MAGA) rally in Florida chanting during CNN reporter Jim Acosta's live reporting segment.
The president's son posted a video titled "WATCH: Supporters of President Trump Chant 'CNN Sucks' During Jim Acosta's Live Spot at Florida Rally" alongside the hashtag #truth, tagging reporter Acosta in a message that was later retweeted by the president.
Acosta, who had previously faced criticism from Trump and the White House, responded: "No Eric. Not the truth. And you know better."
After Acosta was heckled at the rally, he spoke with the people who had chanted during his segment, also sharing a post on the topic from fellow journalist Emily Goodin, who tweeted: "Attendees at Trump rally line up behind Jim @Acosta live shot to scream at him 'CNN sucks' 'tell the truth' and 'liar.' He calmly spoke to them when he was done."
Acosta had also tweeted earlier that he was concerned about the level of hostility facing reporters at the Trump rally in Tampa, commenting, "The hostility whipped up by Trump and some in conservative media will result in somebody getting hurt. We should not treat our fellow Americans this way. The press is not the enemy."
Acosta previously had a run-in with President Trump during a press conference with British Prime Minister Theresa May at Chequers in the U.K. As Acosta attempted to ask the president a question, Trump said he wouldn't be answering because he didn't take questions from the network.
"No. CNN is fake news," Trump said at the time. "I don't take questions from CNN. CNN is fake news. I don't take questions from CNN."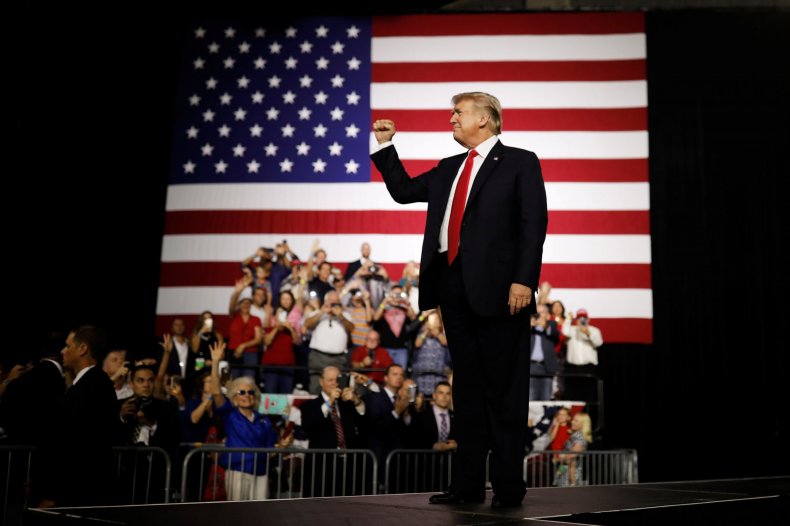 Acosta persisted, but the president refused to take his question, saying, "Let's go to a real network," and allowing a Fox News reporter to ask a question, to which Acosta shot back, "We're a real network too."
Later, the White House pulled a guest from a CNN show, with Press Secretary Sarah Huckabee Sanders suggesting the network was being punished for Acosta's questions.
"Actually a @CNN reporter disrespected @POTUS & PM May during their press conf. Instead of rewarding bad behavior, we decided to reprioritize the TV appearances for administration officials," she wrote after it was revealed that an interview with national security adviser John Bolton had been scrapped.