Trump Endorses #MAGAChallenge Viral Campaign Effort and Promises to Meet the Winner
In September, Bryson Gray, a rapper who performs under the name B. Surius, created the "#MAGAChallenge" to advertise his song "Black Not Democrat." The online campaign received President Donald Trump's seal of approval Friday, when he retweeted Gray's post along with an announcement that winners of the #MAGAChallenge will be invited to meet with him at the White House.
With the MAGA Challenge, Gray joins a long list of other would-be internet influencers who have tried to recreate the viral success of internet fads such as the Mannequin Challenge and the "In My Feelings" Challenge to spread their own content. As of November 8, the post has been retweeted more than 6,000 times.
The clip Gray posted to announce the challenge featured the performer wearing an oversized Make America Great Again hat and lip-syncing lyrics like "Why these white liberals try to tell me who I am?" and "I said I wasn't a Democrat; I lost a few friends" over a beat created by Canadian music producer White Hot.
"With Trump using my beat, it's not implicit support for him or his policies in any way," White Hot wrote in a statement emailed to Newsweek, noting that he was "apolitical."
To participate in the challenge, Gray told Trump supporters to rap over the beat and share their enthusiasm for the president. "I want y'all to your own rap to it too then tag me! Let's make liberals cry!" Gray captioned the post.
Trump retweeted the video Friday. "I will be announcing the winners of the #MAGACHALLENGE and inviting them to the@WhiteHouse to meet with me and perform. Good luck!" he wrote. Despite the promise, Trump did not provide any details for how to officially enter the competition. Some Twitter users have inferred that participants should simply reply to the president's post and put the hashtag on their own videos.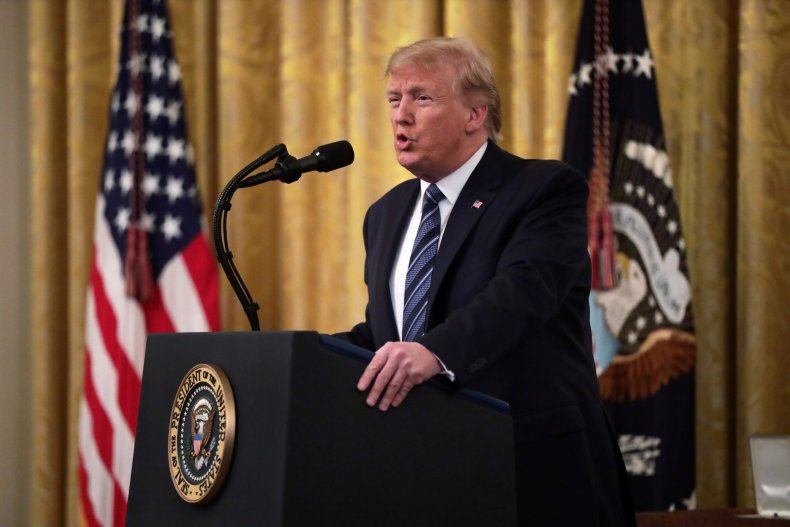 Some users took this opportunity to point out that there is no proof that Trump has met with contest winners from prior "Have A Meal With Trump" campaigns. Campaigns often use donation-based contests to generate funding and positive press by promoting images of candidates relating to contest winners, who represent the electorate. An analysis of previous contest results by Popular Information pointed out that of 14 such contests by the Trump campaign, no proof existed of follow-through by the president.
The outlet also noted that the winner of a fraudulent Trump campaign challenge was invited to a breakfast, but Trump did not attend the meal. She was later permitted to take a photo with the president, Popular Information reported.

Others commentators took the opportunity to use the hashtag to ridicule Trump. "My #MAGACHALLENGE is for Trump supporters to read the transcripts, and the constitutional law that was violated," David Weissman, a former Trump supporter, wrote. Another user shared a clip of herself singing Mariah Carey's "All I Want for Christmas is You," but swapping out the "you" for "impeachment." "My #MAGACHALLENGE is I hope the entire stadium at Saturday's Alabama-LSU game boos Trump when he enters the stadium! And Then Chants "Lock Him Up!" SiriusXM host Dean Obeidallah tweeted.
Update 12/12/19: This story has been updated with credit to and comment from the music producer behind the beat used in "Black Not Democrat."