Trump's 'Shithole' Comments Were Not Racist, Rand Paul Says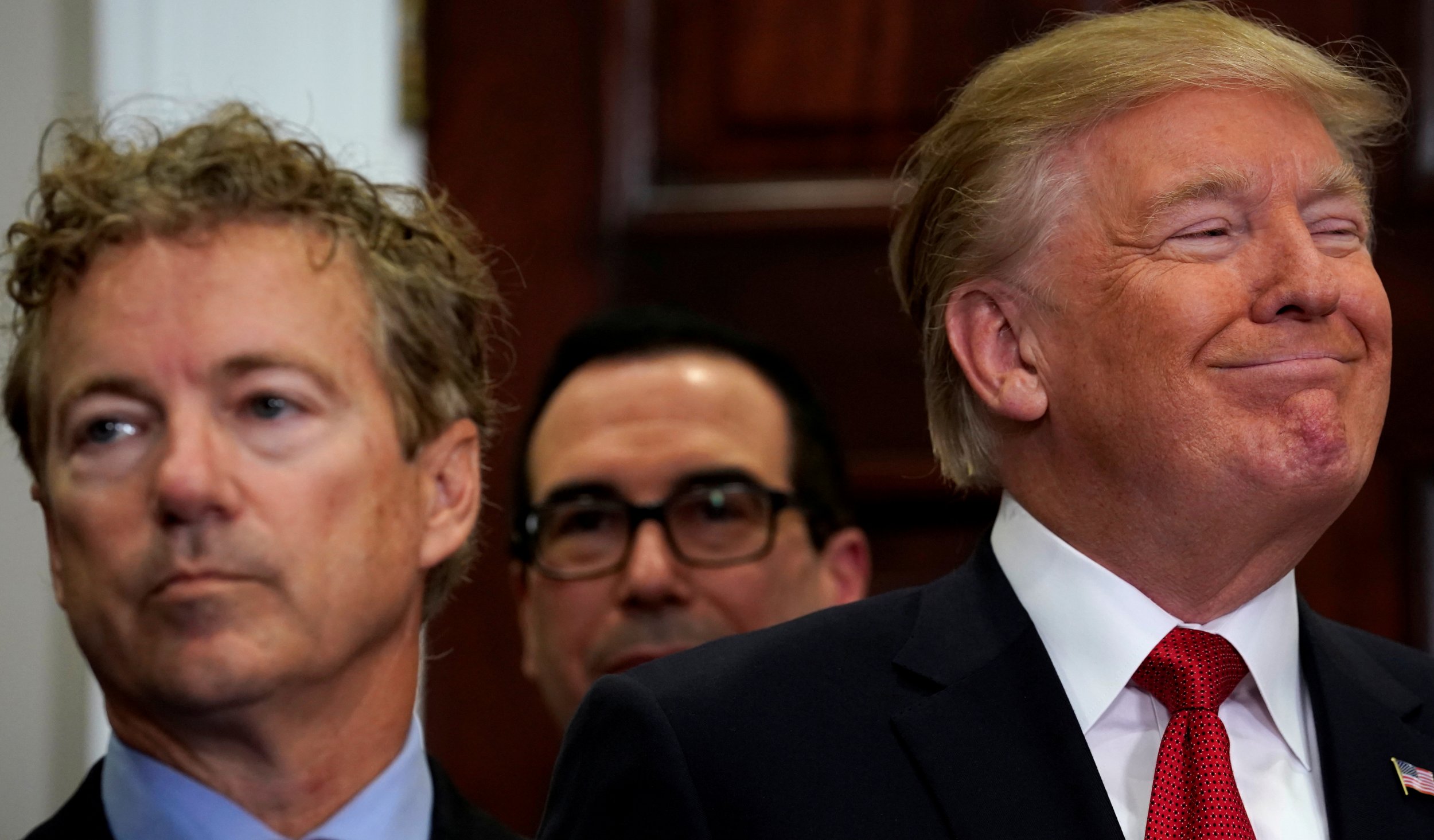 Senator Rand Paul of Kentucky said Sunday that it is "unfair" to call President Donald Trump a racist off of his reported remarks about immigrants from the "shithole countries" of Haiti and the continent of Africa.
"I don't think the comments were constructive at all, but I also think that, to be fair, we shouldn't draw conclusions that he didn't intend," the Kentucky Republican said on NBC's Meet The Press.
As proof that the president isn't racist, Paul brought up a medical trip financed in part by Trump to provide eye care and surgeries to a couple hundred people in Haiti in 2015.
"I think it's unfair to sort of paint him, 'oh well, he's a racist,' when I know for a fact that he cares very deeply about the people of Haiti because he helped finance a trip where they would get vision back for 200 people in Haiti," Paul said.
Trump's comments came during a bipartisan meeting with lawmakers on Tuesday in the Oval Office. According to multiple reports, including testimony from Senator Dick Durbin of Illinois, who was present at the meeting, Trump questioned why the United States attracted a large number of immigrants and refugees from "shithole countries" such as Haiti. Trump also reportedly wondered why the U.S. didn't have more immigrants from predominantly white and economically stable countries like Norway.
After The Washington Post reported the comments on Thursday evening, the White House issued a statement that restated the president's commitment to curtailing family-based migration and ending the visa diversity lottery but did not deny Trump made the controversial remarks.
Trump later denied making the remarks on Friday, writing on Twitter, "The language used by me at the DACA meeting was tough, but this was not the language used."
Trump was immediately lambasted and denounced for the comments, including by the Haitian government, which said the president's comments reflected a "racist view of the Haitian community," according to the Associated Press. Trump's comments also came on the verge of the eighth anniversary of a devastating earthquake that levelled much of Haiti and destroyed large amounts of its public infrastructure.
"This could not come at a worse time," Marleine Bastien, executive director of FANM Ayisen, an advocacy and social service agency in Little Haiti, told Newsweek on Friday. "Trump's disparaging comments last night added salt to this fresh, raw wound."
Paul's full interview on Meet on Press is available below: