Trump Shoots Down Allegation He May Delay Election Day, Calls Suggestion 'Propaganda'
President Donald Trump called former Vice President Joe Biden's suggestion that Trump could delay November's presidential election "propaganda" during a news briefing from the White House Rose Garden on Monday.
"I never even thought of changing the date of the election," Trump said. "Why would I do that? November 3. It's a good number. I look forward to that election."
"That was just made up propaganda," Trump continued. "Not by [Biden], but by some of the people that are working, writing little statements I see all the time. 'Statement made,' you see, 'statement made per Joe Biden.' Sleepy Joe. He didn't make those statements, but somebody did. But they said he made it. No, let him know I'm not thinking about it at all, not at all."
However, Biden has claimed that Trump would attempt not only to postpone this year's election but that Russian meddling would be a factor in the upcoming vote.
"Mark my words," Biden said during an online fundraiser Thursday according to reporting from The New York Times, "I think he is going to try to kick back the election somehow, come up with some rationale why it can't be held."
Newsweek reached out to Biden's campaign for comment.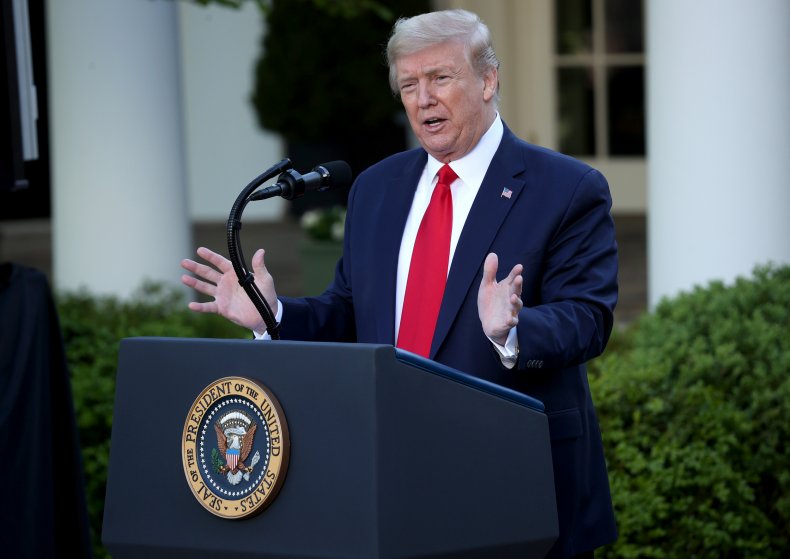 "I promise you the Russians did interfere in our [2016] election and I guarantee you they are doing it again with two other major actors," Biden said during the same fundraiser. "You can be assured between [President Trump] and the Russians, there is going to be an attempt to interfere."
In a Friday statement, President Trump's campaign referred to Biden's comments as "the incoherent, conspiracy theory ramblings of a lost candidate who is out of touch with reality."
While states have the ability to delay the dates of their elections, moving the date of the presidential election would require a change to the United States Code to be approved by the U.S. Congress.
Trump's belief that Biden does not write his own political material has arisen before. In response to one of Biden's tweets attacking the president's coronavirus response, Trump said the tweet was written by a "Democrat operative."
"Donald Trump is not responsible for the coronavirus, but he is responsible for failing to prepare our nation to respond to it," Biden tweeted in April.
Trump responded to Biden's tweet during an April news conference. "He didn't write that," Trump said. "That was done by a Democrat operative."
Trump said Biden was "probably not even watching" the briefing and that "if he is, he doesn't understand what he is watching."
"Joe Biden didn't write that," Trump added. "He wished he did but he didn't."