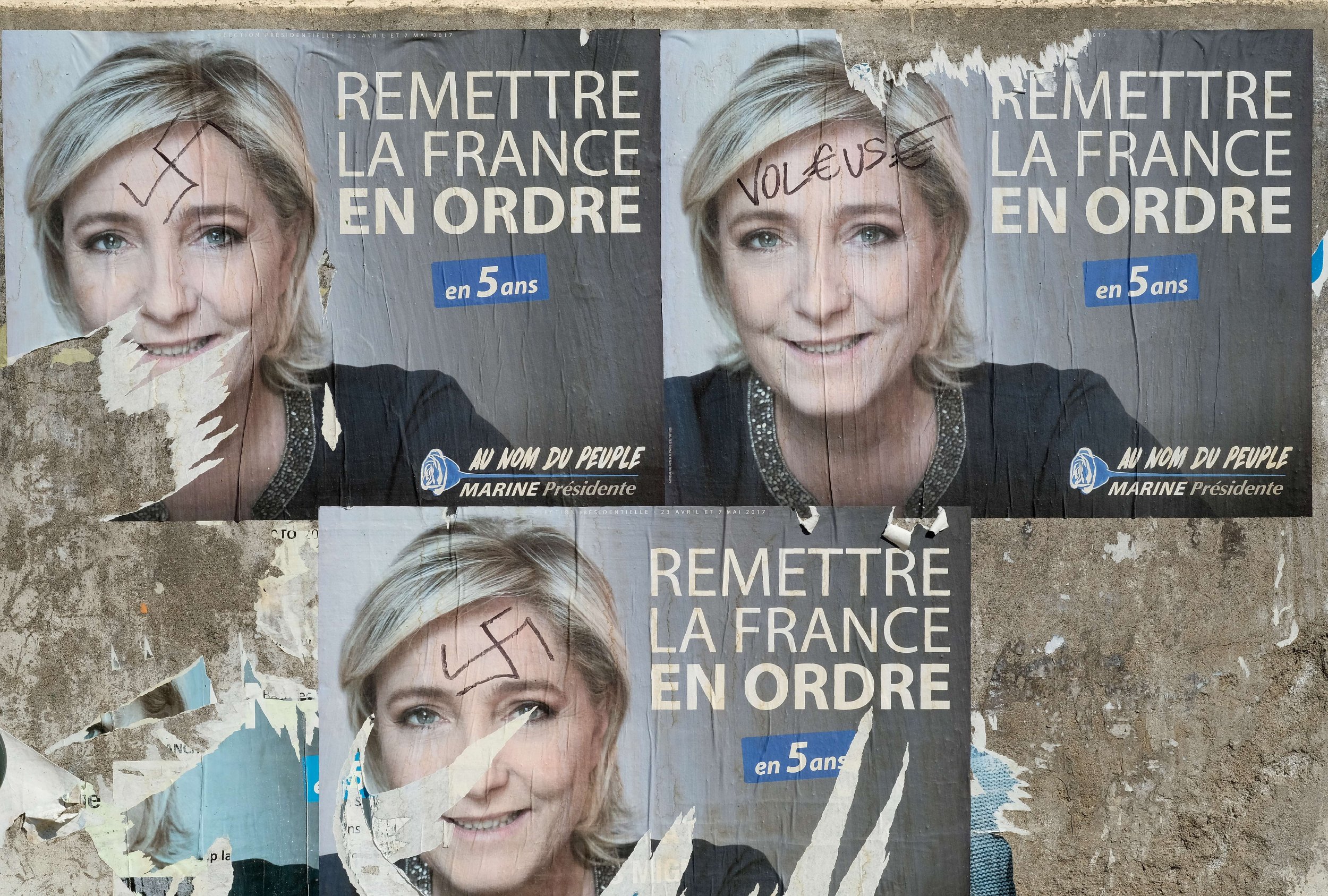 This article first appeared on the American Enterprise Institute site.
Donald Trump has not endorsed far-right nationalist candidate Marine Le Pen, but he has hinted at his preference in the French presidential election.
"Another terrorist attack in Paris," Trump tweeted on April 21 after a radical Islamist killed a French policeman on the Champs Elysees. "The people of France will not take much more of this. Will have a big effect on presidential election!"
Then on April 23, he cryptically told his Twitter followers: "Very interesting election currently taking place in France."
No doubt there are parallels between the French and US elections. Like Trump, Le Pen is an outsider riding a wave of populist, anti-establishment, nationalist sentiment. And in Emmanuel Macron, she is facing a centrist liberal in the mold of Hillary Clinton.
So it is no doubt tempting for Trump to see the election through the prism of his own – as part of a global populist movement that started with Brexit and his election and is now reaching the shores of the European continent.
He should resist the temptation. Marine Le Pen is no Donald Trump. Indeed, she is the living embodiment of everything the left falsely accuses Trump of being – an anti-Semite in cahoots with Vladimir Putin.
The Democrats' narrative of Trump-Russia collusion has been debunked in recent weeks, in the wake of the airstrikes Trump ordered against the Putin's Syrian ally Bashar al Assad, Secretary of State Rex Tillerson's chilly visit to Moscow and Secretary of Defense James Mattis's charge that Russia is arming the Taliban.
These are hardly the actions of a Putin puppet. As Trump put it, relations with Russia in his first 100 days are at an "all-time" low.
Le Pen, by contrast, is openly allied with Putin. In 2014, she took $12 million loan from a Kremlin-linked Russian bank – a loan which came through right after she endorsed Russia's annexation of Crimea.
Not only is her campaign directly funded by Russian interests, Le Pen recently went to Moscow and received a warm embrace from Putin. Unlike Trump, it is doubtful she would spend her first 100 days sticking it to the Kremlin.
Or take anti-Semitism. The Washington Post reported on April 25 that Trump gave a moving and resolute speech at the Capitol Hill ceremony marking Holocaust Remembrance Day:
President Trump on Tuesday paid tribute to Holocaust victims and survivors with a resolute speech in which he vowed that his administration would confront anti-Semitism and protect Israel from those seeking the Jewish state's destruction.

"Those who deny the Holocaust are accomplices to this horrible evil," Trump said in a 15-minute address before a crowd of several hundred, including some survivors, at the US Holocaust Memorial Museum's Days of Remembrance event at the US Capitol. "We will never be silent . . . in the face of evil again."
No such comments were uttered by Le Pen. She chose instead to mark the approach of Holocaust Remembrance Day by declaring – against all historical evidence – that France was "not responsible" for deporting Jews during the Holocaust.
The Washington Post reports:
After dark on July 16, 1942, French police rounded up about 13,000 Jews from across occupied Paris and deposited them in the "Vel d'Hiv," a famous indoor stadium that had hosted the 1924 Summer Olympics and where the likes of Ernest Hemingway would come to enjoy the races.

From the stadium, not far from the Eiffel Tower, the vast majority of these interned Jews in 1942 were deported to Auschwitz. Most would never return from that World War II Nazi concentration camp.

The reason the Vel d'Hiv lingers in France's national memory is that the roundup was carried out by French police — not by the German occupiers.

In a republic devoted to the lofty ideals of equality and universal citizenship — and that had legally emancipated its Jews long before any of its European neighbors — the Vel d'Hiv roundup exposed the deadly hypocrisy of collaboration with the Nazi regime.

In 1995, speaking at the site of the stadium, then-President Jacques Chirac put it this way: "France, the homeland of the Enlightenment and of the rights of man, a land of welcome and asylum — France, on that day, committed the irreparable. Breaking its word, it handed those who were under its protection over to their executioners."

Now enter Marine Le Pen, the leader of France's far-right National Front party, who is making a run for the presidency in the April 23 election.

"I don't think that France is responsible for the Vel d'Hiv," she declared Sunday on French television. "I think that in general, more generally, if there were those responsible, it was those who were in power at the time. This is not France."

In remarks that elicited outrage across the French media, Le Pen went further: "France has been mired in people's minds for years. In reality, our children are taught that they have every reason to criticize her, to see only the darkest historical aspects."

"I want them to be proud to be French again."
Her father, National Front founder Jean-Marie Le Pen, is a convicted Holocaust denier of the sort that Trump denounced in his speech. The daughter has tried to distance her party from her father's extremism to make the National Front more electable, but her recent comments suggest that the apple did not fall far from the tree.
This is not the sort of person President Trump should want to embrace. She is the left's caricature of Trump come to life. Her victory would be a disaster for France, and the Western world, and would be used by Trump's enemies to tarnish his administration by association.
He should stay clear of the National Front. "Le Pen" is not French for "Trump."
Marc Thiessen is a resident fellow at the American Enterprise Institute (AEI). A member of the White House senior staff under President George W. Bush, he served as chief speechwriter to the president and to Secretary of Defense Donald Rumsfeld. Before joining the Bush administration, he spent more than six years as spokesman and senior policy adviser to Senate Foreign Relations Committee Chairman Jesse Helms (R-NC).