Trump Should Take Out Kim Jong Un's Missile Site
This article first appeared on the American Enterprise Institute site.
The Washington Post reports that North Korea has carried out its first ballistic missile test in more than two months:
North Korea launched a missile early Wednesday morning, South Korea's joint chiefs of staff said. . . . Wednesday's missile was launched from Pyongan province and fired to the east, South Korea's joint chiefs said, according to the Yonhap News Agency. The military was still working to ascertain what kind of missile it was.

North Korea last fired a missile on Sept. 15, sending it over the northern Japanese island of Hokkaido. It was the second launch over Japan in less than three weeks and came less than two weeks after North Korea exploded what was widely believed to be a hydrogen bomb.

In a speech to the Council on Foreign Relations at the end of last month, Joseph Yun, the State Department's special representative for North Korea policy, said that if North Korea went 60 days without testing a missile or a nuclear weapon, it could be a sign that Pyongyang was open to dialogue.
Apparently they are not so open to dialogue after all. Indeed, the North Korean launch is a finger in the eye to China, which had just sent a high level envoy to Pyongyang at President Trump's request.
Trump tweeted hopefully about the Chinese visit: "China is sending an Envoy and Delegation to North Korea – A big move, we'll see what happens!"
What happened was a big middle finger to Beijing and Washington from "Little Rocket Man."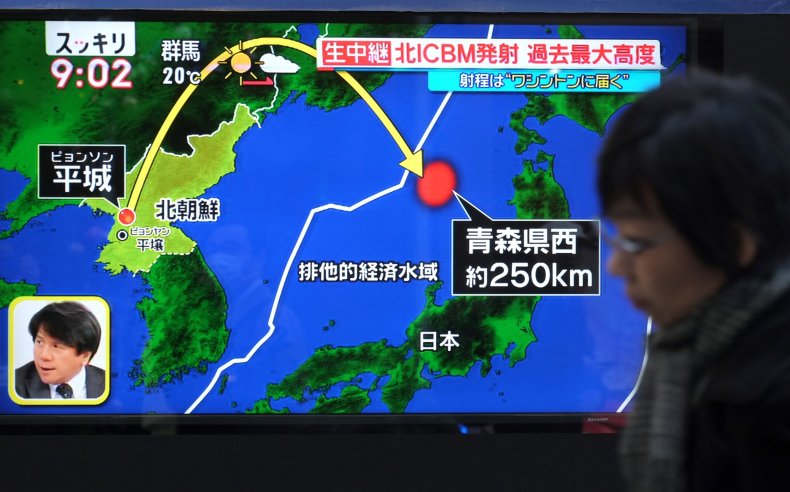 Here is how Trump should respond: Take out the test site from which the North Koreans launched the missile toward Japan — just like he struck the military base in Syria from which the Assad regime had launched a chemical weapons attack on innocent civilians.
Then, as I recently suggested in the Washington Post, Trump should declare North Korea a ballistic missile "no-fly zone" and a nuclear weapons "no-test zone."
He should warn the North Koreans that any further attempts to launch a ballistic missile will be met with a targeted military strike either taking out the missile on the launch pad or blowing it up in the air using missile defense technology.
And any further attempt to test a nuclear weapon will be met with a targeted strike taking out the test site and other related nuclear facilities.
So long as North Korea does not retaliate, Trump should assure Pyongyang that he will take no further military action against the regime. However, if North Korea does retaliate, then the United States reserves the right to, as Trump put it to the UN General Assembly, "totally destroy North Korea."
The bottom line is that there is no negotiating with North Korea. There is no diplomatic solution that is possible with Kim Jong Un in office. And so long as Pyongyang can launch missiles and test nuclear devices with impunity, they hold the initiative and are running the show on the Korean Peninsula.
Trump should take control of the situation away from Pyongyang by unilaterally ending their nuclear and ballistic missile testing program. As he does so, he can continue to tighten sanctions, which are starting to hurt, and encourage those around Kim to overthrow him with promises that Trump will negotiate an end to North Korea's isolation if Kim's successors are willing to verifiably disarm and dismantle their nuclear program.
But we cannot allow North Korea to continue to act with impunity. They will not stop unless they are forced to do so.
Trump has the power to stop them. He should use it.
Marc Thiessen is a resident fellow at the American Enterprise Institute (AEI). A member of the White House senior staff under President George W. Bush, Thiessen served as chief speechwriter to the president and to Secretary of Defense Donald Rumsfeld. Before joining the Bush administration, Thiessen spent more than six years as spokesman and senior policy adviser to Senate Foreign Relations Committee Chairman Jesse Helms (R-NC).