As Donald Trump's partial government shutdown over border wall funding becomes the longest in U.S. history, tens of thousands of border security employees continue to work without pay.
Over 400,000 federal employees are expected to work throughout the shutdown despite missing paychecks, including the workers who are tasked with protecting the southern border like border patrol agents, Customs and Border Protection officers and Coast Guard crews.
And while Trump insists that federal employees support his pursuit for border wall funding, over the past week workers have been protesting against the administration over the prolonged shutdown.
Federal union workers gathered in McAllen, Texas on Friday to demonstrate against the shutdown as the president arrived at the southern border. Other federal employees protested outside the White House on Thursday, with many holding signs saying that they wanted to go back to work.
"I appreciate their service to the country, they're incredible people, but many of them agree with what I'm saying," President Trump told reporters on Friday.
So far, two federal unions have filed lawsuits against the Trump administration. One of those groups, The National Treasury Employees Union, represents over 30,000 Customs and Border Protection officers.
"If employees are working, they must be paid—and if there is not money to pay them, then they should not be working," said the union's national president Tony Reardon in a statement earlier this week.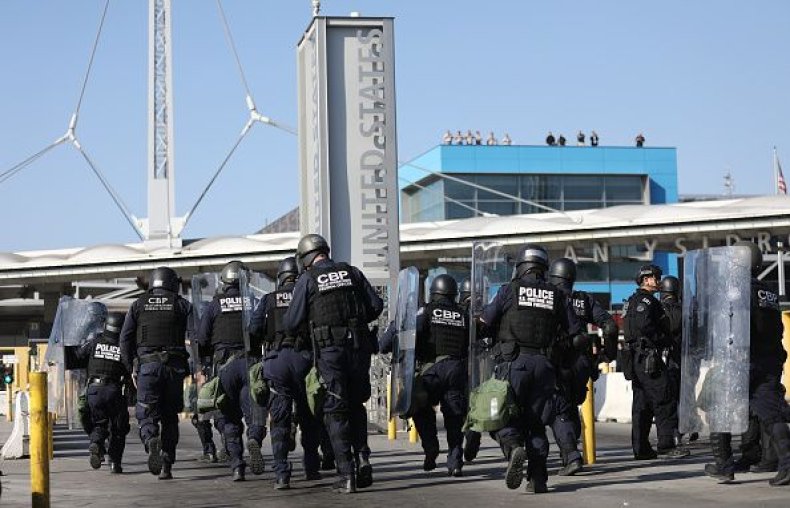 As border security workers being forced to work throughout the shutdown, some unions are reporting that their employees are being overworked and understaffed. Carlos Favela, a spokesman for a border patrol union in El Paso, Texas, told the Los Angeles Times that "our agents are being stretched thin."
Away from the border, federal courts and immigration judges who were already backlogged in over 800,000 cases before the shutdown have all been furloughed. Pending cases and hearings will now have to be rescheduled, with the average wait time exceeding two years. Essentially, migrants will be able to stay in the United States longer despite Trump's desire to curb illegal immigration.
The shutdown, which began in late December, officially became the longest in American history as lawmakers left Washington D.C. on Friday without making a deal. The government has now been partially closed for 23 days.
Trump previously threatened to declare a national emergency in order to sidestep Congress for border wall funding. But on Friday the president changed his tune, telling reporters that his administration is not looking into the option right now. Instead, he wants Democrats to approve $5.7 billion for his long-promised border wall.
"This is where I ask the Democrats to come back to Washington and vote for money for the wall, the barrier," Trump said. "They can name it whatever they want, they can name it 'peaches.' I don't care what they name it. But we need money for that barrier."
Experts have said that the wall, an idea conceived of by Trump's campaign aides to help him remember to vilify immigrants in campaign speeches to his mostly white supporters, will achieve little in terms of security.