Donald Trump Says Federal Employees Like Government Shutdown Because 'They Want the Wall'
President Donald Trump used his Christmas morning call with U.S. troops abroad as an opportunity to double down on his demand for a border wall and reiterate his commitment to his partial government shutdown, which is now on its fourth day.
The government will not reopen, he told troops, until he receives $5 billion in funding for a wall on the U.S. southern border. "I can't tell you when the government is going to be open. I can tell you it's not going to be open until we have a wall, a fence, whatever they would like to call it," he said.
The estimated 400,000 federal employees who are working without pay—and 350,000 federal employees who are furloughed—don't mind losing their paychecks around the holiday season, asserted Trump.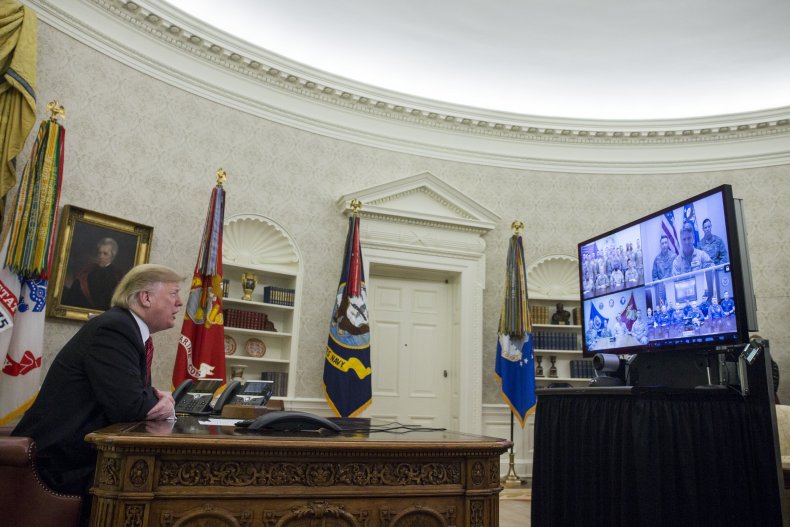 "I think they understand what's happening. They want border security. The people of this country want border security," he said. "Many of those workers have said to me, communicated, stay out until you get the funding for the wall. These federal workers want the wall."
He did not explain how many of them had communicated these thoughts to him or how.
A recent poll by NPR/PBS NewsHour/Marist found that only 28 percent of Americans believe that the border wall should be an immediate priority.
Like the Federal workers who are entering the holiday season without pay, Trump too is making sacrifices, he explained.
"It's not a question of me," he said. "I would rather not be doing shutdowns. I've been at the White House. I love the White House, but I wasn't able to be with my family. I thought it would be wrong for me to be with my family, my family is in Florida, Palm Beach, and I just didn't want to go down and be there when other people are hurting."
The president also repeated claims that he had unilaterally approved funding for a 115-mile border barrier in Texas and that he would visit the wall in January. He did not elaborate on where the funding came from or how he approved it.
"It's going to be built, hopefully rapidly," he said. "I'm going there at the end of January for the start of construction. That's a big stretch. We're almost having a groundbreaking, it's such a big section. It's probably the biggest section we'll get out."
During a short conversation with reporters following his call, the president touched on Treasury Secretary Steven Mnuchin's decision to call banks and check on their liquidity this weekend. The act spooked investors and caused markets to tumble into bear territory on Christmas Eve. Mnuchin, he said, still had his full trust and knew what was best for the country.