At a Tuesday rally in Milwaukee, Wisconsin, President Donald Trump appeared to take the side of Senator Bernie Sanders in his war of words with Senator Elizabeth Warren about whether a woman can win a national election.
Warren said that Sanders allegedly said that a woman cannot win a presidential election.
"According to her," Trump said, "Bernie said—and I don't believe that he said this because I don't know him. I don't particularly like him. He's a nasty guy, but I don't believe he said it. It's not his deal."
"She said that Bernie strongly stated that a woman can't win for president," Trump continued. "A woman can win for president. She said that Bernie said a woman can't win. I don't believe Bernie said that. I really don't."
"It's just not the kind of a thing he would say," Trump added.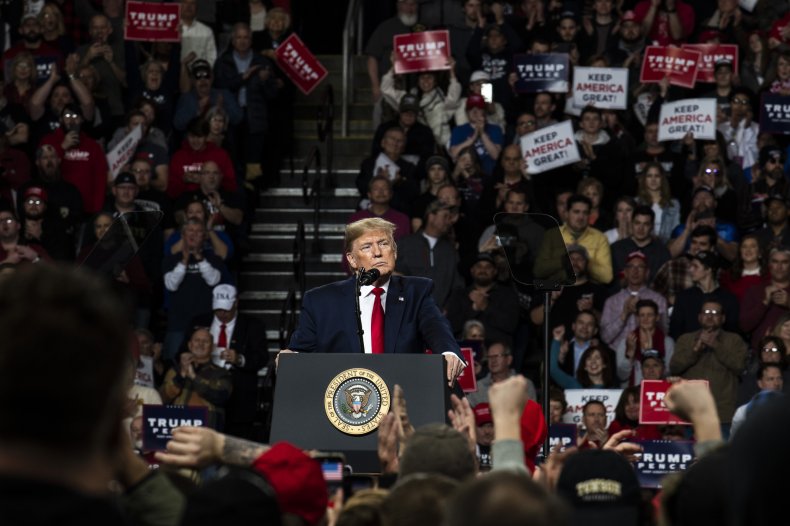 Sanders was accused Monday of making the remark during a private meeting with Warren in December 2018, but has denied that he said the comment.
"Bernie and I met for more than two hours in December 2018 to discuss the 2020 election, our past work together and our shared goals," she said in a statement. "Among the topics that came up was what would happen if Democrats nominated a female candidate."
"I thought a woman could win; he disagreed," Warren continued. "I have no interest in discussing this private meeting any further because Bernie and I have far more in common than our differences on punditry."
Sanders responded by denying that he would tell his friend a woman couldn't win in response to her announcing her intention to run for president.
"It is ludicrous to believe that at the same meeting where Elizabeth Warren told me she was going to run for president, I would tell her that a woman couldn't win," Sanders said. "It's sad that, three weeks before the Iowa caucus and a year after that private conversation, staff who weren't in the room are lying about what happened."
He added: "What I did say that night was that Donald Trump is a sexist, a racist and a liar who would weaponize whatever he could. Do I believe a woman can win in 2020? Of course! After all, Hillary Clinton beat Donald Trump by 3 million votes in 2016."
Sanders and Warren are seen as the two most progressive candidates in the 2020 Democratic race. Leading up to the first primaries, Sanders has outpaced Warren in many polls. However, many Sanders and Warren supporters have indicated that should their candidate not make it to the general election, the other would be their second choice.