Trump Signs Emergency Bill to Make Companies Manufacture Medical Supplies to Fight Coronavirus
Using emergency powers granted under the Defense Production Act (DPA), President Donald Trump signed a bill designed to increase the production of respirators, face masks and ventilators needed by health care professionals in order to fight the U.S. coronavirus outbreak.
Originally signed by President Harry S. Truman in 1950, the DPA allows the federal government to direct the private sector to focus its efforts on aiding the defense of the country. In the legislation signed Wednesday, Trump said the shortage of medical equipment during the coronavirus pandemic meets the criteria for using the DPA.
"To ensure that our healthcare system is able to surge capacity and capability to respond to the spread of COVID-19," read Wednesday's executive order from the White House, "it is critical that all health and medical resources needed to respond to the spread of COVID-19 are properly distributed to the Nation's healthcare system and others that need them most at this time."
"There's never been an instance like this where no matter what you have it's not enough," Trump said during a Wednesday news briefing.
Some House Democrats including House Minority Leader Senator Chuck Schumer have been pushing for Trump to use the powers of the DPA, saying in a March letter that using the act "would ensure we have the materials we need at the ready, rather than wait for disruptions in the global supply chain to subside."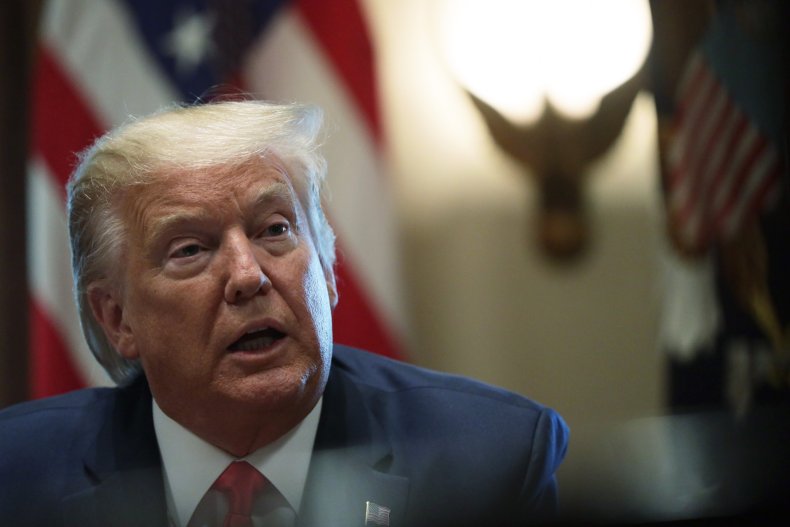 When asked for comment, House Minority Leader Senator Chuck Schumer's office directed Newsweek to a tweet posted by Schumer on Wednesday.
"We need to make sure doctors & nurses have everything they need," Schumer wrote. "Testing kits, masks, beds, ventilators. President Trump took a 1st step by heeding our call to use the Defense Protection Act to fight the shortages. But his admin still has so much more to do to fight coronavirus."
In recent days, Trump has been using more militaristic terms to describe the U.S. fight against the coronavirus.
"I want all Americans to understand: we are at war with an invisible enemy, but that enemy is no match for the spirit and resolve of the American people," Trump tweeted Wednesday. "It cannot overcome the dedication of our doctors, nurses, and scientists- and it cannot beat the LOVE, PATRIOTISM, and DETERMINATION of our citizens. Strong and United, WE WILL PREVAIL!"
Trump also referred to himself as a "wartime president" in a Wednesday press briefing.
"It's a war. I view it as in a sense a wartime president," Trump told reporters. "I mean, that's what we're fighting."
To those ends, Trump has promised to send two U.S. Navy medical ships, the USNS Comfort and the USNS Mercy, to areas where they could be the most useful in the coronavirus fight while admitting that the administration has not "made the final determination" of where those ships will be deployed.
"The Comfort and Mercy will not deploy to treat COVID patients, but will be made available to assist with treatment of other patients in coastal locations where local health professionals are necessarily focused on a large number of COVID cases," said the U.S. Navy in a Wednesday statement.