Trump Signs Executive Order at Army-Navy Game 2019 to Allow Service Academy Athletes to Play Pro Sports
President Donald Trump attended the 120th Army-Navy Game in Philadelphia, drawing a loud applause from the crowd at Lincoln Financial Field when he was introduced. Before he entered the field and flipped the coin, he visited the locker rooms of both teams.
Army presented Trump a jersey with the No. 45. Trump, the 45th President of the United States, then went to the Navy locker room and signed an executive order that will allow athletes at service academies to defer their time in service so they can pursue professional athletic careers.
Trump is the 10th sitting president to attend the annual game between Army and Navy, and this year's appearance makes him only the third president to attend the game in consecutive years. Harry Truman was at the game every year between 1945 and 1950, and John F. Kennedy attended the game in the 1961 and 1962 seasons. The game was played after Kennedy's assassination in 1963.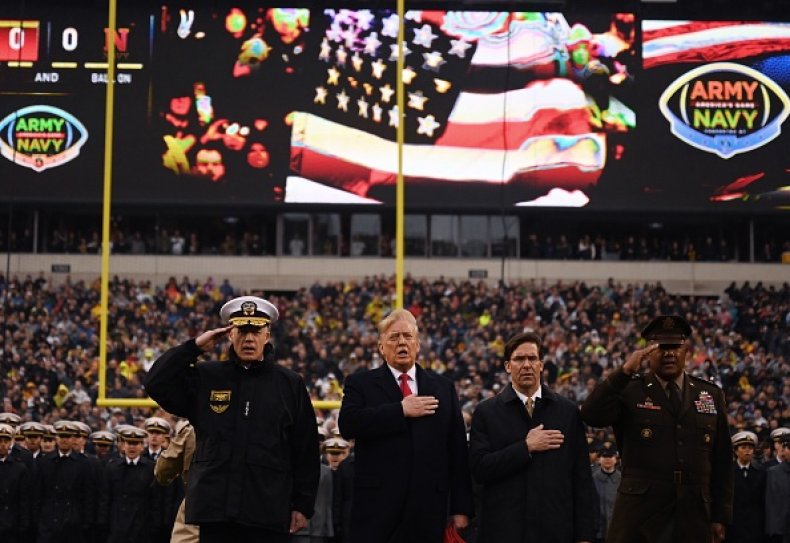 President Barack Obama in 2016—the final year of his second term—signed a similar order to allow some athletes from service academies to play professional sports and defer their obligated service after graduating. That policy helped then-Navy quarterback Keenan Reynolds to go pro. The Trump administration rescinded that order in 2017, according to Sports Illustrated.
When former Secretary of Defense Jim Mattis rescinded the Obama order, he said service academies "exist to develop future officers," and those who graduate will serve as "full-fledged military officers carrying out the normal work and career expectations" for a person who received an education paid by taxpayer dollars, according to the Associated Press.
Then Trump in the spring of 2019, while honoring the Army football team and presenting them the Commander-in-Chief trophy, directed the Pentagon to find a way that service academy athletes can play professional sports without going directly into duty.
Defense Secretary Mark Esper last month signed a memo that set the guidelines for it to happen. First, the defense secretary must approve the athletes. Secondly, the athletes must fulfill their service obligations or repay the costs of their academy education.
Trump also attended the Army-Navy in 2016 when he was president-elect. Saturday made it the fourth time in the last two months Trump has attended a sporting event. He went to Game 5 of the World Series in Washington between the hometown Nationals and the Houston Astros. He went to UFC 246 in New York City and then later appeared at the LSU-Alabama game in Tuscaloosa, Alabama.
To go with tradition of past sitting presidents, Trump sat on the Army side during the first half and switched to the Navy side during halftime.