On Monday, President Donald Trump signed an executive order that prohibits transactions inside the U.S. that involve "any digital currency, digital coin or digital token" issued by the Venezuelan government after January 9.
"I have authorized the Secretary of the Treasury [Steven Mnuchin], in consultation with the Secretary of State, to take such actions, including promulgating rules and regulations and to employ all powers granted to the President by IEEEPA [International Emergency Economic Powers Act] as may be necessary to implement this order," Trump said in a statement.
The statement stipulated that the term "Government of Venezuela" also includes "any political subdivision, agency, or instrumentality thereof, including the Central Bank of Venezuela and Petroleos of Venezuela, S.A. and any person owned by, or acting for or on behalf of, the Government of Venezuela." The order applies to all American citizens and any individual living in the U.S.
This is not the first time Trump has slapped restrictions against the Venezuelan government. Last August, the president signed another executive order that banned the Maduro administration from issuing new debt and equity, as well as dealings in existing bonds, CNBC reported at the time. Trump also said that he would not rule out a "military option" in Caracas as President Nicolás Maduro continued to tighten his grip on the country.
Last December, Maduro announced his intention to launch petro—a cryptocurrency that would be backed by diamonds, gold reserves and oil—in order to bypass sanctions from the Trump administration. During a TV show, Maduro said at the time that "[Petro] will allow us to advance to new ways of international financing and socioeconomic development in the country," and added that the cryptocurrency could "advance in monetary sovereignty, to make financial transactions and to vanquish U.S. economic blockade."
Although the opposition-run Congress declared petro unconstitutional and a "deception of the regime" in January, the Maduro administration launched the bitcoin the following month, in an attempt to save the country's crippling economy. "Petro is born and we're going to have a total success for the welfare of Venezuela," the Venezuelan leader said in February. He added that 100 million petro tokens—backed by 100 million barrels of oil reserves—would be issued, which had an approximate cost of $6 billion.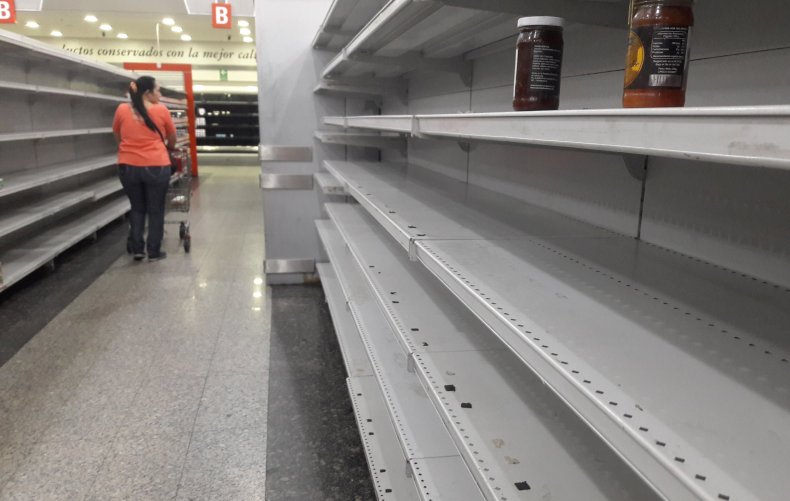 Following the announcement, Maduro said Venezuela had raked in $735 million in the first day of a pre-sale of petro, according to Reuters. But some experts indicated that the crypto-coin did not raise a dime.
"The numbers are a pure distraction," Caracas-based computer scientist Alejandro Machado told Newsweek. "The government lacks transparency in how it manages a budget … all they want[ed] to do is raise money from people who use solid cryptocurrencies such as bitcoin [BTC] and Ethereum [ETH] to finance themselves, since [the Maduro administration] can't issue any bonds due to U.S. restrictions."
In an article for the website Caracas Chronicles, Machado said in February that "the network for transferring petros allows anyone to see the full record of transactions, and there have been zero—all petros are controlled by one address."
Ever since Maduro pledged to launch petro, some market participants expressed concerns about the cryptocurrency's level of trust due to Venezuela's economic mismanagement, political turmoil and lack of information in financial data, according to Moody's.
Venezuela's economic crisis has led its nationals to take desperate measures, including a massive exodus to neighboring countries such as Guyana, Brazil and Colombia. Hyperinflation, for instance, has forced the western city of Elorza—near the border with Colombia—to print its own banknotes due to a shortage of bolivares, the nation's official currency. The bolivar value is expected to plummet, while inflation is likely to increase nearly 13,000 percent this year, according to a January report by the International Monetary Fund.