Trump Slammed for 'Disgraceful, Disgusting' Press Conference with Putin
President Donald Trump repeatedly defended Russia on Monday against accusations of interference in the 2016 election and condemned the special counsel's investigation during a joint press conference with Russian President Vladimir Putin.
Following their one-on-one meeting in Helsinki, Finland, Trump sided with Putin and refused to denounce Russian meddling in the presidential race, despite U.S. intelligence agencies' findings. "They said they think it's Russia. I have President Putin; he just said it's not Russia," Trump said.
"I will say this: I don't see any reason why it would be. So I have great confidence in my intelligence people, but I will tell you that President Putin was extremely strong and powerful in his denial today."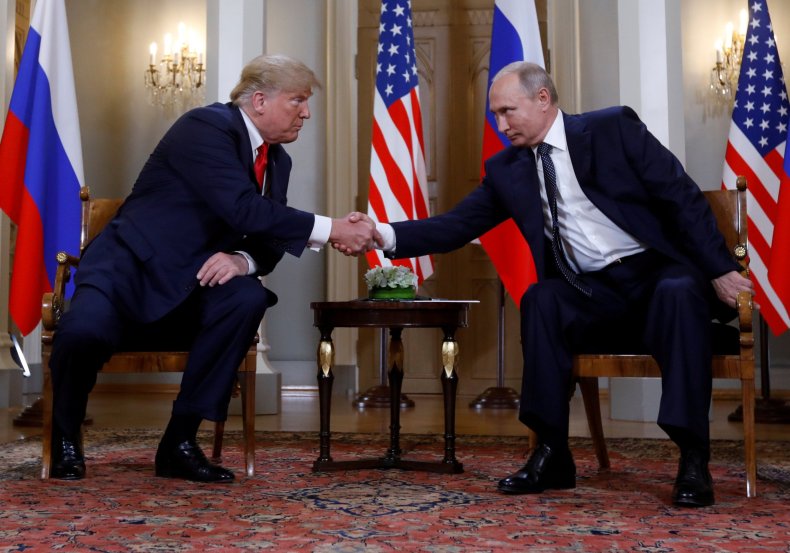 The president's extraordinary remarks sparked an enormous amount of backlash from not only his usual critics, Democrats and establishment Republicans, but also some pro-Trump media outlets.
Senator John McCain called the news conference with Putin "one of the most disgraceful performances by an American president in memory."
House Speaker Paul Ryan urged the president to "appreciate that Russia is not our ally" and said that "there is no question that Russia interfered in our election."
CNN anchor Anderson Cooper said Trump's speech at the conference was "perhaps one of the most disgraceful performances by an American president at a summit in front of a Russian leader that I have ever seen."
Reactions from typically Trump-friendly news networks were almost as severe. Fox's Neil Cavuto called Trump's behavior as "disgusting." Brit Hume, a Fox News political analyst, denounced the president's speech as "lame."
On Tuesday, the New York Daily News cover had an illustration of Trump shooting Uncle Sam in the head with a revolver while holding hands with a topless Putin alongside the headline "Open Treason."
After the press conference, Trump responded to the mounting backlash while on board Air Force One en route to the White House. "As I said today and many times before, 'I have GREAT confidence in MY intelligence people.' However, I also recognize that in order to build a brighter future, we cannot exclusively focus on the past — as the world's two largest nuclear powers, we must get along!" he tweeted.
Before their meeting on Monday, Trump declared that America's relationship with Russia has "never been worse," blaming special counsel Robert Mueller's Russian interference investigation for the friction.