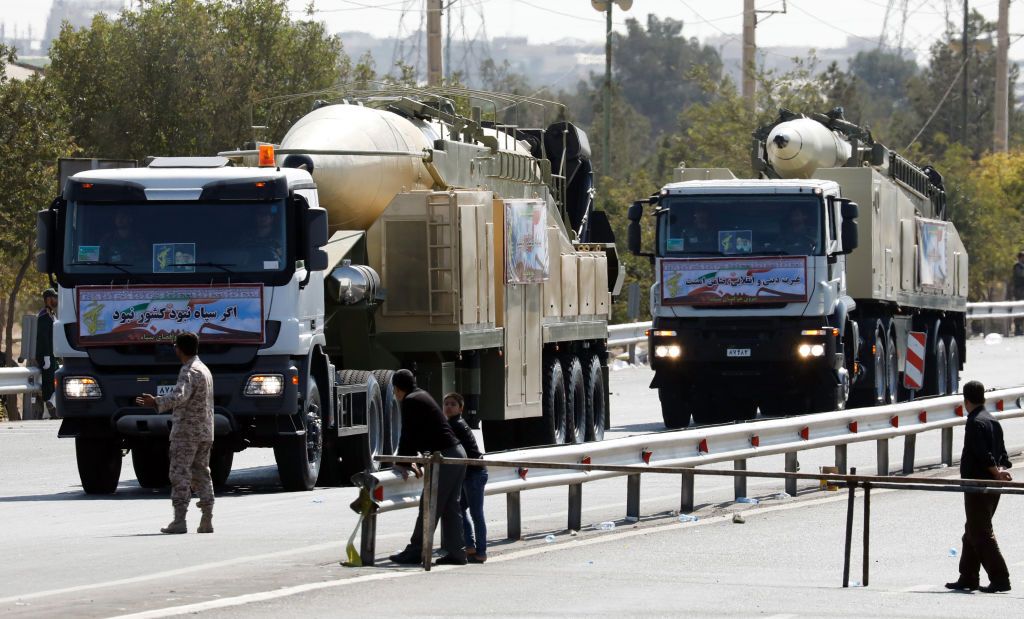 President Donald Trump blasted Iran on Twitter on Saturday for carrying out a ballistic missile test, but officials have now said the footage of the launch aired on Iranian state TV was fake.
According to Fox News, the video released by the Iranian government was more than seven months old. Two unnamed officials told the news channel the footage dated back to a failed launch in late January during which the missile exploded shortly after take-off.
Related: Iran Drone No Match For U.S. Patriot Missile As Israel Blows Hezbollah Aircraft Out Of The Sky
Tehran had claimed that it had successfully launched a new type of medium-range missile, hours after the projectile was displayed during a military parade in the Iranian capital.
Trump responded to the Iranian claims, saying the 2015 nuclear agreement with the Islamic Republic was "not much of an agreement."
"Iran just test-fired a Ballistic Missile capable of reaching Israel. They are also working with North Korea. Not much of an agreement we have," the president wrote on Twitter late on Saturday.
Last week during his maiden speech at the U.N., Trump blasted Iran and North Korea over their nuclear programs. He singled out Tehran as a sponsor of international terror and said Iran was a threat to its neighbors and the United States.
Just as Secretary of State Rex Tillerson met with his Iranian counterpart, Foreign Minister Mohammad Javad Zarif, in New York, Trump announced he'd decided on whether or not he would scrap the nuclear deal.
Iran responded to the rhetoric from the White House saying it would not tolerate threats. In his own address to the U.N., Iranian President Hassan Rouhani called Trump's speech "ignorant, absurd and hateful."
The fake footage Iran aired showed an attempt to launch a new Khorramshahr medium-range ballistic missile for the first time. According to U.S. officials at the time, it flew 600 miles before exploding.
Iran's medium-range missile is based on North Korea's design. If Iran successfully copies Pyongyang's BM-25 Musudan ballistic missile, U.S. forces in the Middle East and Israel would be within range.
The White House must announce in October whether to certify that Iran is complying with the agreement, known as the Joint Comprehensive Plan of Action. If it does not, Congress has 60 days to decide whether to reimpose sanctions waived under the deal.
The U.S. has repeatedly said that Iranian actions such as the testing of ballistic missiles violate the nuclear agreement in spirit if not technically breaking the deal. Reports from the International Atomic Energy Agency have shown Iran continues to comply with the terms of the 2015 agreement.