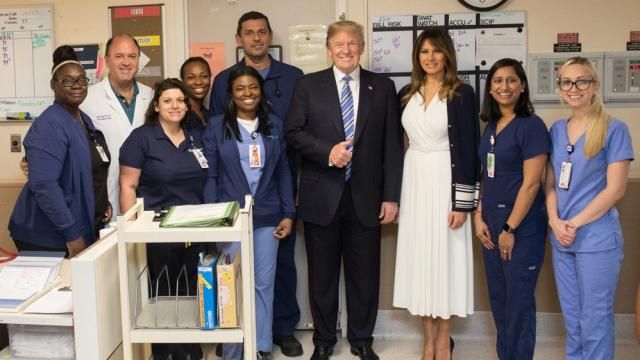 President Donald Trump has been criticized for a photograph of himself making a thumbs-up gesture and grinning broadly while posing with police officers and medics who responded to the Parkland, Florida, high school shooting.
Trump posed for a picture with police officers while visiting Broward County Sheriff's Office on Friday and shortly after updated his @realDonaldTrump Twitter banner with the image.
Critics said Trump's upbeat gesture was tone-deaf, given the gravity of the incident, in which 17 students at Marjory Stoneman Douglas High School were shot dead.
Some criticized the president for failing to show empathy.
Democratic Wisconsin Representative Mark Pocan tweeted, "How can you stand there smiling and give a thumbs up when 17 Americans were killed in one of the nation's deadliest school shootings?"
"Where is your courage to stand up to the @NRA, @realDonaldTrump?"
Neither the White House nor Trump has responded to criticism of the images.
Trump and first lady Melania Trump visited officers and victims of the shooting Friday, where the president focused on praising the reaction of emergency services rather than memorializing victims.
"What a great job you've done, and we appreciate it very much," Trump told officers at the sheriff's department. "Everybody is talking about it."
He added: "I hope you are getting the credit for it, because believe me, you deserve it. The job you have done is unparalleled."
In a visit to Broward Health North Hospital, where many of those wounded in the shooting are being treated, Trump posed with medics making the same thumbs-up gesture.
"It's an incredible thing," he said of the speed with which people were taken for treatment at the hospital after being wounded. "I want to congratulate them."
He did not publicly greet the families of any of the children killed in Wednesday's attack by former student Nikolas Cruz, reported The Washington Post. In remarks to reporters, he did not address the issue of gun regulation reform.
In the wake of the 2012 Sandy Hook Elementary School shooting in which 20 young children were killed by gunman Adam Lanza in Newtown, Connecticut, President Barack Obama famously wept at a White House press conference where he called for tighter gun restrictions on gun ownership.