Trump Slams Biden for Appearing to Fall Asleep During Climate Summit Speeches in Glasgow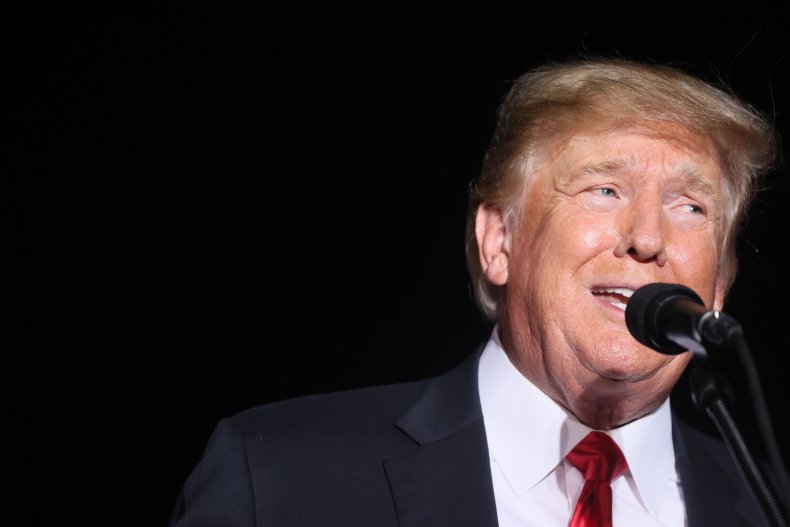 Former President Donald Trump accused President Joe Biden of not caring about "the Global Warming Hoax" after a video appeared to show the president nodding off during a United Nations climate change summit on Monday.
Trump issued a statement blasting Biden shortly after video emerged that appeared to show the president closing his eyes for a total of around 30 seconds while watching the summit, also known as COP26, in Glasgow, Scotland. The former president insisted that Biden "fell asleep" because he could not bear to hear more about global warming. Trump also took the opportunity to mention a series of other grievances that he has claimed are hoaxes.
"Even Biden couldn't stand hearing so much about the Global Warming Hoax, the 7th biggest Hoax in America, followed closely behind by the 2020 Presidential Election Scam, Russia, Russia, Russia, Ukraine, Ukraine, Ukraine, Impeachment Hoax #1, Impeachment Hoax #2 and, of course, the 'No Collusion' finding of the Mueller Report," Trump said.
"Biden went to Europe saying Global Warming is his highest priority, and then promptly fell asleep, for all the world to see, at the Conference itself," he added. "Nobody that has true enthusiasm and belief in a subject will ever fall asleep!"
In video recorded at the conference, Biden can be seen sitting in the audience and clearly closing his eyes for seven seconds before opening them briefly and closing them again. His eyes stay closed for another 22 seconds and open again when a staffer approaches him and appears to speak. It is not clear whether he actually fell asleep at any point.
Biden also spoke at the summit and slammed Trump's leadership, apologizing for "the last administration" putting efforts to combat climate change "behind the eight ball a little bit" by pulling out of the Paris climate accord. The president vowed that his administration would take a different approach and not "condemn future generations to suffering."
Scientists with climate expertise nearly uniformly disagree with Trump's evidence-free assertion that global warming is a hoax. In fact, as evidence for climate change has mounted and extreme weather events have become more commonplace over the years, the scientific consensus has only strengthened.
Although there was some significant disagreement on the issue decades ago, a study published last month found that well over 99 percent of climate scientists agree that global warming is a reality and is caused by the activity of humans, while a study published in 2019 put the figure at 100 percent.
Trump's loss in the 2020 election was also genuine, despite the ex-president's repeated false claims that he "won in a landslide." Biden defeated Trump by over 7 million votes nationally and by 74 votes in the crucial Electoral College, with no evidence of any massive fraud that would have changed the outcome having been publicly presented at any point.
Newsweek reached out to the White House for comment.