Trump Slams 'Filthy' Comedian Michelle Wolf Over White House Correspondents' Dinner Jokes
President Donald Trump has hit out at "filthy" comedian Michelle Wolf following her speech at the White House Correspondents Dinner that mocked press secretary Sarah Huckabee Sanders.
Trump made his feelings on the speech, and the event, clear in a tweet he wrote in the early hours of Monday morning, when he suggested the event should be canceled or completely revamped.
"The White House Correspondents dinner was a failure last year, but this year was a complete embarrassment to everyone associated with it," he wrote.
"The filthy 'comedian' totally bombed (couldn't even deliver her lines-much like the Seth Meyers weak performance). Put Dinner to rest, or start over!" he added.
Wolf's comments about Huckabee Sanders were not well received by members of the administration who did opt to attend the dinner, with the press secretary herself standing just feet away from the comedian during the performance.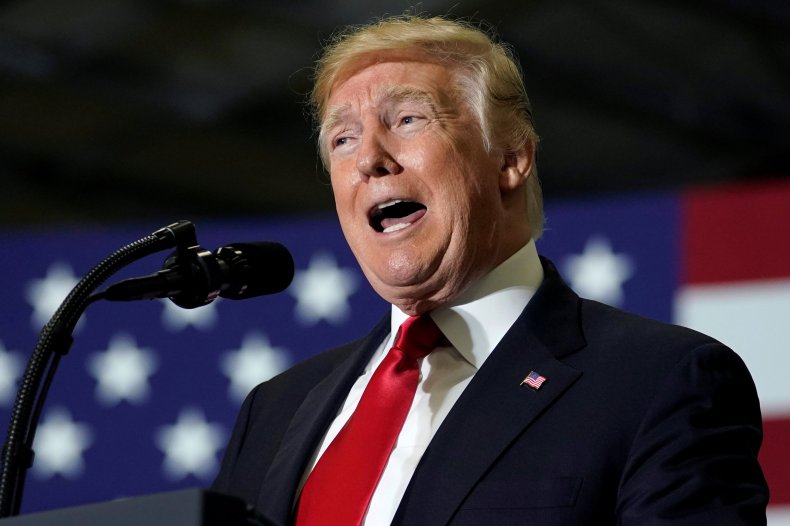 "I'm never really sure what to call Sarah Huckabee Sanders. Is it Sarah Sanders, is it Sarah Huckabee Sanders, is it Cousin Huckabee, is it Aunt Huckabee Sanders? What's Uncle Tom but for white women who disappoint other white women? Ah I Know, Aunt Coulter," Wolf said during her roast.
It is the second year in a row that the president has declined to attend the event.
In 2011, attending the dinner as a private citizen, Trump was the butt of jokes made by then President Barack Obama, who mocked the reality star's involvement in the so-called "birther movement" that falsely suggested Obama was not born in the U.S.
"No one is happier, no one is prouder to put this birth certificate matter to rest than the Donald," Obama said, The Washington Post reported.
"That's because he can finally get back to focusing on the issues that matter, like: Did we fake the moon landing? What really happened in Roswell? And where are Biggie and Tupac?" he added, to laughter than appeared to irritate Trump.