Trump Slams Progressive Democrat Women, Talks 'Bulls**t' at North Carolina Rally
President Donald Trump spent a chunk of time at his rally in Greenville, North Carolina, on Wednesday attacking the four progressive Democratic Congresswomen with whom he's recently been embroiled with back-and-forth verbal jabs.
During a particular moment when talking about Rep. Ilhan Omar, one of the four women who've become known as the "Squad," the crowd began chanting, "Send her back, send her back."
The president attacked each of the four women, one-by-one, and he made remarks about some Democratic presidential candidates for 2020. And when talking about the investigation into Russian Collusion, in what he called a "witch hunt," someone from the crowd apparently said something that got his immediate attention. The president responded.
"You said it," Trump said as he pointed in the direction to his right. "I won't say it because it's a terrible word. So I will not say that this guy said, "if we didn't have the bulls**t.""
The crowd went into a giant roar. He talked about his work during his time in office, he reiterated accomplishments like minority unemployment, job creation, economy, military, tax cuts and regulation cuts.
He thanked Democrats for Wednesday's vote in the House to not move forward with impeachment proceedings. The House voted 332-95-1 to table the item.
The president touted his support from women, while many in the crowd held signs that read "Women for Trump."
And about 15 minutes after his speech began, he brought up the four Democratic women of color, all representatives — Omar, Alexandria Ocasio-Cortez, Rashida Tlaib and Ayanna Pressley. On Sunday the president tweeted the women should should "go back and help fix the totally broken and crime infested places from which they came" and that "these places need your help badly, you can't leave fast enough."
The women who have become known as the "Squad" fired back at Trump the last several days, holding press conferences and appearing with Gayle King on CBS This Morning.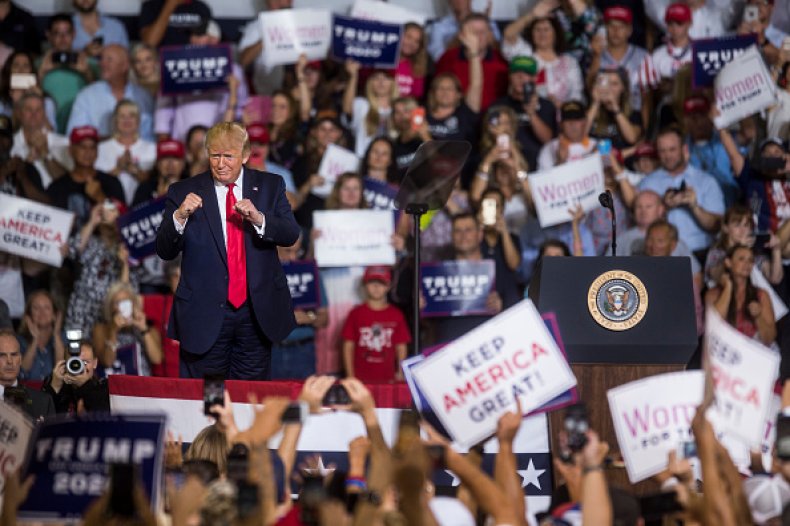 Trump started with Omar on Wednesday night.
"Representative Omar blamed the United States for the terrorist attacks on our country, saying that terrorism is a reaction to our involvement in other people's affairs," Trumo said. "She smeared U.S. service members involved in Black Hawk down. In other words, she slandered the brave Americans who were trying to keep peace in Somalia."
Omar, who was born in Somalia and defected to America as a refugee, is the only one of the "squad" born in another country.
The president brought up remarks Omar has said in the past, and brought up the fact that at a Tuesday press conference when she was asked whether or not she supported al-Qaeda, she refused to answer.
"That's our enemy," Trump said. "They are a very serious problem they we take care of, but they always seem to come along somewhere. She refused to answer. She didn't want to give an answer to that question.
"Omar blamed the United States for the crisis in Venezuela ... and she looks down with contempt on the hard-working Americans, saying that ignorance is pervasive in many parts of this country."
And while the president continued, the crowd began their "Send her back" chat.
Trump then railed into Tlaib, who started an "Impeach the Motherf*****r" chant at a swearing-in party in January. He said she's not someone who "loves this country."
The president then brought up Ocasio-Cortez and slammed her Green New Deal proposal and her recent comments about the border. He called her "Cortez" and said he didn't "have time to go with three different names."
He said Cortez called contemporary Americans "garbage."
He then targeted 2020 Democratic hopefuls "Sleepy Joe Biden" and Elizabeth Warren, who he once again called "Pocahontas."
He took a jab at Biden struggling with a question at a debate. He said South Bend, Indiana, Pete Buttiegieg runs a "failed city," and said the mayor wouldn't meet successfully with world leaders like North Korea's Kim Jong Un and Russia's Vladimir Putin.
The president then took swipes at Pressley and antifa, and said anyone who "doesn't love our country should leave."
He began recognizing North Carolina leaders who were in the crowd.
The rally was held at Williams Arena in Greenville.