Trump Slams Twitter for Not Mentioning 'Biden Corruption' as Big Tech CEOS Testify in Senate
President Donald Trump railed against Twitter on Wednesday for not circulating stories of alleged corruption by Democratic nominee Joe Biden as the CEOs of the three biggest names in Silicon Valley testify before the U.S. Senate Commerce Committee over content moderation concerns.
"Twitter refuses to allow the any [sic] mention of the Biden corruption story which was carried so well on @TuckerCarlson last night," the president tweeted. "It's the biggest story and Big Tech, together with the Lamestream Media, isn't allowing a word to be said about it."
Trump is referencing an interview given by Tony Bobulinski, a former business associate for Hunter Biden, on Fox News' Tucker Carlson Tonight on Tuesday night, in which he claims to have information on the former vice president's alleged involvement with business dealings in China.
Carlson, who hosted the interview, tweeted a similar message last night aimed toward the mainstream media, writing that the broader media have "suppressed Tony Bobulinski's story."
The president's tweet comes as Twitter CEO Jack Dorsey, Google CEO Sundar Pichai and Facebook CEO Mark Zuckerberg testify virtually before the Republican-controlled Senate committee just a week before the election over allegations that the platforms censor conservative voices and accusations that the executives are systemically biased against conservatives.
Tensions between Republicans and the tech giants have gone on for some time, but they boiled over in May after a fact-checking label was placed on one of Trump's tweets, which promoted a false claim about mail-in voting. Weeks later, the president signed an executive order aimed at preventing online censorship on social media, stating that these sites have immense power to "shape the interpretation of public events; to censor, delete, or disappear information; and to control what people see or do not see."
Tensions were recently amplified after Facebook and Twitter decided to prevent the circulation of New York Post stories involving Hunter Biden, a decision based on limiting the spread of disinformation and noting the articles' questionable sourcing.
But the decision further encouraged Republicans to claim that these platforms are run by an anti-conservative agenda.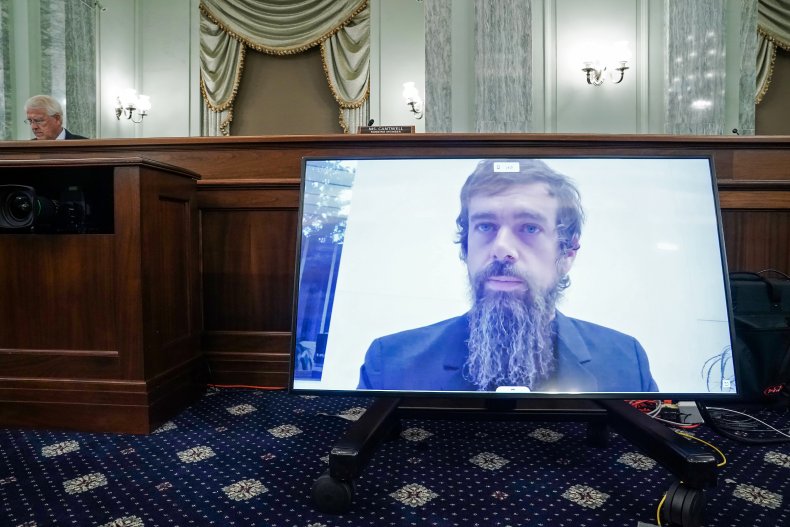 The Senate Commerce Committee aims to discuss the controversial, decades-old law, Section 230 of the Communication Decency Act, which says that websites cannot be held legally responsible for what people post and allows social media sites to police content as they see fit.
Senate Republicans grilled Dorsey about Twitter's handling of tweets, specifically shared by Trump, and accused him of silencing conservative voices on the platform.
"Mr. Dorsey who the hell elected you and put you in charge of what the media are allowed to report and what the American people are allowed to hear," said Senator Ted Cruz during the hearing, referring to Twitter blocking the New York Post article.
Senator Cory Gardner questioned Twitter's fact-checking labels on Trump's tweets, but not on those by Iran's supreme leader, Ayatollah Ali Khamenei.
"I just don't understand how you can label the president of the United States. Have you ever taken a tweet down from the ayatollah?" the Colorado senator asked.
Dorsey argued that the platform has taken action against tweets from various world leaders.
"The goal of our labeling is to provide more context, to connect the dots, so people can make decisions for themselves," Dorsey said.
Newsweek reached out to Twitter for comment but did not hear back in time for publication.