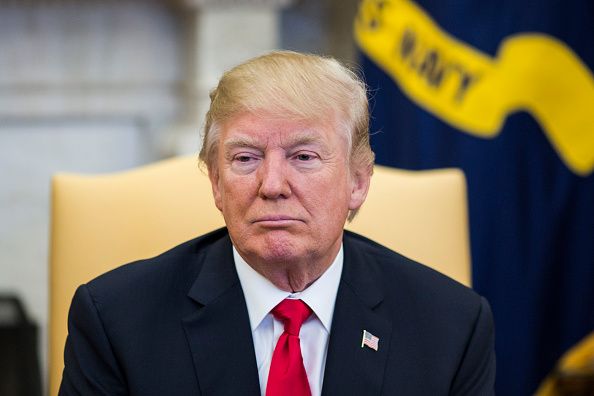 President Trump announced Friday that the U.S. is introducing a new set of sanctions against its foe North Korea that will be the "largest ever."
The new sanctions are "aimed at disrupting North Korean shipping and trading companies and vessels to further isolate the regime and advance the U.S. maximum pressure campaign," the U.S. Treasury confirmed in a statement.
They target one person, 27 companies and 28 vessels located or registered in a handful of countries, including North Korea, China, Singapore, Taiwan, Hong Kong, Tanzania and Panama, among others.
"Treasury is aggressively targeting all illicit avenues used by North Korea to evade sanctions, including taking decisive action to block the vessels, shipping companies and entities across the globe that work on North Korea's behalf. This will significantly hinder the Kim regime's capacity to conduct evasive maritime activities that facilitate illicit coal and fuel transports, and erode its abilities to ship goods through international waters," Treasury Secretary Steven Mnuchin said in a statement.
"The president has made it clear to companies worldwide that if they choose to help fund North Korea's nuclear ambitions, they will not do business with the United States."
North Korea is already under numerous sanctions from both the United Nations and the U.S. over its nuclear missile program. The international ban includes prohibitions against providing North Korea with coal or fuel.
"The large number of designations today perhaps reflects a reality that it is easier for the U.S. and its allies to detect illicit ship-to-ship transfers or other malfeasance on the high seas than it is to peel back the multiple layers of front companies involved in illicit finance transactions, which have been a previous focus of U.S. sanctions efforts," Daniel Wertz, associate director of the National Committee on North Korea, told Newsweek.
"After the U.N. imposed strict fuel and commodity sanctions last year, North Korea began regularly using these shipping techniques to import and export sanctioned goods, and there has since been a steady stream of instances in which their actions were detected."
The rogue regime of Kim Jong Un pours all of its resources into the development of nuclear weapons, and has continued to test long-range missiles despite the sanctions. Experts believe North Korea has the capability to launch a missile that could reach Washington, but it's unclear whether it has the technology to fit a nuclear warhead onto such a missile.
It is unlikely that sanctions will convince North Korea to give up nuclear weapons, since the regime views nuclear deterrence as a way to stay in power. However, draining the country of resources could slow the country's nuclear program, experts say.
"If Team Trump can apply a tough pressure strategy to the Kim regime, he might not get him to give up his nukes, but he can make them pay a big price—and perhaps even slow their nuclear weapons development dramatically," Harry Kazianis, director of defense studies at the Center for the National Interest, a public policy think tank in Washington, told Newsweek.