Trump Slashed Staffing In All Cabinet Departments Except Three, Reversing Obama Hiring Expansion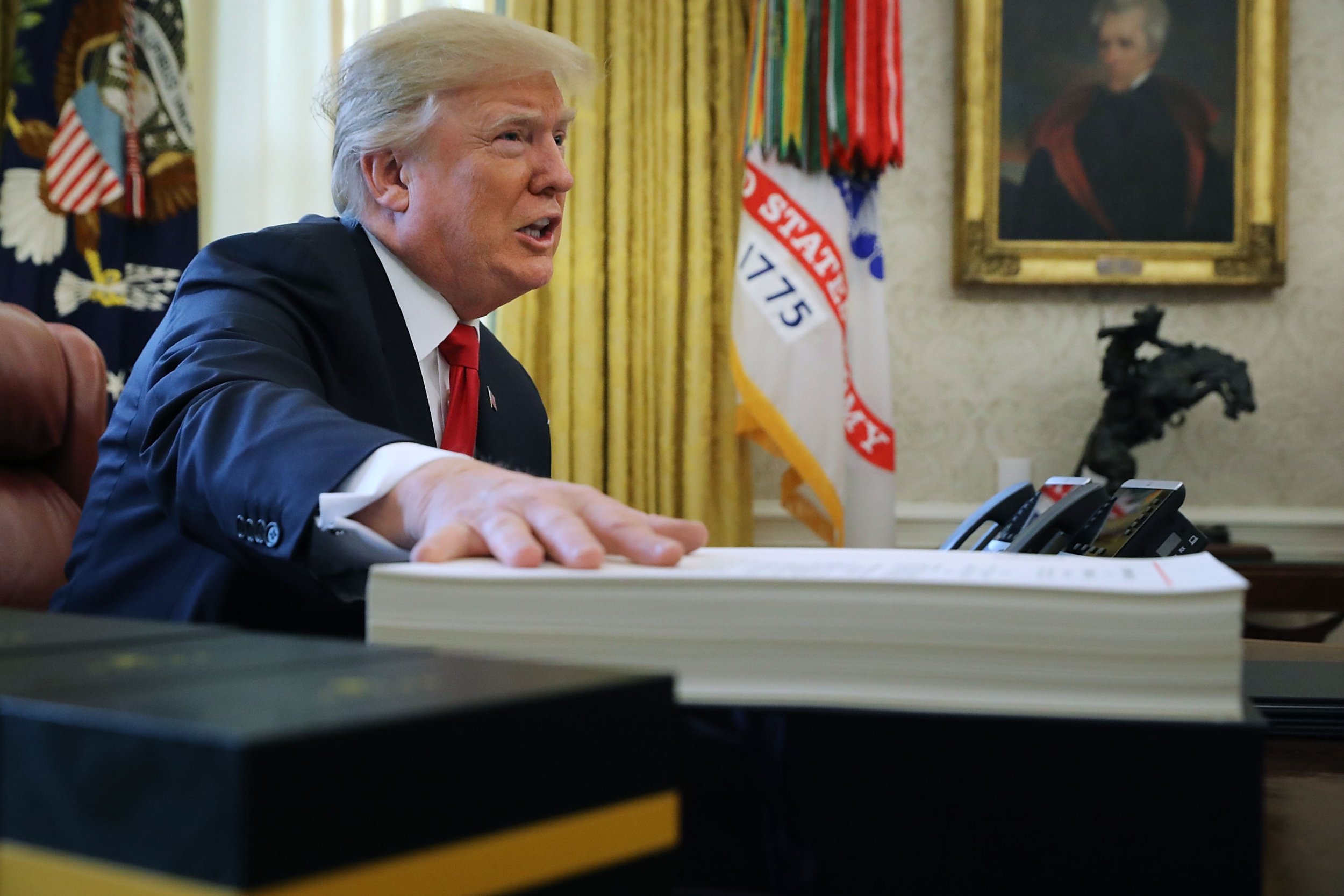 President Donald Trump has cut staff in a dozen of the 15 Cabinet departments, fulfilling his campaign promise to reduce the size of the federal bureaucracy and reversing former President Barack Obama's hiring expansion.
The only three Cabinet departments that did not have fewer permanent staff by the end of September compared to January when Trump was inaugurated were Homeland Security, Interior and Veterans Affairs, the Washington Post reported on Saturday.
Trump "is committed to streamlining government for the 21st century, reducing bloat, duplication and waste, and focusing resources on key priorities like public safety and protecting our nation's homeland," White House spokesman Raj Shah told the Post.
An effective hiring freeze, fewer political appointees and an exodus of government employees contributed to the decline in staffing.
Between the start of the year and the end of September, the federal government under Trump shed close to 16,000 permanent workers, bringing the staff figure to 1.94 million, according to data from the Office of Personnel Management.
By contrast, Obama in his first nine months as president in 2009 brought in 68,000 permanent employees, expanding the staff to 1.84 million. Over the course of Obama's two terms, the government added 188,000 permanent workers, according to the office.
The Treasury Department experienced a 7.5 percent cut in its staffing levels in Trump's first nine months in office, more than any other Cabinet department. Obama in the same time period beefed up the department's staff by 3.7 percent, according to the Post's analysis of federal employment data.
Education Department staffing dropped 4.8 percent under Trump, while the Labor Department lost 4.6 percent. The state, housing and urban development, commerce and energy departments shrunk 3.8 percent, 3.3 percent, 3.1 percent and 2.3 percent, respectively, under Trump. The justice, transportation, defense, health and human services and agriculture departments experienced reductions of less than 2 percent.
Meanwhile, the homeland security, interior and veterans affairs departments grew .7 percent, 1 percent and 1.7 percent under Trump, small gains compared to the losses.
Under Obama, only the education and housing and urban development departments shrunk, by 2 percent and 3.8 percent, respectively.
Trump's White House reportedly has told agencies to brace for further reductions in the 2019 budget anticipated early next year to lower the deficit to pay for the newly approved tax law.
"Morale has never been lower," Tony Reardon, president of the National Treasury Employees Union representing 150,000 federal workers, told the Post. "Government is making itself a lot less attractive as an employer."