Trump Slumps on His Greatest Strength as Economy Approval Rating Plummets 16 Points: Poll
President Donald Trump's economic approval rating has dropped to 47 percent in June, as polling data showed the majority of respondents do not support his handling of issues related to financial systems and the national job market.
Results of the poll, published by Gallup, marked a 16-point decrease from numbers reported at the beginning of the year, which indicated 63 percent of poll participants supported Trump's stance on the U.S. economy. Gallup's report also noted declining economic confidence, as well as increased concern about employment and inflation, among individuals polled between January and June.
The latest presidential poll results were the first to show an economic approval rating below 50 percent since November 2017, when Gallup reported 45 percent of U.S. adults approved.
Although support for Trump's handling of economic issues has waned over the past six months, the most recent approval ratings remained higher than those former presidents Barack Obama and George W. Bush received prior to their re-elections in 2012 and 2004.
Newsweek reached out to the White House and Trump campaign for comments but did not receive replies in time for publication.
Other polls related to public support for Trump's position on the economy have shown varied results, although most suggest a 50-50 division between those who approve and those who do not. Data collected through an Ipsos-Reuters survey published June 23 showed exactly half of the respondents approved of his response to economic issues, while 45 percent disapproved. Another 5 percent of the poll's respondents said they were unsure.
A CNBC poll recently released data that suggested Trump's economic approval rating was 46 percent on June 25, 6 points lower than it had been in April.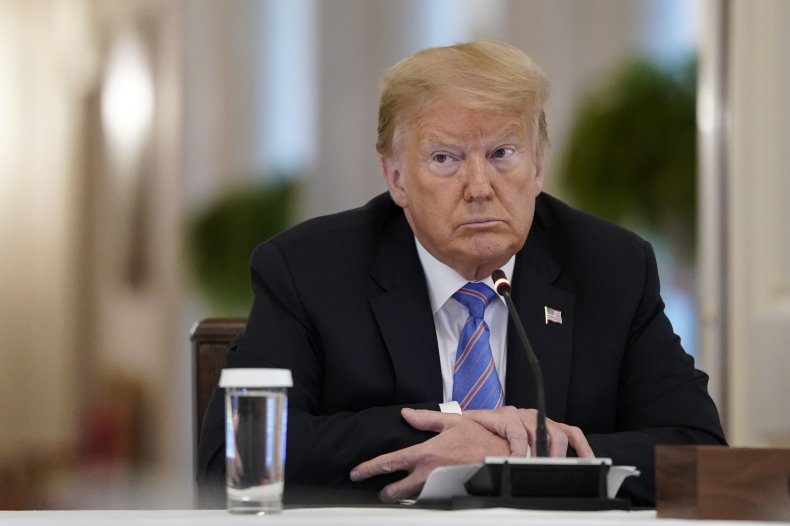 CNBC pointed out that Trump's overall approval rating, as several polls have shown over the last few weeks, was much lower. The CNBC poll said 39 percent of respondents indicated support for Trump, while 52 percent disapproved. Poll results released by Navigator earlier this month placed his approval rating at 41 percent but noted 58 percent of respondents said they disapproved of his approach to handling the presidency overall.
June's polling data was collected as the U.S. faces exceedingly high unemployment rates amid the novel coronavirus pandemic. Millions of Americans have filed jobless claims since nationwide business closures were first implemented at the beginning of the outbreak in March. Even as U.S. states progress further into economic reopening plans, the Department of Labor reported an additional 1.5 million claims filed during the week ending June 13. Despite businesses reopening their doors for customers and employees returning to work, the federal department recorded about seven times more claims filed that week compared to the week prior.