Is Trump Smart? Stephen Colbert 'Reveals' the President's IQ Score Following Trump's Rex Tillerson Challenge
Come on. President Donald Trump was practically force-feeding Stephen Colbert late-night monologue fodder when he challenged Secretary of State Rex Tillerson to an IQ test comparison.
In an interview with Forbes, the commander-in-chief reacted to the news that Tillerson called him a "f*****g moron," saying: "I think it's fake news, but if he did that, I guess we'll have to compare IQ tests. And I can tell you who is going to win."
Trump had to have known that late night's most venerable comedians would use that line to discuss his intelligence, and on Tuesday's The Late Show, Colbert did not disappoint.
The CBS host decided to compare Trump and Tillerson's IQs, showing viewers mocked-up test scores.
Tillerson, he jested, scored 120. "It's above average. Not genius, but still pretty good."
Colbert then presented Trump's IQ score—which suspiciously resembles a fridge drawing by a kindergartner.
"It's a drawing of a big truck that says 'MAGA,' and there's Trump right there saying, 'Honk honk.'"
To the left of the truck is a drawing of Tillerson, "but Trump calls him 'Rex Smellerson.'"
After the Forbes interview went live Tuesday, a State Department spokesperson said that Tillerson indeed has a "high IQ," while White House spokesperson Sarah Huckabee Sanders told reporters Trump was joking about Tillerson's IQ being lower than his.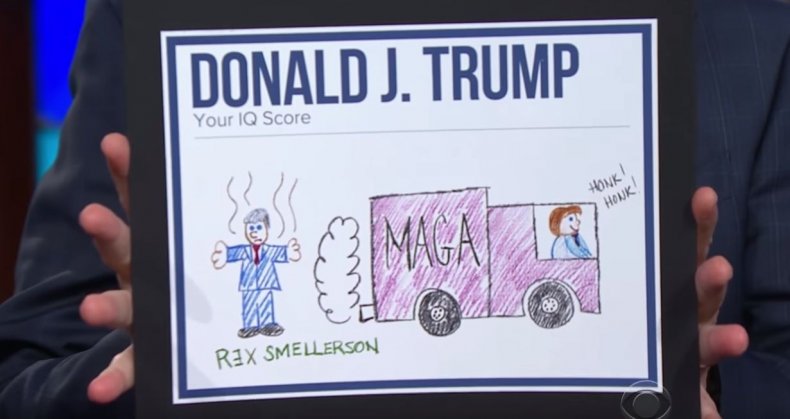 "The president certainly never implied that the secretary of state was not incredibly intelligent. He made a joke, nothing more than that," Sanders said, as quoted by Politico.
If Trump and Tillerson do want to find out who's smarter, Mensa, the society of renowned intellectuals, told the Boston Globe Tuesday it is happy to test them both.
Back on The Late Show, meanwhile, Colbert weighed in on Tennessee Senator Bob Corker's recent on-the-record remarks criticizing Trump.
The senator told The New York Times that Trump's fiery rhetoric about North Korea and Kim Jong Un could lead "towards World War III."
"All this time we've been worried that the next war would be caused by artificial intelligence. Turns out the real danger is natural stupidity," Colbert joked about the president.