Congresswoman Pramila Jayapal, a Democrat from Washington, argued on Monday morning that President Donald Trump "himself is the smoking gun" in the ongoing impeachment inquiry, arguing that the intent of his actions was "clear."
Jayapal, who sits on the House Judiciary Committee, made the comments during an interview with CNN about the revelations that have come to light over the past months as hearings have moved forward in the Democratic-led probe. She argued that the case against the president was "clear-cut" and that there was intent by the president to corrupt U.S. elections.
"This is a fairly clear-cut case, where the president himself is the smoking gun," Jayapal said. "You know, I just want to say that this is an odd situation where we have the first and best witness very early on national television, saying exactly what he wanted from that call with Ukrainian President [Volodymyr] Zelenskiy."
Trump's efforts to pressure Zelenskiy to announce investigations into discredited claims that Democratic presidential candidate Joe Biden acted corruptly toward Ukraine to benefit his son Hunter's business there, as well as a probe into a debunked conspiracy theory that Ukraine and the Democrats, not Russia, interfered in the 2016 election, led to the impeachment inquiry. The president has said on national television, as Jayapal noted, that he believed Ukraine should move forward with the investigations, which Democrats in Congress argue amounts to seeking foreign interference in a U.S. election.
Multiple witnesses, who currently or previously served in Trump's administration, have also corroborated the existence of a "quid pro quo" connected to the pressure campaign. The Trump administration withheld nearly $400 million in military aid to Ukraine, which had been approved with significant bipartisan support, as well as a White House meeting between the president and Zelenskiy, as leverage to pressure the Ukrainian leader to announce the probes, according to the witnesses' testimony.
"The intent was clear," Jayapal told CNN. "It was a corruption of our elections process."
In a tweet sharing the clip of her Monday interview, Jayapal added: "None of us came to Congress to impeach a President, but we understand our oath to uphold the Constitution & protect our democracy."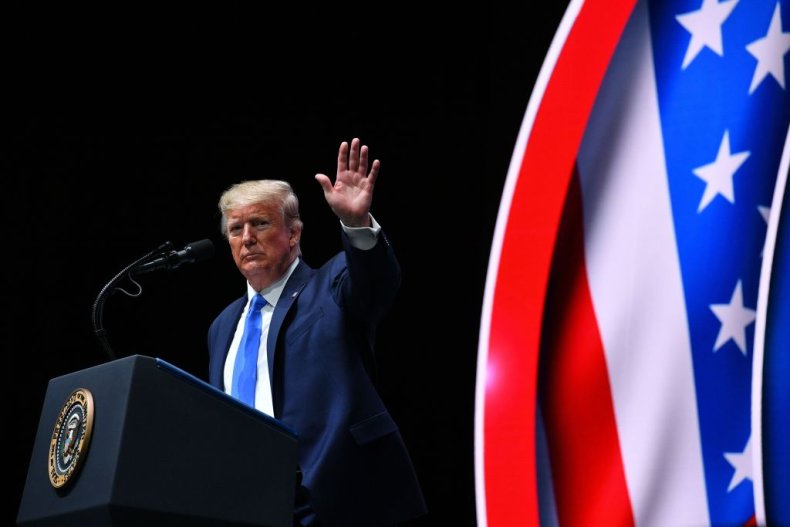 On Sunday, Trump lobbed a direct attack via Twitter at Jayapal and some of her Democratic colleagues, calling them "Radical Left Haters."
Sharing the president's tweet, Jayapal tagged Trump and wrote: "While you're tweeting at us, Mr. President, we are working to uphold the Constitution and keep you accountable." She then invited him to "show up" to a hearing at the House Judiciary Committee, adding: "We have some questions about your abuse of power."
"The only thing radical—and unacceptable—is a President of the United States inviting foreign interference in our elections, the most sacred democratic institution," the congresswoman tweeted in a follow-up post.